Leading games industry figure joins the board of the fast-growing social games developer
Manchester, UK, 27th February 2013 - Playdemic, the social games developer behind hit Facebook game "Gourmet Ranch" and one of the fastest-growing Facebook games of 2013, "Village Life", today announced that it has appointed one of the pioneers of the UK games industry, Ian Livingstone as company Chairman.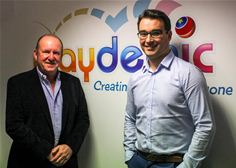 Ian Livingstone and Paul Gouge at the Playdemic Studio
Livingstone is a fantasy author, games designer and entrepreneur who was appointed CBE in the 2012 New Year Honours list for his Services to the Computer Games Industry. He co-founded Games Workshop, the high street retailer and publishers of the "Warhammer" franchise, and with Steve Jackson created the hugely influential and popular "Fighting Fantasy" gamebook series. Livingstone is Life President of Eidos where as Chairman he was instrumental in bringing to market some of the company's most famous titles, including "Lara Croft: Tomb Raider" and "Hitman".
"The appointment of Ian demonstrates our commitment to creating the highest-quality games", said Paul Gouge, CEO of Playdemic. "Ian has operated at the top of the games business for many years and I am confident that his incredible experience and expertise in all aspects of the industry will prove invaluable in Playdemic's continued growth. Ian has already proved to be an inspiration and a resource for the Playdemic team in creating exciting new games for the latest platforms."
Based in Wilmslow near Manchester, UK, Playdemic's team develops social games for Facebook and mobile platforms. The management team has extensive experience of working within the games industry, having held senior positions at major publishers such as EA, Ubisoft, THQ and Eidos.
Livingstone commented: "The boom in social gaming represents an incredible opportunity for talented game studios like Playdemic. Millions of people are playing games on their smart phones and Facebook. Playdemic is a hidden UK success story; first with Gourmet Ranch on Facebook in 2010, and more recently with the hugely successful launch of Village Life. I am delighted to be appointed Chairman of the company, and look forward to working with the team to drive further growth on Facebook, and helping to leverage the studio's content across mobile platforms."
** ENDS **
About Playdemic
Playdemic's vision is to create meaningful social games that deliver a uniquely social and shared experience. Their games are united in their focus on quality, great gameplay and providing a fun and social experience for all. They are already available via Facebook and iOS, with over 2 million monthly active users and more than 10 million people enjoying Playdemic's take on social gaming. Playdemic was founded in 2010 by a team of games industry veterans from major publishers including EA, Ubisoft, THQ and Eidos. Playdemic is based in Wilmslow near Manchester, UK. You can find more information about Playdemic and its games at www.playdemic.com, or follow them at www.facebook.com/playdemic and @playdemicstudio
For media enquiries, please contact:
Simon Franks
Playdemic
simon.franks@playdemic.com
01625 530 934