Preservica's market-leading Enterprise Private Cloud active digital preservation platform for Microsoft Azure meets growing demand for secure archiving, preservation and discovery of critical long-term data and content.
Boston, MA and Oxford, UK: 14th March 2019: Preservica, leaders in active digital preservation software, has announced the availability of its Enterprise Private Cloud offering on the Microsoft Azure cloud platform. The combined solution enables Microsoft enterprise and government customers to protect and future-proof critical long-term data over decades in order to extract value, mitigate litigation and compliance risk and intelligently leverage knowledge for competitive advantage.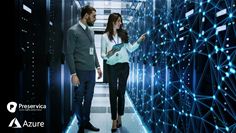 Enterprise-grade archiving and active digital preservation on Microsoft Azure
Preservica's Enterprise Private Cloud for Microsoft Azure is designed for organizations with strict regulatory, privacy and security requirements. It is fully managed by Preservica and can be deployed in a private Azure network with dedicated resources or on a customer's own Azure infrastructure.
The platform includes extensive APIs for integration with other content services platforms (CSPs), federated search and discovery, as well as leveraging Microsoft's AI and Machine Learning services for facial recognition, AV transcription, sentiment analysis, cognitive search and identification of sensitive data e.g. Personally Identifiable Information (PII) for GDPR compliance.
Preservica has also recently announced an automated archiving and digital preservation offering for enterprise-scale Microsoft SharePoint environments. The new intelligent SharePoint connector enables customers to automatically transfer critical long-term records and content from Microsoft SharePoint sites across the enterprise to the Preservica active digital preservation platform based on user defined fields. This enables organizations to streamline the governance of critical long-term content, drive greater cost efficiency and ensure compliance.
Paul Veck, AI Partner Development at Microsoft said: "Microsoft Azure is driving new levels of organizational productivity and intelligent data-driven experiences making it an ideal platform for Preservica's vision for AI enabled active digital preservation. The powerful combination of Preservica's proven enterprise-grade technology with Azure empowers organizations to protect and extract value from critical long-term digital assets."
Jon Tilbury, CTO and Head of Innovation at Preservica, added: "We are delighted to work with Microsoft to make Preservica Enterprise Private Cloud available on the Azure platform. The combination provides enterprise customers with a highly secure and durable global platform for future-proofing critical digital assets over decades. It also opens up new possibilities to leverage Microsoft AI and Machine Learning services to enrich and classify long-term digital information for competitive advantage."
Studies by the IGI and AIIM show that every major organization has a large and diverse array of critical digital data that needs to be kept for decades or permanently in order to mitigate risk, meet compliance and extract value. Digital transformation and application decommissioning initiatives are driving further exponential growth in long-term digital content. Preservica's OAIS (ISO 14721) conforming active digital preservation platform uniquely future-proofs all types of digital information against technology obsolescence ensuring valuable digital assets remain accessible and trustworthy over decades.
Learn more about Preservica Enterprise Private Cloud for Azure here: https://preservica.com/partners/microsoft-azure-test-draft?token=zCCL~TuWGaiPUGuF~JdgyvDCrzRx90OI.
ENDS
About Preservica
Preservica is changing the way organizations around the world protect and future-proof critical long-term digital information. Available in the cloud (SaaS) or on-premise, our award-winning active digital preservation software has been designed from the ground-up to tackle the unique challenges of ensuring digital information remains accessible and trustworthy over decades.
It's a proven solution that's trusted by major corporations, archives, libraries, museums and government organizations around the world - including the UK National Archives, Texas State Library and Archives, MoMA, Yale, the World Bank and HSBC - to name a few.
Visit: www.preservica.com Twitter: @preservica
Media Contacts:
In the UK: For further information, please contact: Edward Clark, eclark@thecommsco.com, or call: +44 (0) 203 697 6680
In Canada and the US: For further information, please contact: Maria Doyle, maria@doylestratcomm.com, or call: 781-964-3536