Expanding Oracle solutions consultancy Prōject has been rewarded for its strong performance in 2011-12 with a clutch of nominations for the UK Oracle User Group (UKOUG) Partner of the Year Awards 2012-13.
A double silver Award winner last year, Prōject has been shortlisted by the UKOUG in four categories of this year's Awards:
Business Intelligence

Primavera and Oracle Projects

E-Business Suite

Public Sector
The UKOUG Partner of the Year Awards are given in recognition of the standard of services enjoyed by Oracle users across a wide range of IT solutions. The Awards are especially prized as they are the only awards of their type voted purely by customers and end-users.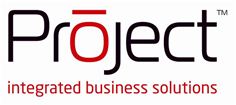 Project (EU) Ltd logo
Managing director Donna Butchart said,
"There is no accolade better than to be recognised by our clients and Oracle users for our commitment to excellence and broadening our portfolio of services.
"The two awards we won last year have certainly helped us to develop our business and our proposition to new customers. We are extremely proud to have been shortlisted by UKOUG in four categories this year, as the number of nominations has risen substantially.
"We greatly appreciate the support of our customers over the last year, and with their support we are certainly 'going for gold' again this year!"
About Prōject
Prōject is an independent consultancy with headquarters in Hemel Hempstead, providing specialist business process and finance systems advice.
The company has built a reputation for delivering complete, integrated solutions that address business needs and support corporate strategies. Working in both the public and private sectors, Prōject supports finance departments and wider business executive teams.
Prōject combines its accounting, business, reporting, functional and technical expertise to help clients recognise the true value of E-Business Suite modules, Business Intelligence (BI) and BI applications. The company is an Oracle Gold Partner with Oracle accredited specialisms for BI Applications and BI Foundation. Its consultants include qualified accountants and Oracle certified implementation specialists with an average of 15 years' experience of Oracle applications.
Prōject has a long, proven history of successfully implementing, upgrading and extending Oracle E-Business Suite (EBS) applications, delivering integrated solutions. The company is Europe's largest and most experienced practice that specialises in the Oracle Projects suite.
Prōject is the only consultancy asked by Oracle to prepare the Projects specialism exams for their global accreditation programme.
Prōject offers a comprehensive range of services and support that cover all aspects of business solutions.
A holistic approach
Prōject offers a consultancy-led approach to delivering integrated business solutions, evaluating existing systems, looking at the whole IT lifecycle from requirements gathering and system selection, leading to full system implementation or upgrade programmes.
Prōject services include:
Consultancy

Managed services and support

Programme and project management

Financing

Licences

Training

Technology
For more information, please contact:
Ellen Draper: edraper@project.eu.com,
or: media@project.eu.com