The new Chinese factory is ready to offer a full range of HV cable technologies, also leveraging on the global expertise of the worldwide leader Prysmian Group
With several years of history in the Chinese market and serving customers as China State Grid, Prysmian Technology Jiangsu can meet all clients' demands in APAC Region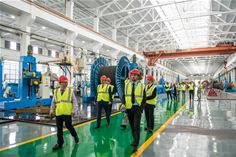 Prysmian Technology Jiangsu Co. Ltd Factory
Milan, 18 October 2017 - Prysmian Group, world leader in the energy and telecom cable systems industry, announces that its Chinese factory Prysmian Technology Jiangsu Co. Ltd. has successfully started operations after completing the acquisition of some assets from the former Shen Huan Cable Technologies.
Prysmian Technology Jiangsu Co. Ltd. is fully owned and managed by Prysmian Group, which provides the new factory with its technologies, assets, competences and expertise, in addition to the most experienced and trained Prysmian employees in the high voltage business, with the aim of enhancing its competitiveness in the Chinese utilities market.
Prysmian Technology Jiangsu can count on manufacturing and logistics facilities consisting of an area of more than 190,000 sq m and five production lines (two VCV lines up to 500 kV, one CCV line up to 220 kV and two CCV lines for MV cables) with a production capacity of over 30,000 tonnes per year, and is thus one of the plants with highest high voltage production capacity within Prysmian Group. Prysmian Technology Jiangsu can offer a wide range of cable technologies and products designed and manufactured in accordance with Prysmian Group standards and expertise, including extra high voltage and high voltage cable systems, as well as MV from six kV to 500 kV and fire protection cables.
Thanks to its technical expertise, quality and ability to deliver customised, high-performance solutions and as a further proof of its market leadership, Prysmian has recently delivered many high voltage projects in the Chinese and ASEAN Markets helping to strengthen domestic power systems.
"We have achieved important results in the area and qualified almost all of our innovative products, thus taking other significant steps forward in the expansion of Prysmian's business operations in the Asia Pacific region," commented Matteo Bavaresco, CEO at Prysmian Group China. "We are strongly committed to developing products, services and technologies that can better serve not only the growing domestic market where Prysmian Group has already acquired and completed several high-tech projects, but also other key areas like Middle East, other Asian Countries and South America."
Prysmian Group
Prysmian Group is world leader in the energy and telecom cable systems industry. With nearly 140 years of experience, sales of over €7.5 billion in 2016, 21,000 employees across 50 countries and 82 plants, the Group is strongly positioned in high-tech markets and offers the widest possible range of products, services, technologies and know-how. It operates in the businesses of underground and submarine cables and systems for power transmission and distribution, of special cables for applications in many different industries and of medium and low voltage cables for the construction and infrastructure sectors. For the telecommunications industry, the Group manufactures cables and accessories for voice, video and data transmission, offering a comprehensive range of optical fibres, optical and copper cables and connectivity systems. Prysmian is a public company, listed on the Italian Stock Exchange in the FTSE MIB index.
Media Relations
Lorenzo Caruso
Corporate and Business Communications Director
Ph. 0039 02 6449.1
lorenzo.caruso@prysmiangroup.com
Investor Relations
Cristina Bifulco
Investor Relations Director
Ph. 0039 02 6449.1
mariacristina.bifulco@prysmiangroup.com