Cable solutions designed to meet the Oil & Gas industry toughest challenges
Prysmian re-confirms its leading role in the cable industry with high-tech solutions for the Oil & Gas sector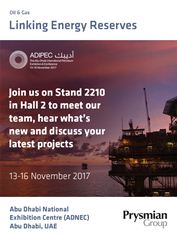 Prysmian Group at ADIPEC 2017
Milan, 13th November 2017 - Visit Prysmian Group at ADIPEC 2017 at Stand 2210, Hall 2 from 13 to 16 November at the Abu Dhabi National Exhibition Centre, to learn about our cable solutions for applications in subsea and on-shore Exploration & Production, Pipelines & LNG, Refineries and Petrochemical Facilities.
The Prysmian stand will feature our full portfolio of cable systems for the Oil & Gas industry including solutions for power transmission, distribution, instrumentation and control. Examples of cables with enhanced fire resistance and resistance to chemicals/moisture will be on display along with our range of Electric Submersible Pump (ESP) cables.
A Pry-Cam demonstration rig will be available to show how this breakthrough Partial Discharge measurement technology can improve electrical equipment condition assessment and asset management.
Technical and application specialists will be on hand to discuss visitors' needs and to recommend our best solution. Visitors will also be able to explore the Prysmian portfolio at one of two kiosks where they can use our click-to-view application to find the Prysmian Oil & Gas solution for their application.
In parallel with our presence at ADIPEC 2017, we have expanded the Oil & Gas area at the Prysmian Group website [www.prysmiangroup.com]. New content includes the Prysmian click-to-view application, over 110 product datasheets, videos, customer application stories and details of our latest advances and new products.
Prysmian Group
Prysmian Group is world leader in the energy and telecom cables and systems industry. With almost 140 years of experience, sales of about €7.5 billion in 2015, over 19,000 employees across 50 countries and 88 plants, the Group is strongly positioned in high-tech markets and offers the widest possible range of products, services, technologies and know-how. It operates in the businesses of underground and submarine cables and systems for power transmission and distribution, of special cables for applications in many different industries and of medium and low voltage cables for the construction and infrastructure sectors. For the telecommunications industry, the Group manufactures cables and accessories for voice, video and data transmission, offering a comprehensive range of optical fibres, optical and copper cables and connectivity systems. Prysmian is a public company, listed on the Italian Stock Exchange in the FTSE MIB index.
Media Relations
Lorenzo Caruso
Corporate and Business Communications Director
Ph. 0039 02 6449.1
lorenzo.caruso@prysmiangroup.com
Investor Relations
Cristina Bifulco
Investor Relations Director
Ph. 0039 02 6449.1
mariacristina.bifulco@prysmiangroup.com