February 29th, 2016: Purple WiFi last month rebranded as Purple, the intelligent spaces company, reflecting a wider scope of focus. Coinciding with this, Purple has introduced a new Partner Program to enable partners to gain easy entry into a range of customers, including enterprise targets.
Promising new recurring revenue streams, access to budgets outside of IT and a gateway to analytics, Purple's channel partner program will offer true differentiation and benefits for those partners that sign up.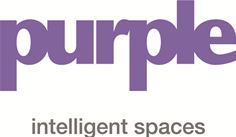 Purple logo
Channel program re-design
Purple's capability channel program gives partners the option to choose between two tiers of partnership – selling Purple as an Authorized Reseller; or becoming a Certified Partner, unlocking further benefits and industry differentiation.
Both Authorized Resellers and Certified Partners can access Purple's reseller portal and all of the tools they need to take Purple to market. However, partners that choose to become certified will receive additional training, deal registration, discounts for registered opportunities and account management support.
Purple also offers various white label options for those that wish to sell Purple under their own brand. There are pricing models suitable for organisations of all sizes, from independent resellers right up to service providers and MNOs.
New partner advantages
Gavin Wheeldon, CEO of Purple says, "Authorised partners can continue to sell our products. However, if a partner chooses to become certified, and goes through our simple online training process, they will experience another level of support from us, and ultimately enjoy enhanced selling opportunities."
Training excellence
Purple has created three areas of training for partners that wish to become certified: Selling, Deployment and Customer Success. Gavin says, "We will work closely with our certified partners to supercharge their ability to sell our services to customers. They will be clear on the new budget streams that can be created and the benefits to business this can bring."
Pricing
Purple has made all pricing points transparent to enable partners to gain easy entry into a range of customers, including enterprise targets. The biggest change is the addition of a new license type called Foundation, which allows partners to sell its product at a very low price point.
In addition, responding to the trend for customers opting for longer license terms (to access higher discounts), Purple has removed monthly pricing and added a five-year license to its existing offer of one and three year licenses.
About Purple http://www.purple.AI
Purple is an intelligent spaces company. It evolved from Purple WiFi, the cloud-based marketing and analytics WiFi software company, to take the lead in real-time analytics and marketing for venues and businesses that want to engage with visitors and understand the use of physical spaces.
Purple refers to this process as 'Intelligent Spaces' and can help brands to learn more about their location, customer base and help them to take action.
With nearly 8 million users across 134 countries, Purple works with a range of brands and venues, including Molson Coors, Legoland, Jaguar, United Wireless Arena, City of York and TUI.
It has a global agreement in place with Westcon Comstor, in addition to an active reseller base of over 300 in 60 countries. Purple employs over 70 full time staff and currently has offices in the UK, US, Madrid and Melbourne with more offices planned.
Huge growth is being seen in all sectors, including hospitality, where people have time to spend online, retail, where footfall tracking is essential, healthcare, offering transparency around service and communication and entire cities moving towards the Internet of Things.
Purple divides its offering into two specific segments; small businesses and enterprise customers.
Small businesses can continue to take advantage of Purple's free guest WiFi product and purchase a cloud software license, which allows open access to marketing and analytics tools.
Enterprise customers have the option of four product lines: WiFi, Location, and two new offerings; Fusion and Provision.
Purple WiFi is the well-established guest WiFi, analytics and marketing product.
Purple Location is a location based services product that works to actually pinpoint devices, enable heatmapping, provide zone flow information and enable journey management.
Purple Fusion is the latest offering, enabling connection to any type of data source, which can then be analysed and actioned. A variety of different data sources will be utilised to harvest information about any physical space.
Purple Provision is a commercial product more suitable for businesses, enabling a completely secure guest and staff WiFi environment. This uses automatic certificate provisioning instead of WPA or other encrypted WiFi SSID's, which are intrinsically insecure for a BYOD environment.
Press contacts:
Lloyd Gofton - lloyd@liberatemedia.com - +44 (0)7919 353 484
Justine Holman - justine@liberatemedia.com - +44 (0)7808 608416
Catherine Goddard – catherine@liberatemedia.com - +44 (0)7720 635048