London, 23 November 2016 – Pushfor, a new secure messaging and content sharing platform for businesses, has announced a £1.2 million pre-Series A investment round to fund the company's expansion and product roadmap. The London-based tech company has raised investment from NT Asset, c12 Ventures and Metdist Limited.
Kenneth Ng (NT Asset), Stephen King (c12 Ventures) and Uday Singhi (Metdist Limited) will bring significant expertise and knowledge to Pushfor as it continues to establish itself across key market sectors including financial services as a secure content distribution and messaging platform. Pushfor has ambitious growth plans, and this round of investment will fund Pushfor's initial expansion into new markets – particularly North America, Asia and India - increased sales and marketing and the continued development of its product roadmap.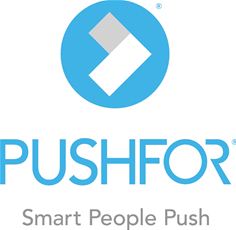 Pushfor logo
Pushfor has created a secure content sharing and instant messaging platform that pushes, controls and tracks the distribution of any content type or size, automatically showing that content to fit any device. Its patented technology 'pushes' information to users, letting them view the content without physically sending it to them. Security and viewing permissions can be applied along with geo-location tracking. Users have instant and easy access to the content without the need of the authoring software on their device. Content can be removed by the originator at any time. If an unauthorised recipient tries to screenshot or download the content, viewing rights are pulled, so it can no longer be viewed. It is the brainchild of John Safa, serial entrepreneur and security expert.
"The amount of press coverage of businesses having confidential information being leaked is staggering," says John Safa, founder of Pushfor. "Pushfor solves this problem so you can share information securely, and pull or limit access as needed.
"We had a lot of interest and were oversubscribed in this funding round, but as we are already generating revenue we kept it deliberately small. We are very focused on our growth strategy. As such we want to work with investors that not only bring the geographical reach but also significant experience of operating in these markets. This round wasn't all about the money but about bringing in investors that could help us achieve our goal of becoming a billion-dollar global company."
Investors Kenneth Ng and Stephen King will join the board at Pushfor.
"With Financial institutions operating in such a highly-regulated market they face challenges around distributing content that is easily and quickly accessible whilst still being fully compliant around data security. Pushfor helps overcomes these challenges and the potential use cases for this powerful secure content and messaging platform are limitless" says c12 Ventures, Stephen King.
Uday Singhi, President and CEO of Metdist Limited says "Pushfor is a powerful technology platform with a truly global appeal. Given our experience in India we see great scope for such a digital solution. The Indian government is firmly committed to the dual objectives of financial inclusion and technological empowerment. In a densely populated and culturally complex society achieving these objectives will require a renewed emphasis on security. The Pushfor proposition fits perfectly into this conversation and has application in a wide variety of sectors including insurance and banking".
Pushfor will be undertaking a Series A funding round in Q1 2017
About Pushfor
Pushfor is a secure content sharing platform that converts and projects content in high fidelity to any device. We have a patented smart approach to delivering content of any type or size - whereby the content is not sent to the device but 'pushed' in real time without the file leaving its source destination. Content delivery is highly secure and tightly controlled with customizable viewing permissions combined with real-time tracking, full audit trail and usage analytics. Users have immediate and easy access, and can interactively engage with content by instant chat messaging, anytime, anywhere and from their preferred device.
For further information or to speak to John Safa, contact:
Kate Hartley/ Malini Majithia
Carrot Communications
Tel: 0203 770 5836
Kate.hartley@carrotcomms.co.uk