Lichtenau/Baden, Germany, March 02, 2017 – LS telcom's Automated Online Frequency Management System is now fully implemented and in operation at the Communications Regulatory Authority (CRA) of Qatar. The system automates around 180 different workflows of spectrum allocation, assignment and licensing in support of the updated spectrum licensing framework and spectrum fee policy, which was put in place in Qatar in July 2015.
The e-Spectrum Services Portal, which is compatible with computers and mobile devices, provides data entry facilities for frequency license applicants. Users are able to apply for new licenses, renew, modify and cancel licenses online. They can also make online payments, as the Portal is integrated with an e-payment gateway.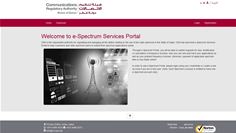 e-Spectrum Services Portal, CRA Qatar
LS telcom's Automated Frequency Management System (AFMS) is fully integrated with CRA's Automated Spectrum Monitoring System (ASMS).
"The two systems, which have been launched, are one of main infrastructure that Qatar invests in to improve the overall performance of the institutions and government entities for their interest, and to enhance economy and community benefits by using advanced and innovative technologies. Using the advanced technologies on a large scale in government work field has become an integral part of the work effective management," said His Excellency Jassim Bin Saif Al-Sulaiti during the inauguration of the two systems on 17th January 2017 in Doha, Qatar.
"The system that we implemented in Qatar is one of the most advanced spectrum management systems in the world. It not only fully digitizes spectrum management and licensing; it also integrates with CRA's spectrum monitoring system, and administers and analyses monitoring measurements. The licensing process, based on automation and digitalization as well as measured spectrum data, brings highest efficiency to spectrum management and increases revenues," explained Manfred Lebherz, CEO and Member of the Board of LS telcom.
Ends
For more information:
www.cra.gov.qa/en/document/automated-frequency-management-system-afms
the e-Spectrum Services Portal: https://e-spectrum.cra.gov.qa/cra/
About LS telcom
LS telcom is the global leader in spectrum efficiency. In an increasingly connected world, we assure that all spectrum users achieve their radio communication objectives in the most optimal and cost-efficient way. We deliver technologies and services to national and international regulatory bodies, to mobile and broadcast operators, to transport, critical infrastructure, defence, PPDR and vertical markets. We optimize spectrum management and spectrum use and enable new business models based on the internet of things (IoT). Spectrum users in all markets rely on our experts and software for the planning and design of optimized radio networks. We plan networks of all generations and technologies, including IoT.
On the regulatory side, we supply consulting and support services for spectrum policy development, pricing, auctions, trading, dynamic and licensed spectrum access considering technical, economic and social parameters.
Our highly modern SPECTRA Enterprise IT system provides regulators with fully automated workflow-based e-government capabilities in spectrum management. Combined with our flexible radio monitoring system, it is one of the most advanced systems for spectrum inventory and data mining, enabling highest spectrum efficiency.
Training on network technologies, standards, and regulations as well as radio monitoring system integration and optimization, transmitter installations and measurements complete our offer. Founded in 1992, LS telcom looks back on 25 years of experience in the radio communications market. Since then LS telcom, an ISO 9001:2008 certified company, has established memberships with many industry associations and organizations, and cooperates with leading technology universities. This is how we ensure to be up-to-date with technologies, standards and regulations.
LS telcom operates worldwide with subsidiaries and affiliates in Canada, China, France, South Africa, UAE, UK and USA as well as representations and support offices in Argentina, Hungary and Oman. With its headquarters in Lichtenau, Germany, LS telcom is listed on the German stock exchange under ISIN DE 0005754402 since 2001.
Join us at the next Spectrum Summit, on 5th July 2017. www.spectrum-summit.com/
Contact:
LS telcom
Christiane Labitzke
Marketing & Communications Manager
Email: clabitzke@lstelcom.com
Tel: +49 (0)7227 95 35 296 (Germany)
Tel: +33 (0)1 84 79 41 95 (France)