But 'keyword domains' are becoming less important according to a comprehensive analysis of factors that correlate with ranking highly in Google UK searches in 2013
London, 1st August, 2013 Web pages with better quality content tend to rank higher in Google UK searches, while the quantity and quality of backlinks are also closely associated with rankings according to new research. But having a relevant keyword in the web site domain name or web address now provides less ranking benefit than previously.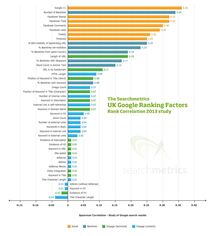 Searchmetrics UK Google Ranking Factors Rank Correlation 2013 study
The findings come from the UK Google Ranking Factors – Rank Correlation 2013 study by search and social analytics company, Searchmetrics, which also reveals that big brand web pages apparently continue to automatically rank in top positions without obeying the same rules as other sites. And the data recognises that pages that rank higher in Google searches tend to have more Google+ plus ones and Facebook shares.
The research aims to identify the key factors that help web pages rank well today in Google searches. A follow up to the company's similar UK Ranking Factors study conducted in 2012, the new study analyses search results from Google.co.uk for 10,000 popular-keywords and 300,000 websites appearing in the top 30 search results and picks out the issues that correlate[1] with a high Google ranking.
Six key findings from the study are:
1. Quality content is important for search rankings
Search experts believe the quality of content on web pages is an important ranking factor because Google is keen to raise the rankings of pages with good, useful information. Searchmetrics' analysis seems to support this, revealing that pages with more text and more images are positively correlated with Google rankings (correlation +0.04 and +0.07 respectively) indicating that higher ranking pages have more text and more images.
"If we assume that the existence of more text and images is an indicator of quality, then quality content is linked to higher rankings according to our study," said Marcus Tober, Searchmetrics' founder and CTO. "But we actually found that this relationship exists up to a limit of around 10,000 characters – after this the correlation tended to decrease. So you can't just go on adding text in the hope it will continue to drive a more positive rankings boost."
2. Exact match keyword domains and keyword links are not as powerful as before
Search experts have long believed that sites that have a keyword in the domain name, such as 'keyword.co.uk' , tend to rank higher for relevant searches, but Searchmetrics's study indicates that Exact Match Domains (EMDs) have now lost some of their ranking power.
The study found that having a keyword in the domain name now has a lower positive correlation (0.07) down from 0.11 in 2012. While having a keyword in the URL or web page address has declined from a correlation of 0.04 in 2012 to an even lower 0.01 in 2013.
Only a year ago, factors such as keywords in domains and URLs were correlated more positively with better rankings according to Tober:
"Our 2013 analysis indicates that Google's "Exact Match Domain" update to tackle the issue ‒ as well as the Penguin algorithm updates ‒ seem to have done a good job. We're not claiming that Google punished all the exact match domains. But certainly the trend shows that EMDs seem to have lost some of their 'ranking bonus'. Until 2012, there were lots of keyword domains ranking well in the SERPs that did not provide any value for the user except having the keyword in the domain name – together with ads on the page. Most were irrelevant to the user's query and so Google seems to have devalued these irrelevant domains now.
"Of course not all the EMDs are irrelevant now. And many EMDs are ranking well. But these are largely the domains that offer some kind of relevant value for the user. And this is normal, because if keyword domains have great content, why shouldn't they rank? The irrelevant ones are more or less gone. For the UK, our data indicates that in comparison to 2012, there are about 14.8% fewer EMDs in the top 10 positions now for the keywords we studied."
3. The number of backlinks remains immensely important
As in Searchmetrics' 2012 study, the 2013 data shows that the number of backlinks (links to a web page from other sites) remains very closely connected to how the page ranks. In fact the number of backlinks for pages that rank in top positions has increased, even if the correlation has remained unchanged at +0.34 from 2012 to 2013.
"Pages with more links rank really well," Tober summarizes. "However, it's not just the quantity that matters, but more and more the quality. The more natural the link profile, the greater the prospect of a positive ranking."
To get the most benefit, a site needs to have a spread of links that looks natural - not artificially created by SEO experts.
This means a site should not simply have a large number of perfectly optimized links that include keywords it wants to rank for in the anchor text. In line with this, having a proportion of 'no follow' links (links which do not convey ranking benefits) and links that contain neutral 'stopwords' (such as 'in', "and", 'to') in the anchor text – as well as links that are just generic (like "there", "here", "page") – have increased in importance according Searchmetrics' analysis.
A related finding is that backlinks which contain target keywords in the anchor text, a factor normally considered important by SEO experts, has decreased in importance with a correlation of +0.08 in 2013 (down from 0.16 in 2012).
"The SEO visibility of the web page a backlink comes from is also very important now," said Tober. "SEO visibility is our measure of how visible a site is within Google searches. So what we mean here is that if a site gets backlinks from highly visible, high ranking pages such as respected national news sites, then they seem to be more valuable – having more of this type of link is closely correlated with high rankings."
4. Social signals correlate closely with Google UK rankings
Social signals such as Facebook likes and shares, Twitter tweets and Google plus ones all correlate closely with Google rankings. And in fact Searchmetrics' analysis found that Google plus ones correlate more strongly (a correlation coefficient of +0.36) than any other social media signals. Facebook shares were the second most closely linked social signal with rankings a correlation of +0.32. Tweets on Twitter and Pins on Pinterest have lower correlations of +0.26 and 0.25 respectively.
"The pages in top positions in the search results stand out with a very high mass of social signals," explained Tober. "Of course there's a lot of debate about whether social signals directly influence rankings or are just closely correlated with rankings because highly ranked pages will get more traffic and so attract more shares, likes, plus ones etc. We can't say from the data in this study whether there's a causal relationship. So you can interpret it how you choose to."
5. Brands seem to enjoy an automatic ranking benefit
Brands seem to automatically rank higher in Google searches. And the analysis reveals that some features that correlate with high ranking pages, mostly 'on-page'[2] factors, do not apply to pages from top brands in the same way as they do for non-brand web pages.
"Brands rank high even if they fail to fulfill some of the most basic principles of SEO," said Tober. "For example pages from brands are positioned in or near the top of search results even if they have less text on the page and they don't have keywords in the title."
"And it seems as though Google considers it natural for brands to have comparatively more backlinks with the name of the brand in the link text alone – what we refer to as "brand links" – and still not be rated negatively as would be the case for non-brand sites."
6. On-page technology remains one of the basics
The on-page factors surrounding the technical side of building web sites, such as the length of URLs and the position of keywords in titles and descriptions, have long been one of the basics of a good search engine ranking – and the study indicates that this will continue. In fact it seems as though fulfilling certain on-page criteria is not about achieving a favourable ranking, rather, it is the opposite: it is simply negative for the rankings when web pages do not meet criteria. On-page factors are therefore considered more of a prerequisite for ranking higher in search results pages.
Searchmetrics collated the data for its study in March and then again in June 2013 to ensure it takes account of the impact of Google's latest Penguin 2.0 algorithm update.
"Our study provides an up to date picture of the factors that correlate with rankings on Google UK in 2013," explained Tober.
He added, however, that while the study highlighted those factors that correlate closely with a high Google ranking, it is not possible to say that these factors definitively cause or influence the rankings:
"We can say that, on average, more well-positioned pages exhibited these features and more poorly placed pages did not. But as I've said before, only Google knows what influences rankings for sure as only Google controls how the search algorithm actually behaves."
Tober also pointed out that SEOs analysing the data should be careful about making hasty interpretations from the ranking factor coefficient numbers. Certain factors tended to have a low correlation because they are present on nearly all pages that appear in the top 30 search results (resulting in a low Spearman correlation coefficient).
"Some of these factors tended to be very basic on-page factors such as the existence of H1 headings, a keyword in the meta description and site speed. They are almost ever-present and should absolutely not be disregarded by SEO teams. You can find out more about this issue by reading our in-depth report about the 2013 ranking factors."
The detailed report which outlines the results from Searchmetrics UK Ranking Factors - Rank Correlation 2013 study together with an infographic highlighting the key findings can be downloaded here: http://www.searchmetrics.com/en/services/ranking-factors-uk-2013/download/.
Ends
[1] Correlations were calculated using Spearman's rank correlation coefficient. A coefficient score of +1 implies a perfect positive correlation and a score of -1 implies a perfect negative correlation. In Searchmetrics' analysis a high positive correlation coefficient occurs for a factor if higher ranking pages have that feature / or more of that feature, while lower ranking pages do not / or have less of that feature.
[2] On-page factors are those factors that the webmaster, publisher or their SEO team/agency can control directly, such as the text length, page titles, URL features and headings on web pages.
About the Searchmetrics UK Ranking Factors ‒ Rank Correlation 2013 study
The study analysed Google UK (Google.co.uk) search results for 10,000 keywords and 300,000 web sites, featuring in the top 30 positions, as well as billions of backlinks, Tweets, Google plus ones, Tweets, Pins and Facebook likes, shares and comments. The data was collected in March 2013 and again in June 2013 to take account of Google's recent Penguin 2.0 algorithm update. The correlations between different factors and the Google search results were calculated using Spearman's rank correlation coefficient.
About Searchmetrics
Searchmetrics is the pioneer and world's leading provider of search and social analysis software for companies and online agencies. Searchmetrics has a unique server infrastructure and software solution – its Searchmetrics Suite™ – which its clients and partners continually use to aggregate and analyze very large volumes of data on the rankings of websites, keywords in searches and competitor groups. Searchmetrics Suite™ gives users unique insight into the visibility of websites on search engines in 124 different countries and on the largest social media portals. This information plays a decisive role, especially in inbound marketing, where having excellent visibility on search engines is essential for companies to reach potential customers on the Internet.
In addition to the Suite, with its Essentials product Searchmetrics offers a tool set for a quick start in search engine and social network optimization and real-time analysis in Germany, Austria and Switzerland, as well as high-end SEO consulting services. The company has branches in Berlin, London, Paris and New York and operates its SaaS solution through a network of partners and its online shop. The fast-growing company, based in Berlin and currently employing more than 100 staff, is part-owned by the renowned venture capitalist companies Neuhaus Partners and Iris Capital. Many renowned clients, such as T-Online, eBay, Siemens, TUI and Kaspersky rely on Searchmetrics to ensure that they have excellent search engine rankings.