QuantaDyn Demonstrates Highly Realistic JTAC Training Scenario at High-Fidelity 2K Resolution Powered by Bohemia Interactive Simulations' Whole-Earth Rendering VBS Blue IG
ROTTERDAM, Netherlands - QuantaDyn Corp., an engineering firm specializing in training and simulation, is demonstrating a rapidly prototyped Joint Terminal Attack Controller training system at ITEC 2017 in Rotterdam, May 16 -18, that offers an unprecedented level of visual realism by using Bohemia Interactive Simulations' whole-earth rendering technology VBS Blue IG.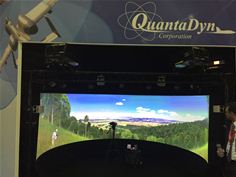 QuantaDyn at ITEC
QuantaDyn will showcase a force-on-force Major Combat Operations (MCO) fight against an enemy with the same capabilities as the friendly forces. ITEC 2017 attendees can expect to see the JTAC deal with enemy surface-to-air threats, enemy armor and APC's, enemy rotary wing aircraft and collateral damage considerations.
The JTAC training scenario will be presented on a 4-channel, 4-meter dome system at 2K resolution with incredibly realistic geotypical terrain from VBS Blue merged with geospecific roads and building footprints from TerraTools, TerraSim's flagship terrain generation software. The scenario will be driven by Modern Air Combat Environment (MACE) from Battlespace Simulations Inc. and QuantaDyn's communications middleware DIScover will provide interoperability capabilities.
"We are very excited to add Bohemia Interactive's VBS Blue IG to our system as it gives us a remarkable depth of realism enabling us to deliver a high fidelity experience in the QuantaDyn System," said Bill Dunn, President, QuantaDyn. "QuantaDyn is focused on providing a reliable and realistic Joint Fires Training System to our customers across the globe and key partnerships with trusted providers enable our delivery for training excellence."
With VBS Blue as part of the QuantaDyn demonstration, JTACs are able to view the scene at the fidelity prescribed by the DORI (Detection Orientation Recognition Identification) requirements at the default field of view. VBS Blue visuals include views of clouds, subcentimeter ground detail, and vegetation blowing in the wind. Moving ground vehicles, helicopters, and fast jets are equipped with representative physics. JTACs will be able to target buildings and vehicles in the simulation, call for close air support, and conduct battle damage assessment.
VBS Blue provides high-fidelity and high-performance rendering from space down to blades of grass for all training applications. In late 2017, VBS IG customers will be able to harness VBS Blue for image generation. The VBS Blue IG upgrade will be provided as part of normal updates.
"VBS Blue IG is able to produce a never-before-seen level of realism at high, stable frame rates," said Cory Kumm, BISim's Vice President of Corporate Development. "The collaborative project with QuantaDyn from conception to completion took course over a few short weeks, demonstrating the power of VBS Blue IG technology for procedural content generation, TerraSim's TerraTools tech for creating geospecific elements in the 3D virtual environment, and QuantaDyn's strengths as a leader in JTAC training."
See demonstrations at QuantaDyn's stand #18 during ITEC.
QUANTADYN CORP
QuantaDyn provides simulation and training solutions, services, and support, specializing in Joint Fires Training Systems that leverage the expertise gained in delivering our Joint Terminal Control Training Rehearsal System (JTC TRS) and Advanced JTAC Training System (AJTS) products. Our mission is to provide modern, innovative answers to training needs, whilst taking full advantage of commercial-off-the-shelf (COTS) technology. Our experience includes virtually all phases of training device development for Joint Fires as well as both fixed and rotary wing aircraft for use on both military and commercial training systems programs.
www.quantadyn.com
BOHEMIA INTERACTIVE SIMULATIONS
Founded in 2001, Bohemia Interactive Simulations (BISim) is a global software company at the forefront of simulation training solutions for defense and civilian organizations. BISim utilizes the latest game-based technology and a large, experienced in-house team of engineers to develop high-fidelity, cost-effective training and simulation software products and components for defense applications. Learn more at bisimulations.com.
BISim Media Contact:
David Dadurka
Bohemia Interactive Simulations
marketing@bisimulations.com
QuantaDyn Media Contact:
Sadie Lockett
Ruddy Nice
sadielockett@ruddynice.com