High Wycombe, UK, 24 April 2018 International POS printer manufacturer Star Micronics has today announced that it will be partnering with Qudini, an award-winning London-based SaaS customer experience management company offering queue management and appointment booking software to retailers, at RBTE 2018 (2 - 3 May, Olympia, London) on Stand F100.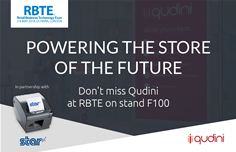 Qudini joins Star Micronics at RBTE 2018
Qudini will be showcasing its cloud-based customer experience management platform with Star's TSP700II LAN printer. This platform enables retailers to reduce customer walkouts, increase conversions and optimise efficiencies within the store environment through its array of appointment and event booking, virtual queue, click and collect and request assistance solutions.
Qudini works collaboratively across a range of industry sectors with a vast array of global and UK brands including O2, Telefónica, John Lewis and House of Fraser as well as the UK's National Health Service to improve sales, operations, customer loyalty and satisfaction. The company's SaaS based customer experience management platform enables retailers to enhance their in-store customer experiences through a series of features:
Virtual Queue Management - Walk-in footfall is managed more efficiently and physical queues and busy waiting rooms are replaced with faster digital queues and more satisfied customers.
Multi-channel appointment scheduling - Appointment availability, staff resources and footfall are managed with pre booked appointments made online and in the store, venue or surgery.
Click and Collect - Greater loyalty is generated through an improved experience that enables Click and Collect customers to check in and receive personalised updates about their order status.
Call Back - By building a list of customers waiting to receive information about a service or a goods collection from store, the retailer can personalise communications and build brand loyalty.
Commenting on the news, Imogen Wethered, CEO & Co-founder of Qudini said: "We are delighted to be partnering with Star Micronics at this year's RBTE, which is one of Europe's leading retail technology events. One of the focuses for this year's show is to look at the existing challenges which retailers face in today's economic environment and overcome these through optimising legacy processes and technologies used in-store. At this year's show, we will be showcasing our cloud based customer experience management platform on the Star stand, enabling retailers to experience our array of appointment and event booking, virtual queue, click and collect and request assistance solutions."
Wethered adds: "We believe collaborating with partners such as Star enables us to reinforce our message to retailers about future proofing the in-store customer experience and also helps us to strategically engage with new markets."
For printing receipts and tickets, Qudini has selected the versatile multifunctional TSP700II LAN from Star, a printer that combines high speed with superior functionality. Capable of printing at 250mm/second, the TSP700II features a large 100mm diameter paper roll capacity that offers up to 60% more paper than a standard 80mm roll, ideal in a busy retail environment.
Annette Tarlton, Marketing Director, Star Micronics EMEA, comments: "We are pleased to be working with Qudini and showcasing their flexible and feature-rich platform at RBTE. In a rapidly evolving retail landscape, retailers need to focus on enhancing the in-store customer experience and personalising communication. Qudini's powerful software in partnership with Star's unique printer hardware offers a tangible solution that responds to these challenges and enables retailers to improve operations and footfall as well as generate greater brand loyalty and customer satisfaction."
Background Information on Qudini
Qudini is a cloud based platform that allows brands with physical locations to create fantastic customer experiences. This is done through technology to manage queues and walk-in customers requiring service, with additional functionality that allows brands to take booking for appointments and events online. Qudini works with: O2, Telefónica global, John Lewis, Thomas Cook and many other fantastic retailers as well as the NHS and many of London's hottest restaurant brands, including: Honest Burgers, Hoppers, The Diner and many others.
Background Information on Star Micronics
Founded in 1947, Star Micronics is one of the world's largest printer manufacturers and has facilities for worldwide production, marketing and support. Employing over 1900 staff and achieving turnover in excess of £250 million, Star Micronics has developed a POS printer portfolio that spans thermal and dot matrix printers and mechanisms, designed for barcode, ticketing, receipts and labelling. Star's proven technology is also being utilised to install print mechanisms in multimedia kiosk environments. The Star Micronics' range is available internationally via a distribution channel comprising distributors and dealers.
-oOo-
For further information, please visit www.Star-EMEA.com or contact:
Annette Tarlton
Marketing Director
Star Micronics EMEA
Tel: +44 (0)1494 471111
Email: Atarlton@Star-EMEA.com
Claire Smith
PR Manager
Star Micronics EMEA
Tel: +44 (0)1494 471111
Email: Csmith@Star-EMEA.com
Anne-Marie Lavelle
Head of Marketing
Qudini
Tel: +44 (0)203 322 3312
Email: anne-marie@qudini.com