The Quiet Treehouse has been designed by Blue Forest Luxury Treehouses and will be donated for permanent use by Chestnut Tree House, the children's hospice for Sussex
London, March 10, 2014: John Lewis, Retailer of the Year 2013*, joins the Quiet Revolution with Quiet Mark in 2014 through a partnership that will aim to evolve consumer understanding of sound quality and develop a new era of sound measurement for electrical products sold at the UK's favourite department store.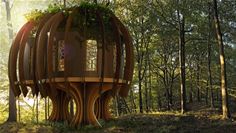 The Quiet Treehouse by Quiet Mark and John Lewis designed by Blue Forest Tree Houses - light
Quiet Mark is the international mark of approval from the UK's Noise Abatement Society, endorsed by DEFRA, encouraging the design of quieter high performance technology and solutions to reduce unwanted noise in our environment. Often you can't tell how loud an appliance is going to be until you plug it in at home.
The distinctive purple Quiet Mark assures consumers that a product is one of the quietest in its category with an easy labelling system at point of sale. Quiet Mark awarded technology will be available to buy at John Lewis online and in-store later this Spring.
To celebrate the partnership, Quiet Mark and John Lewis will unveil The Quiet Treehouse from the 14th – 30th March 2014, stand number 1K51, at London's Earls Court. This is a pioneering launch showcasing the latest Quiet Mark awarded products, cocooned in a sound-designed creation that is set to be the central feature for the Ideal Home Show 2014.
Working together with Blue Forest Luxury Treehouses, the multi-awarded world leading luxury treehouse and eco-home builders, John Lewis and Quiet Mark have developed an ambitious and extraordinary next generation tree home made from Kebony wood, which will be beautifully illuminated by John Cullen Lighting.
The Quiet Treehouse will feature the latest technology from Quiet Mark awarded brands, including Dyson, Lexus, Bose, Smeg, Philips, Mitsubishi Electric, Vaillant, Insinkerator, Lumie, Magimix, Kitchen Aid, Samsung and many more stocked at John Lewis in-store and online at John Lewis.com.
Poppy Elliott, Managing Director of Quiet Mark says: "In 2013 we launched the Quiet House, and this year we have taken acoustic design one step further with our retail partners John Lewis, to develop The Quiet Treehouse. Come along to the Ideal Home Show and glimpse into the future where a healthy acoustic environment is as important as the architectural design of a building. Experience too the latest John Lewis interiors and Quiet Mark awarded technology all under one magical roof."
Johnathan Marsh, Head of Buying, Electricals, John Lewis says: "Noise surrounds us and affects our everyday lives in ways most people are completely unaware of. However, when it comes to electronics we believe it will become an increasingly important consideration for consumers when they are deciding what technology to buy for their home. That's why we're excited to be working with Quiet Mark to help set a benchmark in sound quality and provide customers with a more informed choice."
Ends-
Note to Editors;
Quiet Mark is also delighted to be the first aural environment initiative to headline sponsor the Ideal Home Show.
The Quiet Treehouse will offer personal sound-portraits for visitors and a Wild Sanctuary animal soundscape archive for an unforgettable take-home experience. To complete the adventure, hunt for the John Lewis products from The Quiet Treehouse across the show with the Quiet Trail Treasure Maps. You will also have the chance to win the awarded appliances.
Everyone involved with The Quiet Treehouse have ultimately created a dream space for Chestnut Tree House, the children's hospice for Sussex to support care for children and young people with life-limiting and life-threatening illnesses. Following the show, the treehouse will be donated for permanent use by the children and their families to enjoy every day.
UK brands kindly donating materials for The Quiet Treehouse for Chestnut Tree House Children's Hospice include Jewson, Pilkington Glass, Kebony, Medite Tricoya, Acoustiblok, Kvadrat - Soft Cells, Rockwool and more.
Interiors by John Lewis, Lighting by John Cullen lighting, interior consultancy by Martin Hulbert Interiors and Quiet Mark, garden design by David Domoney.
The 'Quiet Treehouse' will be on display at the Ideal Home Show 2014, sponsored by Quiet Mark, between March 14th – 30th. The Ideal Home Show 2014 will open from 10am – 6pm daily and late night Thursdays until 9pm.
If you would like to attend the Quiet Treehouse media launch at the Ideal Home Show on March 14th at 10.30am, please contact lloyd@liberatemedia.com to confirm your place.
For more information or to purchase tickets to this year's event, please log on to www.idealhomeshow.co.uk or call the booking hotline on 0844 858 6763.
About Quiet Mark
In our stressful lives we are surrounded by a cacophony of sound that we have little power to stop. The louder the noise around us the more energy we waste to overcome it, and it is getting worse day by day. If we don't do something about this soon, our ability to hear the subtle sounds around us will disappear. Quiet Mark is embarking on a journey to redress the situation, to create a demand for the use of quieter technology in our homes, in our workplace and in the open air.
Quiet Mark, a not-for-profit trading arm of the Noise Abatement Society charity, sprang from the response to public complaints received by the Society's 24/7 national noise helpline, concerning the volume of excessive noise made by household tools and appliances which invade the fabric of everyday life. Quiet Mark brings the answer with a universal symbol and system of support for consumers and industry alike to help transform the aural environment for the benefit of all by commending the quietest technology currently available on the market. Quiet Mark product submissions are assessed by a team of the UK's leading acousticians at the Association of Noise Consultants.
The response from industry internationally has been overwhelmingly positive with over 40 leading global brands across first 30 product categories, from dishwashers to garden tools, now on board including AEG Electrolux, Dyson, LG, Mitsubishi Electric, Panasonic, Philips, Samsung and Whirlpool. They have all achieved awards for their quieter products with the distinctive purple Quiet Mark logo. The world's first quiet showcase featuring the award winners and other practical peacemaking solutions, including Quiet Mark's Win a Quiet Life in 2014 monthly promotion, can be seen at www.quietmark.com
About The John Lewis Partnership
The John Lewis Partnership - The John Lewis Partnership operates 40 John Lewis shops across the UK (30 department stores and nine John Lewis at home), johnlewis.com, 300 Waitrose supermarkets, 35 Waitrose convenience stores, waitrose.com and business to business contracts in the UK and abroad. The business has annual gross sales of over £9.5bn. It is the UK's largest example of worker co-ownership where all 84,700 staff are Partners in the business.
John Lewis - John Lewis, 'Retailer of the Year 2013'* and 'Multichannel Retailer of the Year 2013'*, typically stocks more than 350,000 separate lines in its department stores. The website stocks over 250,000 products focused on the best of fashion, beauty, home and giftware and electrical items including online exclusives. johnlewis.com is consistently ranked one of the top online shopping destinations in the UK. (www.johnlewis.com). John Lewis Insurance offers a range of comprehensive insurance products - home, car, wedding and event, travel and pet insurance and life cover - delivering the usual values of expertise, trust and customer service expected from the John Lewis brand.
* Oracle Retail Week Awards 2013
About the Noise Abatement Society
The remit of this national charity is to abate excessive and unnecessary noise to protect the public and improve the aural environment. Working with Government and Industry for more than fifty years the Noise Abatement Society has achieved a reputation for collaborative partnerships to find practical solutions to noise problems, underscored by programmes to raise awareness and educate about measured, considered and responsible use of sound. www.noiseabatementsociety.com
About Blue Forest
Blue Forest are widely considered to be the world's leading tree house design and construction company and have established a reputation for creating buildings which reflect the environment in which they are built. Blue Forest was founded by Andy Payne in 2003. Today the company is run by Andy and his brother Simon who were both born in Kenya where they were fortunate enough to have spent their childhood surrounded by the beauty and adventure of the great outdoors. Blue Forest was born of these experiences and from a desire to bring people closer to the natural world.
www.blueforest.com
Further information and high resolution images can be downloaded from our Press Pack:
https://www.dropbox.com/sh/nzn7a8oqb6277qa/ZV6nSsXQCh
Blue Forest Contact Information:
For further information and high resolution images please contact Simon Payne by emailing simon@blueforest.com or call +44 (0) 1892 750 090
Key Material Sponsors:
Medite Tricoya: Medite Tricoya Extreme Durable MDF provides outstanding dimensional stability and durability using a non-toxic environmentally compatible process. www.meditetricoya.com
Kebony: Kebony is based on a process where sustainable wood is made more durable, harder and more stable using liquids from biowaste material. Kebony is a sustainable alternative to hardwoods from tropical regions. The products resemble teak and other tropical varieties of wood.
www.kebony.com/en/
Cantifix: Cantifix are an architectural glazing company.
www.cantifix.co.uk
About Chestnut Tree House children's hospice
Chestnut Tree House provides specialist palliative care services to children and young people with life-shortening and life-threatening illnesses in East Sussex, West Sussex and South East Hampshire.
As well as caring for over 280 children and young adults from 0-25 years of age, Chestnut Tree House offers support for the whole family including psychological and bereavement support, end of life and short break care and sibling support.
It costs almost £3 million each year to provide all our care services. Families are never charged for their care and the hospice receives less than 8% from central government, so it relies heavily on the generosity, help and support of the local community.
http://www.chestnut-tree-house.org.uk/
Contact: Janet Parsons, Head of Communications on 01903 706319 or email janet.parsons@stbh.org.uk
About Ideal Home Show
The Ideal Home Show, the UK's biggest and longest running consumer event, acquired by award-winning events and publishing company Media 10 in 2009 from DMG World Media, the first time the show has changed hands in just over 100 years.
The 2013 Ideal Home Show attracted over 275,000 visitors across the event.
Follow the Ideal Home Show on Twitter twitter.com/ideal_home_show
Quiet Mark Press contacts
Liberate Media:
Lloyd Gofton – mobile +44 (0)7919 353484; Email: lloyd@liberatemedia.com
Jeremy Lloyd – mobile +44 (0)7554 443520; Email – Jeremy@liberatemedia.com