He will oversee Quiet Mark's innovative acoustic testing program.
September 27, 2018: Quiet Mark has appointed Richard Wilkinson as Technical Manager. He joins Quiet Mark's senior team to oversee technical evaluations and award assessments.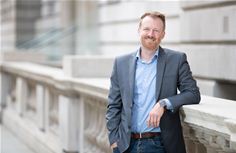 Richard Wilkinson, Technical Manager, Quiet Mark
Quiet Mark is an international award programme and system of support for brands and consumers. Through its pioneering acoustic tests, the organisation awards its distinctive Purple Q Mark to products and services that show excellence in low-noise and high-performance. In his new role, Richard will ensure the continued integrity of the Quiet Mark as a symbol of acoustic excellence.
In this vital position, Richard will be responsible for delivering rigorous technical evaluations and award assessments across all industry categories in the domestic and commercial sectors.
Richard will also manage product testing working with Quiet Mark's expert acoustic teams in London, New York and Germany supporting the growth of the award programme in global markets.
Richard joins Quiet Mark from Good Housekeeping Institute, where he held the position of Appliance & Household Testing Manager. He was responsible for creating and delivering the Good Housekeeping appliance & household goods testing strategy across editorial, digital and commercials platforms.
With a strong background in product research and testing, Richard also spent 14 years at Which?. In his most recent role as Senior Business Researcher, Richard was responsible for selecting and managing the laundry, dishwashing and refrigeration products that Which? tests and reviews. Richard was also a regular spokesperson and representative for Which? at International Consumer Research & Testing market researcher conferences.
Richard Wilkinson, Technical Manager, Quiet Mark says, "I have been tracking Quiet Mark's rapid growth over the last six years, witnessing the resulting groundswell of interest in the quiet revolution from consumers and businesses alike. It's a very exciting time to be joining the team as we expand our product focuses and continue to grow into new geographic markets."
Quiet Mark's Founder and Managing Director, Poppy Szkiler, comments, "Richard's 16 years of experience in household appliance and product testing is hard to find. We are delighted to have found the best person to drive our testing offering and believe we have identified a truly unique individual. He has experience of working with like-minded consumer champions and he not only understands Quiet Mark's mission but can also help to evolve our product testing offering across the board."
Ends
About Quiet Mark
In our stressful lives, we are often surrounded by a cacophony of sound we have little power to stop. The louder the noise around us, the more energy we waste to overcome it, and it is getting worse day by day. If we don't do something about this soon, our ability to hear the subtle sounds around us will disappear.
In 2012, Quiet Mark embarked on a journey to create a solution to the problem with a positive, relevant consumer champion campaign for the use of quieter technology in our homes, workplaces, living spaces and outdoor environments.
Quiet Mark, associated with the Noise Abatement Society charity founded in 1959, sprang from the response to public complaints received by the Society's national noise helpline, concerning the volume of excessive noise made by household tools, appliances and technology which surround us, dominating everyday life.
Quiet Mark has provided the answer with a trusted universal award-symbol and system of support for consumers and industry alike to help transform the aural environment for the benefit of all, by conducting expert independent technical assessments and commending a selection of quietest technology and noise reduction solutions available on the market.
The response from global industry has been momentous and positive with over 60 leading global brands across first 50 product categories, from dishwashers to garden tools to noise reduction solutions, on board including AEG Electrolux, BSH Bosch, DeLonghi, Dyson, Fisher & Paykel, Interface, Karcher, Logitech, Magimix, Mitsubishi Electric, Panasonic, Philips, Pilkington Glass, Rockwool, Sage, Samsung, Siemens, STHIL, Whirlpool.
These companies have decided to invest responsibly in acoustic design, achieving awards for the technical excellence of their quieter products or solutions to unwanted noise, they use the distinctive purple Quiet Mark logo to help consumers and buyers easily find them in retail stores or online.
If we all choose to 'Buy-Quiet' and industry-at-large makes noise reduction solutions a priority at R&D design stage we can collectively stop the harmful effects of noise pollution, reverse the problem and protect the health of the generations to come.
Quiet Mark received an honourable mention in the IHS Markit Innovation awards, presented at ShowStoppers, IFA Berlin 2018.
For more information see: www.quietmark.com
Quiet Mark Press Contacts

Liberate Media
Lloyd Gofton - +44 (0) 7919 353484; Email: lloyd@liberatemedia.com
Claire Culley - +44 (0) 7545 167882; Email: claire@liberatemedia.com