Brighton, March 11, 2013: The Ideal Home Show is set to join the Quiet Revolution with the World's First Quiet House, a showcase of the quietest technology and solutions to unwanted noise for our home, work and everyday living environments. The Quiet House will be unveiled from the 15th March – 1st April 2013 at London's Earls Court.
The Quiet House was pioneered by Quiet Mark (www.quietmark.com) the not-for-profit trading arm of the Noise Abatement Society charitable foundation, and developed in partnership with award winning Gregory Phillips Architects, interior designer Martin Hulbert, soundscape feature artist Martyn Ware and with lighting by Andrew Orange.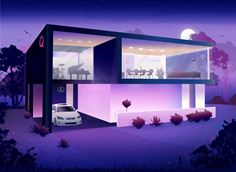 Quiet House
This aspirational Quiet House will be showcased to help consumers make more informed choices about the technology we buy and share our homes with and help reduce unwanted neighbour noise, empowering us all to re-tune the sounds around us and de-stress our personal space.
Given that the average household contains around fourteen different appliances sometimes all working furiously at the same time[1], it is no surprise that around half the population have said that noise affects their quality of life[2]. Furthermore, independent research has revealed that the vast majority of consumers admit it was a mistake not taking more consideration of the noise an appliance makes at the time of purchase[3]. Around one million people reportedly went to the extent of moving home to escape noise coming from their neighbour, as one in seven people are woken by their neighbours and one in ten are kept awake by them[4].
Poppy Elliott, Managing Director of Quiet Mark says: "We hope that by increasing awareness of high-performance quiet products this will encourage a low-noise standard requirement across technology design, helping us to enjoy the sounds we want to hear and reduce unwanted noise."
Featuring over 25 partner brands with the distinctive purple 'Q' mark of approval, awarded to manufacturers who incorporate 'quiet' into their designs, The Quiet House will offer solutions to those looking for a more peaceful life.
Headline partners for the Quiet House include quiet-car leader Lexus, leading global home insulation brand Rockwool, Yamaha Musical Instruments featuring the Silent Piano, Dyson, Mitsubishi Electric quiet home heating, Pilkington Glass and Cantifix with noise defence windows, and award winners including Philips, Samsung, Ventaxia, Sennheiser, Magimix, Quiet PC, Beats by Dre, Lumie, Bio-ionic, Pliteq, Fermacell, Optoma, Silent Disco London, Chewton Glen Treehouses and many more.
Quiet House interiors partners include Selfridges, Fired Earth, Poggen Pohl, CP Hart, Roche Bobois, Flexiform, In a Modern World and The Natural Wood Floor Company.
Each room has been given a sound makeover, and will demonstrate that with quieter high performance products, the application of sound insulation, isolation and noise absorbing solutions, homeowners can reduce unwanted noise, which can completely transforms our home into a more supportive healthy aural soundscape.
The combined noise levels of the products, appliances and sound absorption solutions in this Quiet House are estimated to reduce decibel levels to under 40dB and make an average reduction of decibel levels or improved sound quality between 5-25dB per appliance, depending on product category. Even a few less decibels can make a big difference to the layering of sound experienced in the home environment.
Here are the awarded products and solutions in each living zone:
Kitchen/Laundry - Often seen as the noisiest room in the house with most machines at work, solutions include quiet cooker hoods, fridge freezers, kettles, washing machines, tumble dryers, irons, extractor fans, food processors and quiet closing kitchen units. This section will host award winners from Samsung, Magimix, Philips, Whirlpool and Ventaxia.

Bedroom -To re-charge in complete peace the selection of products includes ear plugs, quiet high performance hair-dryers, quiet wake up lights with natural sounds like bird-song and wave sounds, home automation systems to control lighting and home audio systems, plus noise cancellation head-sets. Products will be showcased from Sennheiser, Philips, Lumie, Bio-ionic, Cirrus Ear Care.

Bathroom - Relax in complete silence rather than in the company of brash fans and pump systems. The Quiet House shows soft close toilet seats, silent extractor fans, quiet shower pumps and noiseless flush toilets. Products on display will include those from Tom Tom, Ventaxia, Stuart Turner among others.

Living Room -The home entertainment zone can have a sound makeover with latest sound technology from soft fans to silent studio performance instruments. This section will include products from leading home automation brands and award winning designs from Dyson, Yamaha, Mitsubishi Electric, Loxone and Optoma.

Office/Study - To be the most productive and to help concentration, the quiet office has a silent fan-less computer, a silent tech paper shredder, plus noise cancellation headphones and a gentle sound quality desk fan. Products on display include award winners from Quiet PC Nofan, Intimus Pro, Dyson, Beats by Dre, Rockwool.

Music Room - Practice your skills to your heart's content without driving your neighbours barmy! This room will showcase an award winning range from Yamaha Silent Instruments including Grand Pianos, guitars, brass and drums.

Windows - Noise reduction glass solutions from Pilkington Glass and Cantifix.

Home Heating -The quietest home heating from Mitsubishi Electric Ecodan.

Insulation - Several systems to demonstrate how to protect your home from acoustic levels and insulate at the same time will be showcased in the home. Quiet Mark award winners will include Rockwool, Pliteq, Fermacell among others which specialise in home insulation and isolation solutions.

Garage -The Quiet House boasts a quiet hybrid car transforming driving experiences to peaceful rides. The Quiet House will show the Lexus Hybrid range plus other award winners for travel from Oxygen Scooters.

Garden - Lower noise garden tools and lawn mowers which are mainly cordless lithium ion will be showcased here with ranges from Bosch Lawn and Garden, STIHL, Husqvarna displayed.
Spanning across over 35 product categories, the Quiet Mark awarded products within the Quiet House are validated as a selection of the quietest technology and solutions currently available on the market. The official mark provides an easy labelling system at point of sale which assures consumers of a trusted assessment of noise levels.
The 'Quiet House' will be on display at the Ideal Home Show 2013, sponsored by Anglian Home Improvements, between the 15th March – 1st April. Visitors to the house will be able to experience, touch, try and feel the latest 'Quiet' domestic technology. The Ideal Home Show 2013 will open from 10am – 6pm daily and late night Thursdays until 9pm.
For more information or to purchase tickets to this year's event, please log on to www.idealhomeshow.co.uk or call the booking hotline on 0844 858 6763.
[1] Quiet Mark survey: 3,389 entrants to Quiet Mark survey from Win Quiet Life promotion in December 2012
[2] Market Intelligence Management Limited January 2007 survey across European countries
[3] Ipsos Mori 2007
[4] Ipsos Mori 2007
-Ends-
Notes to Editors:
Sound is measured in decibels and the scale dB(A) is weighted to the range perceived by the human ear and is based on a logarithmic scale: thus the sound level of 100 dB(A) contains twice the energy of a sound level of 97 dB(A) and a rise of 10dB in sound level corresponds to roughly a doubling of subjective loudness.
About Quiet Mark
In our stressful lives we are surrounded by a cacophony of sound that we have little power to stop. The louder the noise around us the more energy we waste to overcome it, and it is getting worse day by day. If we don't do something about this soon, our ability to hear the subtle sounds around us will disappear. Quiet Mark is embarking on a journey to redress the situation, to create a demand for the use of quieter technology in our homes, in our workplace and in the open air.
Quiet Mark, a not-for-profit trading arm of the Noise Abatement Society charity, sprang from the response to public complaints received by the Society's 24/7 national noise helpline, concerning the volume of excessive noise made by household tools and appliances which invade the fabric of everyday life.
Quiet Mark brings the answer with a universal symbol and system of support for consumers and industry alike and is a vehicle to finance transformation of the aural environment for the benefit of all. Quiet Mark product submissions are assessed by a team of the UK's leading acousticians at the Association of Noise Consultants.
The response from industry internationally has been overwhelmingly positive with over 40 leading global brands across first 30 product categories, from dishwashers to garden tools, now on board including AEG Electrolux, Dyson, LG, Mitsubishi Electric, Panasonic, Philips, Samsung and Whirlpool. They have all achieved awards for their quieter products with the distinctive purple Quiet Mark logo. The world's first quiet showcase featuring the award winners and other practical peacemaking solutions, including Quiet Mark's Win a Quiet Life in 2013 monthly promotion, can be seen at www.quietmark.com
About the Noise Abatement Society
The remit of this national charity is to abate excessive and unnecessary noise to protect the public and improve the environment. Working with Government and Industry over the last fifty years the Noise Abatement Society has achieved a reputation for collaborative partnerships to find practical solutions to noise problems, underscored by programmes to raise awareness and educate about measured, considered and responsible use of sound. www.noiseabatementsociety.com
About Ideal Home Show
The Ideal Home Show, the UK's biggest and longest running consumer event, acquired by award-winning events and publishing company Media 10 in 2009 from DMG World Media, the first time the show has changed hands in just over 100 years.
The 2012 Ideal Home Show attracted over 275,000 visitors across the 17-day event and included a Royal Visit from HRH, The Prince of Wales.
Follow the Ideal Home Show on Twitter http://twitter.com/ideal_home_show
About Gregory Phillips Architects
Gregory Phillips Architects is a team of highly creative and dedicated architects and interior designers based in London. Gregory studied at Bristol University and the Mackintosh School of Architecture. He founded Gregory Phillips Architects in 1991.
The work of Gregory Phillips Architects has won both architectural and interior design awards and has been extensively published both nationally and internationally.
In 2012 Gregory Phillips Architects won awards including an RIBA Architectural Award, Sunday Times British Homes Awards for both interior design and the Best Luxury House (architectural award), the Design et al Award for Best Residential Property Europe (architectural award) and the International Property Award for Interior Design, of a private residence in South East England.
Further information at: http://www.gregoryphillips.com/
About Martin Hulbert
Martin Hulbert has 25 years' design experience. His degree in Spatial Design was followed by a wide variety of design projects, from prestige residential work to cruise ships to hotels. In 2000, Martin joined Fox Linton Associates as their Design Director. He is the award-winning designer of The Grove hotel and in 2010 he completed Coworth Park hotel for the Dorchester Collection. He has designed imaginative new spas for Coworth Park, The Dorchester and Barnsley House. In April 2011, Martin received from House & Garden magazine the Pineapple Achievement Award for outstanding contribution to hotel design.
Further information at: http://www.martinhulbertdesign.com
About Andrew Orange
Designer and supplier of classic contemporary lighting, Andrew has been offering the best British design and manufacturing ever since he joined Kevin McCloud in 2000. As 'designer with portfolio', he served with the design community from Chelsea Harbour's McCloud Lighting.
McCloud's brace and theatrical style was offered by Andrew, through the supply of made to order decorative luminaries with the design and management of custom projects.
Now as an independent decorative lighting consultant, Andrew continues to offer the same high level of service, supporting designers with the procurement of fittings to the manufacturing of new ideas.
Andrew also manages the UK interest of New York's Baldinger Architectural Lighting and offers the ranges of other European manufacturers.
Further information at: http://andreworange.com
About Martyn Ware and Illustrious Company
Martyn was born in 1956 in Sheffield, UK. After leaving school he worked in computers for 3 years, and in 1978 formed The Human League. He formed the production company/label British Electric Foundation in 1980 and formed Heaven 17 the same year.
Martyn has written, performed and produced two Human League, two BEF and nine Heaven 17 albums. As a record producer and artist he has featured on recordings totalling over 50 million sales worldwide, producing amongst others Tina Turner, Terence Trent D'Arby, Chaka Khan, Erasure, Marc Almond and Mavis Staples.
He founded Illustrious Company with Vince Clarke in 2001 to exploit the creative and commercial possibilities of their unique three-dimensional sound technology, in collaboration with fine artists, the performing arts and corporate clients around the world. Clients include: BP, the British Council, The Science Museum, The Royal Ballet, Amnesty International, the V&A Museum, Mute Records, BBC TV, the Royal Observatory Greenwich, BAFTA, Museum Of London, Tate Britain. He created sonic architectural works in the British Pavilion at the Venice Architectural Biennale in 2006.
Martyn produces and presents an ongoing series of events entitled Future Of Sound in the UK and around the world.
Martyn is a Visiting Professor at C4DM at Queen Mary College, University of London, a visiting lecturer at the Royal College of Art and the Harvard Graduate School of Design, a patron of Arts & Business, a member of the LA-based international think-tank group Matter, a Fellow of the Royal Society for the Arts, a member of the Writers Guild of America and a founder member of 5D (a US based organisation promoting all aspects of immersive design). He also lectures extensively on music production, technology and creativity at universities and colleges across the world including the Red Bull Music Academy.
He is creative director for the world-leading sound-branding agency, Sonic-ID.
http://illustriouscompany.co.uk/
Quiet Mark Press contacts
Liberate Media:
Lloyd Gofton – mobile +44 (0)7919 353484; Email: lloyd@liberatemedia.com
Lucy Brandt – mobile + 44 (0)7720 635048; Email – lucy@liberatemedia.com
Tim Greenhalgh – mobile +44 (0)7808 608416; Email – tim@liberatemedia.com
Ideal Home Show Press Office
Alexandra Davison - +44 0 20 7096 5816 | Mobile: +44 0 7827 449 388 Email – alex.davison@fasttrackagency.co.uk