New European Headquarters and Regional Offices
March 21, 2013 – Qumu, the leading business video platform provider, today announced its rapid international expansion activities and the opening of five international offices, including its European Headquarters in Frankfurt, Germany. Office locations include Frankfurt and London in Europe, Dubai in the Middle East, and Singapore and Tokyo in the Asia Pacific region.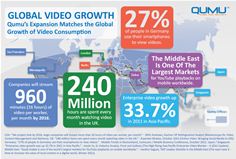 Qumu Global Video Growth Infographic
Since its European office was founded in Germany last year, Qumu has seen an explosion of growth outside the U.S.; its EMEA customer base grew 50% more in 2012 than in the six months prior. With 240 million hours of video being watched in the UK every month, and 27% of people in Germany using their mobile devices to consume video, the use of video overall is definitely on the rise in Europe. With on-going successes in the U.S. and abroad, Qumu aims to catalyze video communications innovation in a region that is primed for continued growth.
"Qumu's expansion demonstrates that enterprise streaming is going global," said Wainhouse Research Senior Analyst Steve Vonder Haar. "Increased awareness of the promise of one-to-many communications – coupled with increasingly flexible and reliable platforms for delivering this type of business video communications – is prompting more organizations in Europe and Asia to consider streaming implementations."
"A carefully considered enterprise video strategy can enrich Internal Communication's channel mix and really galvanize the workforce," said Sona Hathi, Global Research Manager/Editor, Strategic Communication Management Journal, Melcrum. "Our members have successfully used video to create awareness, stir emotion, and drive action on issues such as safety, global collaboration, corporate values, structural change, crisis and sustainability. Furthermore, through smarter integration, our most pioneering members are turning this traditionally one-way channel into a social and personalized experience for employees, with opportunities for learning and development also emerging. When the desired outcomes are clear video is an influential, versatile and most importantly, measurable enterprise communication tool."
The expansion into Asia Pacific markets builds on the Company's partnerships in the region, most significantly with Multipolar in Indonesia and 3Opp in Malaysia. With enterprise video growth up 33.7% overall in Asia Pacific in 2012, Qumu has timed this expansion to coincide with this upswing in video use.
"Qumu's deep, no-holds-barred commitment to EMEA and Asia Pacific means our customers and partners will reap the benefits from having attentive and dedicated local personnel who understand the nuances of this market and the unique needs of communication professionals," said Vern Hanzlik, Senior Vice President and General Manager for Qumu. "In a highly competitive market, companies must do a lot with limited resources. This expansion will help more professionals leverage the power of video to improve communications within their organisations."
For more information about Qumu enterprise video solutions, please visit the Qumu Video Library. Or, download the "Qumu" app on your iPhone, iPad, Android device, Windows phone or Windows 8 tablet.
About Qumu
Qumu, Inc., a Rimage company (NASDAQ: RIMG), is the leading business video platform provider, empowering organizations to better engage and inspire employees, improve productivity and reduce costs. Video is pervasive – it appears in all business applications and is consumed on all devices. The largest Global 1000 companies depend on Qumu's video platform to capture, manage and distribute live and on-demand content with total reliability and security. Regardless of audience size, viewer device, or network configuration, Qumu simply makes video work. Only Qumu delivers the Freedom to work with existing infrastructure; the Power to reach everyone; and the Control to do it right. Additional information can be found at www.qumu.com.
Investor Contacts:
James Stewart, CFO
Rimage Corporation
+1 952 944 8144
Press Contacts:
Jonathan Dolby
JD Marketing
Phone: +44 (0) 208 297 5388
Email: jonathand@jdmarketing.co.uk
US Contact:
Stacy Nawrocki
Sr. Director of Marketing
Phone: +1 650 396 8538