BRACKNELL, UK. 13th June 2019 – Raben Group, the international logistics company, has equipped its drivers in 11 countries with rugged Panasonic TOUGHBOOK N1 handheld devices to record and share transport information in real-time.
Approximately 4000 Panasonic devices have been deployed in 65 branches of the Raben Group. The project covered 11 countries (the Netherlands, Poland, Germany, Romania, the Czech Republic, Slovakia, Lithuania, Latvia, Estonia, Hungary and Ukraine). The 4.7-inch rugged TOUGHBOOK N1 handheld combines the functions of a tablet, phone and a barcode reader. The devices are used to collect and provide real-time data on the status of shipments to provide customers with accurate arrival times.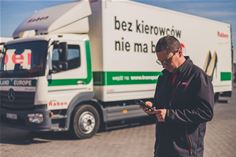 Raben Group equips its drivers with Panasonic rugged handhelds
In addition, the handheld is used by drivers to navigate, communicate with the transport dispatcher and customer service department as well as support additional applications that facilitate their daily work. The angled barcode reader enables efficient scanning of labels all the way through the whole loading and transporting process. The device also allows signature capture confirming the delivery of goods and creating electronic Proof of Delivery dates. In addition it saves the location of each delivery and maps the route the truck travels, monitors the start / end time of the route, the number of kilometres travelled, stops visited and each operation performed on the shipment.
"TOUGHBOOK N1 has everything we need - high efficiency, compact size, durability, accurate GPS system, clear display and a convenient code scanner" - says Bartosz Kolasiński, project manager at Raben Group. "Taking into account the scale of the project we decided to choose Panasonic solutions as the company offered service support at every stage of implementation and after its completion, as well as the ability to customise devices to our needs" - he adds.
The full case study can be downloaded at: https://business.panasonic.co.uk/computer-product/case-study/Raben-case-study-en
More information on the Panasonic TOUGHBOOK rugged notebooks, tablets and handhelds are available at: https://business.panasonic.co.uk/computer-product/.
Press contact:
Kiri O'Leary
The Amber Group
kiri@ambergroup.net
+44 (0)118 949 7737
About Panasonic System Communications Company Europe (PSCEU)
Our quest is to make technology work invisibly together and free businesses to succeed. We believe technology should just work. That businesses will succeed if they can simply focus on their customers, in the knowledge that all the technologies delivering their capabilities work together. That is why we are dedicated to developing products and solutions that are so integrated with our customer's way of working, that they are almost invisible – the workhorse in the background that powers business success.
PSCEU is made up of six product categories:
Broadcast & ProAV gives you the freedom to tell the story with its high quality products and solutions, which ensure smooth operation and excellent cost-performance across a range of remote cameras, switchers, studio cameras and ENG P2HD. The cinema camera range of VariCam models and the EVA1 are capable of true 4K and High Dynamic Range (HDR) making them the ideal solution for cinema, television, documentary and live event production.
Communication Solutions offers world leading telephony systems, SIP terminal devices and professional 'network' scanners giving you the freedom to focus on the communication and not the connection.
Mobile Solutions Business Division helps mobile workers improve productivity with its range of TOUGHBOOK rugged notebooks, business tablets, handhelds and electronic point of sales (EPOS) systems. As European market leaders, Panasonic had a 48% revenue share of sales of rugged and durable notebooks and tablets in 2018 (VDC Research, March 2019).
Industrial Medical Vision manufactures applications for various segments such as medical, life science, ProAV or industrial. The product portfolio includes complete and OEM camera systems, providing the freedom to see what can't be seen.
Security Solutions, built on a heritage of providing evidential quality CCTV footage. Delivering the highest image quality in all environmental conditions using our highly reliable, advanced technology cameras and image recording systems, giving you the freedom to feel secure.
Visual System Solutions offers the widest range of professional displays and projectors and allows Audio Visual professionals the freedom to create. It leads the European high brightness projector market with a 39% market revenue share (Futuresource >5klm FY17 Q3, excl. 4K & digital cinema).
About Panasonic
Panasonic Corporation is a worldwide leader in the development of diverse electronics technologies and solutions for customers in the consumer electronics, housing, automotive, and B2B businesses. The company, which celebrated its 100th anniversary in 2018, has expanded globally and now operates 591 subsidiaries and 88 associated companies worldwide, recording consolidated net sales of Euro 61.4 billion for the year ended March 31, 2018. Committed to pursuing new value through innovation across divisional lines, the company uses its technologies to create a better life and a better world for its customers. To learn more about Panasonic: http://www.panasonic.com/global.