Global development, marketing of mobile wireless mesh networks will support the digitalization of rail systems
31 July 2018 – Rajant, a leading provider of mobile wireless mesh networks, has entered into a strategic partnership with Wabtec Corporation that is expected to accelerate the growth of Rajant's connectivity solutions in the global rail industry, ushering in the next wave of innovation for passenger and freight systems and bringing new capabilities to the industry.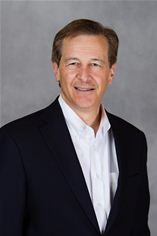 Robert J. Schena, CEO and Co-Founder of Rajant
Rajant and Wabtec, a leading supplier of value-added, technology-based products and services for freight rail, passenger transit and select industrial markets, will jointly develop and market Rajant's Kinetic Mesh® wireless networking products to rail operators worldwide. As part of the partnership, Wabtec has made a minority equity investment in Rajant.
Wabtec selected Rajant's industry-leading mobile wireless network Kinetic Mesh® technology for its ability to deliver highly reliable and adaptable connectivity in challenging mobile environments, making this partnership an ideal complement to Wabtec's comprehensive portfolio of rail and freight systems products and services.
"Rajant understands the underlying communications challenges rail systems are confronted with, and we continue to customize our radio technology and Kinetic Mesh® to exceed expectations and network performance in many industrial markets, including rail," said Robert J. Schena, CEO and Co-Founder of Rajant. "The partnership between Rajant and Wabtec brings together two world-class industrial leaders that are at the forefront of advancing transportation systems through continuous mobile connectivity."
Passenger and freight systems are integrating applications such as autonomous vehicles and advanced sensors that place great demands on a network's infrastructure. With the continued digitalization of modern rail and freight systems, the industry requires not only the highest level of reliability and security, but also the ability to extend connectivity to improve overall operations and customer experience.
"Our investment in Rajant is aimed at growing Rajant's communications technology in the rail market, leveraging both companies' resources, technologies and industry expertise to develop best-in-class, secure connectivity solutions for current and new customers," said Raymond T. Betler, Wabtec's president and chief executive. "Wabtec is focused on the development and commercialization of innovative and emerging technologies that can rely on Rajant's leading connectivity solutions for real-time data."
####
About Rajant Corporation
Rajant Corporation is the exclusive provider of private wireless networks powered by the patented Kinetic Mesh® network, BreadCrumb® wireless nodes, and InstaMesh® networking software. With Rajant, customers can rapidly deploy a highly adaptable and scalable network that leverages the power of real-time data to deliver on-demand, mission-critical business intelligence. A low-latency, high-throughput and secure solution for a variety of data, voice, video, and autonomous applications, Rajant's Kinetic Mesh networks provide industrial customers with full mobility, allowing them to take their private network applications and data anywhere. With successful deployments in more than 50 countries for customers in military, mining, ports, oil & gas, transportation, petrochemical plants, and municipalities, Rajant is headquartered in Malvern, Pennsylvania, with branch offices in Arizona, Kentucky, and Alabama. For more information, visit www.rajant.com, or follow Rajant on LinkedIn and Twitter.
Media Contact:
Rebecca Peel
Proactive International PR (for Rajant Corporation)
+44 (0) 1636 704888
rebecca.peel@proactive-pr.com