Unreal Engine-powered game now available from Samsung Apps
London, UK - 4 June 2013 - Independent game developer Vivid Games announced today that Real Boxing has been launched on Samsung Apps, a release milestone that finally brings the AAA title to gamers playing on the top Samsung phones and tablets, including the new S4. Already a smash hit on iOS and Tegra3-powered Android devices, Real Boxing has recently been awarded Best Sports Game at the Best App Ever Android Award and has been selected as a launch title for the forthcoming NVIDIA® SHIELD™ handheld console.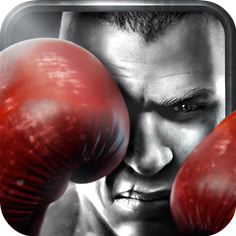 App icon
Real Boxing is an ultra-realistic 3D boxing game featuring lifelike graphics powered by the Unreal Engine as well as extensive motion capture from professional boxers. The game features an immersive career mode in which players fight over twenty opponents across real-world venues in their quest to become World Champion. Players are able to improve their boxer's core skills through a series of mini games as well as extensively customise the appearance of their athlete through hundreds of possible combinations of hairstyle, skin colour, facial hair, clothing and tattoos.
"We have received a huge amount of requests asking us to bring Real Boxing to Samsung" said Remi Koscielny, CEO of Vivid Games. "Real Boxing has been a huge success and we are keen to make it available to as many people as we can."
Features include
Amazing Unreal-powered graphics and motion capture create astonishing realism. See sweat and blood fly with every punch

Deep Career Mode with over 30 fights and three belt titles to win

Train your boxer with mini games including skipping rope, heavy bag and mini bag.

Fight over 20 opponents with their own unique and adaptive fighting styles.

Play KO and Clinch minigames during a round for an energy boost.

See, hear, and feel the roar of the crowd across 6 incredibly detailed venues including Moscow's Red Square and the Colosseum in Rome

Unlock new equipment, extra opponents and customised clothing

Customise your fighter's appearance: hairstyle, skin colour, tattoos and accessories
Real Boxing™ is available for $4.99 from Google Play: https://play.google.com/store/apps/details?id=com.vividgames.realboxing
and Samsung Apps: http://apps.samsung.com/venus/topApps/topAppsDetail.as?&productId=000000612784
END ---------
Note to editors:
Media assets including screenshots and video are available from: www.realboxing.appromoter.com or can be downloaded at: www.dropbox.com/s/64vuvs2gg73vg1m/Real%20Boxing%20Press%20Kit.zip
About Vivid Games
Vivid Games is one of Europe's premier emerging independent development studios, with a passion for accessible and engaging gaming at the heart of its philosophy. Founded in 2006, Vivid Games is making a valuable contribution to the worldwide games development community. Vivid Games has become renowned for its specialization in cross-platform development, working both with licensed brands and exciting new IPs of its own. www.vividgames.com
Media Contact
For promo codes and more information please contact:
Valentina Ciolino, dimoso - e: valentina@dimoso.com - t: 0044 (0) 207 033 2660