Fresh update introduces new way to fight in career and multiplayer and enhances the overall experience.
London, 18.07.2014: Vivid Games has announced today that the award-winning title Real Boxing has just received a new update, redefining the critically acclaimed formula of the ultimate boxing experience on Mobile with the addition of a brand new Combo System, fresh set of Weekly Tournaments for players to enjoy in multiplayer, and more!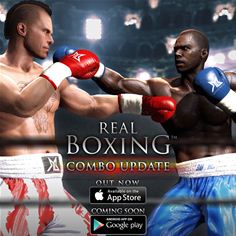 Promo Image
The new Combo System lets players unleash a furious barrage of devastating punches upon the opponent skillfully combining lightning fast jabs, powerful hooks and brutal uppercuts into a chain of up to nine hits. This makes fighting in Real Boxing feel faster, more fluid, and deeply satisfying, making each and every confrontation a truly unforgettable experience.
Expanding the concept of connecting all Real Boxing players via the Social Panel introduced in the previous update comes a slew of improvements and the addition of Twitter sharing. Now players have even more ways to brag about their Real Boxing achievements and defeats, both on-the-ring and off, after every match or anywhere within the game menus, immersing themselves deeper into the world of professional boxing.
Players looking for more multiplayer thrills will be happy to hear that the Combo Update introduces a fresh set of Weekly Tournaments into the mix, with new sets of challenging rules to abide by when challenging the leaderboards for prizes both in-game and real.
Complete with a number of smaller tweaks and improvements made to the game, Real Boxing's Combo Update is sure to entertain both newcomers and veterans alike.
Users can download the Combo Update now from the Apple App Store, with the update coming soon to Google Play. The Android version will additionally contain all of the content from the Rivals update, including the Daily Spin and Social Panel features.
To celebrate the launch of the new update, Real Boxing is available for free on the Apple App Store, with the offer extending to the game's version available on the Mac App Store.
Real Boxing on the Apple App Store: https://itunes.apple.com/app/id534473264
Watch the Combo Update walkthrough: https://www.youtube.com/watch?v=kaKecgB7mCw
For more information regarding Real Boxing visit: http://www.realboxinggame.com
Follow us on Facebook: http://www.facebook.com/RealBoxing
***ENDS***
About Vivid Games
Vivid Games is one of Europe's premier emerging independent development studios, with a passion for accessible and engaging gaming at the heart of its philosophy. Founded in 2006, Vivid Games is making a valuable contribution to the worldwide games development community. Vivid Games has become renowned for its specialization in cross-platform development, working both with licensed brands and exciting new IPs of its own.
Media Contact
For more information please contact:
Marcin Lukaszewski – marcin.lukaszewski@vividgames.com
Marta Wachowiak – marta.wachowiak@vividgames.com