High Wycombe, UK, 7 March 2016 At RBTE 2016 (9-10 March, Olympia, London), Star Micronics (Stand 310) will be demonstrating the future of POS connectivity with real solutions from 17 of its software and mobile payment partners on Stand 310. With a focus on connectivity, Star provides a complete range of industry leading solutions for retailers of all sizes. For traditional POS as well as the evolving mPOS market, Star's portfolio of partners encompasses unique hardware and software retail solutions. Furthermore, Star's excellent SDKs offer ease of integration, versatility and performance for tomorrow's retailers and future Star integration partners.
The TSP143III Wireless LAN is the latest addition to Star's renowned TSP100 futurePRNT™ Series and provides simple yet effective wireless communication for retail and hospitality. Star's established TSP100 Series is used by retailers and restaurateurs globally from major department stores and fast food restaurants to pop up shops and cafés. This latest addition to the series offers a range of features including a print speed of 250mm/second, a guillotine auto cutter (MCBF 2 million cuts) as well as thin paper capability providing benefits for the environment and reduced operating costs for the retailer. The cost-effective solution includes the convenience of an internal power supply along with a vertical mount kit in the box.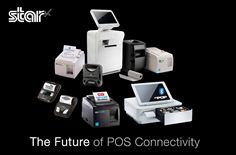 Star Micronics at RBTE 2016
Offering compatibility with all major operating systems including Android, iOS, Linux, Mac OS and Windows as well as easy pairing thanks to a simple WPS connection, this printer offers high functionality and simple wireless setup. Retailers can also take advantage of the futurePRNT software tools available with the entire TSP100 series and, in particular, the setup tool that provides simple web based configuration from any operating system and native setup utilities for iOS and Android.
The TSP143III Wireless LAN also features Star's free digital receipting service AllReceipts™ that offers retailers a fast route to providing the customer with a digital copy of a print receipt. The latest significant feature to be added to this service is Receipt Flip, the first two-sided colour digital receipt option. Enabling retailers to take advantage of the reverse side of digital receipts, as they can on printed receipts, Receipt Flip allows terms and conditions to be displayed as well as store policies, promotions, marketing material, etc.
With zero development required, AllReceipts is enabled within the Star printer driver and works independently of a retailer's POS software. Triggered by a traditional printed receipt, a digital copy of the receipt is sent to the AllReceipts App on the customer's mobile with no email address or mobile number required. Receipts can only be claimed once and are then deleted, while saved receipts can be viewed by date or by retailer with personal or business tags on the customer's device. Retailers can also benefit from access to analytics, an in-store customer survey and device management tools.
Digital receipting eliminates the issues typically associated with email receipting including the time taken to record email addresses and the potential problem that these could be taken down incorrectly. The immediate advantage perceived by the customer is the choice to remain anonymous and yet still receive a digital image of the receipt and coupon when offered.
Further enhancing the AllReceipts service, the Engage NOW feature allows the retailer to provide links to promotions, discounts, coupons, etc on the Engage NOW landing page. Customers using the AllReceipts App can simply tap on the retailer's logo from the list of receipts on their smartphone and be directed to a URL that the retailer specifies. Engage NOW is secure and easily customizable, providing a highly personal customer connection.
For retailers and hospitality operators of all sizes who want to use the latest mPOS technology, Star provides a unique all-in-one Bluetooth printer and cash drawer mobile point of purchase solution. Outstanding connectivity and compact design alongside intuitive functionality and simple integration define Star's unique solution - mPOP™.
Simple and stylish, the lightweight and portable solution is just 10cm high and 30cm wide with a sleek design that will complement any counter top. Alternatively, mPOP with front feed receipting can easily be secured under the counter for enhanced space-saving. With intuitive top loading as well as a partial cut guillotine, the reliable thermal printer automatically cuts the 58mm wide receipt. mPOP can be purchased with a plug and play scanner or this can be added as a later option.
As Simon Martin, Director & General Manager, Star Micronics EMEA, states, "Star is continually developing and enhancing the functionality of its range of POS and mPOS solutions to meet the changing needs of retail and hospitality. With a large number of partners on the Star stand at RBTE 2016, visitors will be able to see first- hand how our solutions can effectively be used in a wide variety of applications and environments."
Background Information on Star Micronics
Founded in 1947, Star Micronics is one of the world's largest printer manufacturers and has facilities for worldwide production, marketing and support. Employing over 1900 staff and achieving turnover in excess of £250 million, Star Micronics has developed a POS printer portfolio that spans thermal and dot matrix printers and mechanisms, designed for barcode, ticketing, receipts and labelling. Star's proven technology is also being utilised to develop reader/writer systems for visual/smart and magnetic stripe cards and to install print mechanisms in multimedia kiosk environments. The Star Micronics' range is available internationally via a distribution channel comprising distributors and dealers.
-oOo-
For further information, please visit www.Star-EMEA.com or contact:
Annette Tarlton
Marketing Director
Star Micronics EMEA
Tel: +44 (0)1494 471111
Email: Atarlton@Star-EMEA.com
Claire Smith
PR Manager
Star Micronics EMEA
Tel: +44 (0)1494 471111
Email: Csmith@Star-EMEA.com