Cafédirect reveals the uncomfortable truth lurking behind Britain's favourite beverage
A new investigation by Cafédirect has exposed the true extent of the crisis facing the treasured cuppa. Whilst the cost of growing tea has soared by as much as 94%[1] in the past five years, crippling smallholder growers, the market hasn't been keeping pace, with prices paid to these growers increasing by just 25%[2]. Compare that to the price of tea on UK shelves, which has risen by a measly 3.8% over the last 3 years[3].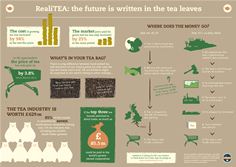 Cafedirect RealiTEA
In its new report, RealiTEA, Cafédirect reveals that in order to offer tea at the low prices seen on UK supermarket shelves, compromises have to be made. These compromises usually come at the expense of the farmers at the beginning of the supply chain and directly impact on the quality of tea that ends up in the cup. For an industry worth £629M[4] in the UK, this is shocking. In contrast, for every box of Cafedirect Hand-Picked Tea sold, 22.5% goes directly back to the smallholder tea cooperatives[5].
Alarmed by the situation facing their smallholder tea partners, and the future of a good cup of tea, Cafédirect conducted a series of in-depth interviews with tea growers from Uganda, Kenya and Tanzania.
Their responses showed that the traditional, artisan skill of hand-plucking the tender top two leaves and a bud (widely considered the only part of the plant suitable for making tea) is being fast replaced by far less accurate machine-cutting. Machine cutting is the standard for mass market, low-grade tea, which results in twigs and the tougher lower leaves in tea bags.
Until now expert smallholder growers have rejected these mechanical changes, not just because of the effect on quality, but also to protect the long-term health of the bushes and reduce the environmental impact. However, continual pressure on price is forcing famers to make the choice between quality and survival.
The tea farmers also highlighted spikes in production costs, such as the price of oil, which increases both transport and fertiliser prices. Living costs have rocketed with the worldwide cost of food increasing by over 137% in the last five years[6]. This in turn drives up labour costs, such as bringing in extra help during at harvest season. Oxfam's recent report on tea workers' wages highlighted the chronic underpayment on plantations, demonstrating that it's not just smallholders who are suffering at the hands of monopolies[7].
UK tea drinkers have, for the most part, been shielded from the truth. As 54% of the tea category is sold on promotion[8] it is easy to see how tea is perceived as a 'cheap' commodity, which in turn undermines its value.
Wilson Tugei, Chairman of the 100% member-owned Siret cooperative in Kenya, describes the extent of the impact to the smallholder growers, "The farmers often have to make compromises elsewhere. When prices are low or crops fail, farmers will have to sell their food stocks, fell trees to burn or sell for charcoal or they might resort to lease out their tea farms – often at a very low price."
He continues: "They will make sacrifices in their personal lives too. It may be that they cannot afford to pay school fees for their children. Or that they might have to change their diet to save money, thereby compromising their health. Some are forced to financially overburden themselves by securing overdrafts and loans to meet their daily needs".
"The global tea industry is in crisis," explains John Steel, CEO at Cafédirect. "Tea has long been considered a cheap commodity in the UK, a telling sign of a lingering colonial mindset that distances consumers from the real value of tea, with many large companies exploiting local resources whilst reaping huge profits for themselves. Our demand for cheap goods is twisting and buckling the supply chain and we can't just sit in a bubble and ignore it because it's not on our doorstep." He continues, "Look at the horsemeat scandal and the horrifying clothing factory collapse in Bangladesh. Businesses are driving down the cost of goods to meet consumer expectation of low prices, rather than meeting their demand for quality and value. It is a downward spiral, stripping out moral and ethical standards and undermining quality. Ultimately we all lose out."
According to the Fairtrade Foundation, 85% of tea production is controlled by seven multinational companies through their factories and estates[9]. Which poses the question of where the profits end up. When it comes to tea, the ethic of 'buying local' is best translated to buying from smallholders. Harriet Muhebwa Katiti, Chairwoman at Igara Tea Factory in Uganda explains, "If you buy direct from smallholders then you know the money is going back into the local economy. If you buy from a multinational then money will be taken out of the country and spent in other places."
To show their support for smallholder tea growers, Cafédirect is asking British tea drinkers to make a pledge to 'think before they drink'. The pledge celebrates the people behind our food and urges tea drinkers to stand up for a better brew.
The pledges collected will be shared with the tea industry to shape a future that is better for the farmer and ultimately delivers a much tastier brew for the tea loving public. Pledge now at http://www.drinkbettertea.co.uk/.
- Ends -
Notes to editors
The research
Carried out at Cafédirect's Africa Producers' Conference, Entebbe Uganda, 18th and 19th March 2013 amongst Cafédirect's partner cooperatives and other tea industry bodies. These included:
Kayonza, Uganda (Cooperative)
Siret, Kenya (Cooperative)
RSTGA, Tanzania (Cooperative)
Mpanga, Uganda (Cooperative)
Keigoi, Kenya (Cooperative)
Igara Tea Factory, Uganda (Cooperative)
Mabale, Uganda (Cooperative)
UTDA (Ugandan Tea Development Agency)
Sources:
[1] Recorded outgoings 2008-2012, Siret Cooperative, Kenya
[2] Recorded outgoings 2008-2012, Siret Cooperative, Kenya
[3] Nielsen Scantrack MAT WE 30.03.13
[4] Nielsen Scantrack MAT WE 30.03.13
[5] 22.5% is paid to cooperative from the sale of Cafédirect 'Everyday Tea' 80 tea bags, £2.55 RRP
[6] The Food and Agriculture Organisation of the United Nations http://www.fao.org/worldfoodsituation/wfs-home/foodpricesindex/en/)
[7] 'Understanding Wages in the Tea Industry' – May 2013 http://www.oxfam.org/en/grow/policy/understanding-wage-issues-tea-industry
[8] Neilson (52 weeks ending 30.03.13)
[9] Fairtrade Foundation 'Powering up smallholders to make food fair' report, p26, February 2013
About Cafédirect
Cafédirect has a unique business model with a dynamic mission to change lives and build communities. Set up over 20 years ago, it was the first coffee brand in the UK to carry the Fairtrade label. Now the Cafédirect network consists of 38 small-scale coffee, cocoa and tea producer cooperatives across Latin America, Africa and Asia, representing more than 280,000 smallholder farms. Cafédirect sources coffee directly from smallholder growers who work in harmony with the local ecosystem, with personal attention and care, using skills passed down through generations. Those smallholders often farm in remote communities and are the least able to realise the benefits of their harvest. Their livelihoods are also extremely vulnerable to risks such as climate change. To date Cafédirect has invested the equivalent of the more than 50% of its profits back into grower programmes designed to increase skills, improve quality, protect the environment and build communities for the producer partners who produce the raw ingredients for its award-winning range of coffees, teas and hot chocolate.
About Shared Interest
Shared Interest is the world's only 100% fair trade lender. Using investment from people in the UK, Shared Interest operates as a co-operative to provide finance to fair trade organisations across the globe. Shared Interest has supported farmers at Mpanga by providing the finance they need to bring their Fairtrade tea to UK consumers and enabling them to co-own their tea estate and training centre. Further Shared Interest finance helped supply fertiliser to over 1,000 of Mpanga's smallholder farmers last year.