Still not a KPI for a significant minority of retailers, says research from Fits.me
LONDON, UK, 28th November 2012 – Over half of retailers (51%) report online sales growth of 25 per cent or more per year, and 79 per cent of retailers have seen sizing become more of an issue as they sell more online, according to a survey of retail industry professionals[1] carried out for online virtual fitting room provider Fits.me. But only 65 per cent of respondents say that reducing returns is a key performance indicator (KPI) for their business.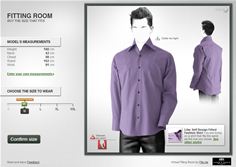 Virtual fitting room
Four in ten retailers report that customer inability to identify which size to buy is a major barrier to conversion online. Thirty eight per cent of respondents indicate that selling multiple brands with inconsistent sizing standards mean that sizing was "much more of an issue", with vanity sizing cited as being behind fit issues by 15 per cent of respondents.
Heikki Haldre, founder and chief executive of Fits.me, said: "A significant majority of retailers are evidently recognising that they must tackle the issue of returns, as it costs them substantial amounts of money. But it is a disturbingly large minority that still does not see the reduction of returns as worthy of being a KPI."
"E-commerce performance is not just about increasing web-based sales volumes or values; it is also about ensuring that products stay sold. There's no point in striving to push garments out of the front door while 20 per cent of them sneak back in through the back door," said Haldre.
Christmas and New Year, as always, will be a particularly challenging time for retailers. In a separate consumer survey commissioned by Fits.me[2] earlier this year, it was reported that over half (57%) of people are given clothes that don't fit – which will surely contribute to returns rates that can reach 70 per cent during January.
Each return comes at substantial cost to retailers, which often choose to pay for postage and repackaging of unwanted items, and must handle re-warehousing of a garment once it arrives back. Retailers must also factor in the probability of a reduced resale price and deal with the fallout from disappointed customers.
- ENDS -
Notes to editors:
[1] - Fits.me surveyed 75 retail industry professionals. The data was collected by Retail Week in October 2012.
[2] - Fits.me surveyed 1,000 UK consumers on their shopping habits. The data was collected by Redshift Research in September 2012.
About Fits.me
Fits.me's virtual fitting room solutions helps boost the profitability of online clothing retailers by enabling them to overcome what Mintel (Online Fashion, March 2012) describes as "the biggest obstacle facing them": the fact that it is impossible for online shoppers physically to try on garments before buying.
Fits.me uses a sophisticated robotic mannequin that can mimic the shape and size of any body type. For any given brand or retailer, FitBots are photographed at high speed in thousands of permutations of body shape, while dressed in that brand/retailer's key garments, in each available size. Then, on the brand/retailer's site, Fits.me is able to display for online shoppers the key garment pictures that correspond to their exact body size and shape after asking for just a few basic measurements.
Knowing exactly how clothes fit gives customers confidence to buy, improving conversion rates and decreasing returns. Data from online clothing retailers using Fits.me shows an improvement in conversion rates of 57% compared to shoppers using a traditional size chart, and a reduction in returns due to customers buying an incorrect size of up to 35%.
Fits.me counts many well-known retailers among its customers, including Barbour By Mail, Boden, Ermenegildo Zegna, Gilt Group, Hawes & Curtis, Otto, Pretty Green and Thomas Pink. Fits.me has won numerous awards for its virtual fitting room technology and was named by Vogue magazine in its 2012 Online Fashion 100 as one of the most influential names in digital fashion. For latest news, comment or information, follow ItFits_Me on Twitter.
Media contact
Eleanor Armitage, Hotwire PR for Fits.me
E: eleanor.armitage@hotwirepr.com
T: +44 (0)20 7608 2500