SMi Reports: Registration is now open for SMi's Helicopter Technology Central and Eastern Europe Conference, taking place in Prague, Czech Republic on 22nd - 23rd May 2019.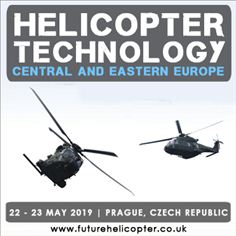 Helicopter Technology Central and Eastern Europe Conference
SMi's Helicopter Technology Central and Eastern Europe conference is set to make its return this year to Prague, Czech Republic on the 22nd and 23rd May 2019, for its 4th year running.
The two-day event, which recently welcomed Gold Sponsor Leonardo to the 2019 sponsor line-up, will host an international gathering of senior military experts from Central and Eastern European countries, who will present their current national situation in terms of helicopter technology, and will have the chance to meet and cooperate with allied and potential third-party partners to help support their helicopter capabilities.
Delegates will have the opportunity to receive high-level briefings on the key topics of modernisation and readiness of regional rotary fleets, procurement goals, national security, operations and interoperability, platform and programme upgrades, and much more.
2019 Event Highlights:
Hear from representatives from the regional nations: Czech Republic, Hungary, Slovakia, Slovenia, Romania and Bulgaria
Listen to detailed updates on helicopter programmes and procurement goals of the US Army Aviation Centre, Spanish Air Force, Joint Helicopter Command, and German Air Force
A unique opportunity to explore new technologies and programmes from industry and exhibitors
The only Helicopter Conference with a regional focus on Central and Eastern Europe
The two-day conference is one of its kind, specialising in rotary systems in the Central and Eastern Europe region.
Featured Expert Speakers Include:
KEYNOTE SESSION: Colonel Rudolf Straka, Chief of Combat Training Department (A7), Czech Air Force
Colonel Karel Valvoda, Director, Multinational Aviation Training Centre, Czech Armed Forces
Colonel Robert Klestinec, Deputy Commander, Slovakian Air Force
Colonel Jonas Nellsjo, Commander Helicopter Wing, Swedish Armed Forces
Colonel Chad Chasteen, 110th Army Aviation Brigade Commander, US Army Aviation Center of Excellence
Lieutenant Colonel Stein SO1 FD Strat Plans, Cap AM, Capability Directorate, Army Headquarters, UK
This year's highly-anticipated event is set to provide the valuable perspectives and key updates on the operational excellence, maintenance, procurement of multi-purpose helicopters, and logistics in supporting upgrades of aging fleets as European nations move away from soviet-era helicopters.
The event brochure will soon be available on the website with the full two-day and speaker line-up. Keep up to date with the latest conference news and find out more about the event at http://www.futurehelicopter.co.uk/vuelio1. Book your place before January 31st to save £400.
Helicopter Technology Central and Eastern Europe
22nd-23rd May 2019
Prague, Czech Republic
Sponsored by Leonardo
---- END ----
About SMi Group: Established since 1993, the SMi Group is a global event-production company that specializes in Business-to-Business Conferences, Workshops, Masterclasses and online Communities. We create and deliver events in the Defence, Security, Energy, Utilities, Finance and Pharmaceutical industries. We pride ourselves on having access to the world's most forward-thinking opinion leaders and visionaries, allowing us to bring our communities together to Learn, Engage, Share and Network. More information can be found at http://www.smi-online.co.uk/