QubicGames launches on iOS devices the latest instalment of an adrenaline-fuelled series.
Warsaw, Poland – Thursday, 25th September 2014 – Independent development studio QubicGames releases today the futuristic racing game Air Race Speed on previous and newest generations of iPhone and iPad for $3.99, 3,59€ and £2.49.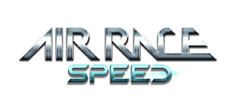 Air Race Logo
"Air Race Speed is an extremely fast and immersive racing game. After the positive feedback we received from the Nintendo 3DS community for the previous games of the franchise, we are delighted to bring this new title for the first time to iOS devices, with HD graphics as well as new play modes, jets and tracks" said Jakub Pieczykolan, CEO at QubicGames.
Air Race Speed is a solo time-trial racing app where players pilot the most powerful spaceships through 35 futuristic tracks featuring challenging tunnels, spectacular halls and hidden shortcuts.
Users are guaranteed to discover a brand new gaming experience and an exciting opportunity to score high on leaderboards and challenge their friends through the Game Center.
The game is available in 8 languages: English, Brazilian Portuguese, French, German, Italian, Russian, Spanish, Turkish
Key Features:
35 stunning tracks full of obstacles and shortcuts
Smooth controls: tilt or touch screen
9 high-speed jets powered with advanced technology
Skills challenging and intense gaming experience
Epic graphics and top-notch soundtrack
Tons of fun with 3 play modes: Time trial, Endless and Rings
Rank up in the leaderboards, challenge your friends
To get a Promocode to review the game please contact mikael@qubicgames.com
Official blog of Air Race Speed: http://www.airracespeed.com/
Note to Editors:
About QubicGames
Located in Warsaw, Poland, QubicGames is an independent development studio with over a decade of experience in creating games on console, handheld and mobile devices. QubicGames have successfully released over 10 games including the successful and critically acclaimed AiRace franchise. For more information about QubicGames, visit the official site: http://www.qubicgames.com