London, 20 September 2018 - Resilient is pleased to announce the appointment of Alastair Jackson as Chief Operating Officer. Alastair joins the board to lead the evolution of operations in preparation for Resilient's next stage of growth through global expansion.
While at Resilient, Alastair has performed several roles overseeing the technical operation and the transformation of the smartnumbers solution from on-premise equipment to a robust cloud-based platform. He has ensured that the smartnumbers platform is architected with industry-leading reliability with no single points of failure. It's why more than a thousand organisations trust smartnumbers to deliver their most critical voice services.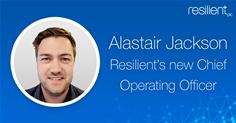 Alastair Jackson
Alastair explains his drive to continually evolve and improve Resilient's operations, "Our customers have demanding requirements, so making a highly secure and resilient platform is ingrained in our DNA. It is central to everything we do at Resilient, be that protecting calls into global investment banks or protecting life critical calls into the UK's emergency services".
Discussing the development of Resilient's infrastructure to enable future growth, Alastair comments "To meet the needs of our multinational customers and expand into new geographies, the smartnumbers platform continues to evolve. We are now embracing the public cloud, Voice over IP and the latest proven serverless technologies to create a globally scalable platform. For example, securely storing call recordings in different geographies to comply with increasingly regulated industries while making large volumes of data instantly searchable".
Providing smartnumbers capabilities to a broader range of customers across the globe is a crucial focus for Resilient. Alastair comments "The smartnumbers platform has always been tightly integrated with the BT PSTN to provide unparalleled control and continuity options for calls into UK telephone lines. However, by working with additional network operators, we will be able to extend smartnumbers capabilities to provide greater control across customers' global telephone estate."
Geoffrey Paterson, Chairman and CEO at Resilient plc comments "Over the years, Alastair has demonstrated great leadership of his teams. Appointing Alastair to Chief Operating Officer reflects our drive to meet the needs of our customers and enter new markets such as North America. I am pleased to add Alastair's energy and enthusiasm to the board to launch Resilient to the global stage."
About Resilient plc
Resilient plc provides trusted communication services for continuity, compliance and fraud. Its smartnumbers service has been adopted by leading organisations across finance, defence, blue light, legal, insurance, health, pharmaceuticals, automotive, utilities and government. Delivered from the cloud, smartnumbers enable organisations to drive benefits of increased resilience, agility, business efficiency and compliance across their fixed-line, mobile and IP networks. For more information, visit www.resilientplc.com
Media contact at Resilient plc:
Grant White, Senior Marketing Manager
Email: g.white@resilientplc.com
Telephone: +44 (0)20 3162 3454