High Wycombe, UK, 1 May 2018 International POS printer manufacturer Star Micronics announces today that world-leading retail management software provider Vend will be demonstrating its advanced ePOS and inventory management system with Star's combined Bluetooth printer and cash drawer solution mPOP™ on Star Stand F100 at RBTE 2018 (2 - 3 May, Olympia, London).
Designed for retailers with one store or multiple locations, Vend is a point-of-sale, inventory and customer loyalty software that is easy to set up and powerful to use. The cloud-based software allows retailers to access information anywhere, anytime ensuring constant access to the latest data. And if the internet goes down, Vend will still trade offline. The solution includes ePOS software, inventory management, E-commerce, customer loyalty as well as reporting analytics and integrates with other world-leading business and payments applications.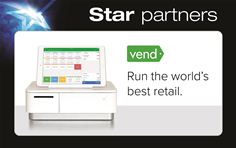 Vend joins Star Micronics at RBTE 2018
Vend's intuitive software complements Star's stylish hardware to provide a complete Tablet POS solution. The combined Bluetooth printer and cash drawer solution mPOP offers a lightweight and compact solution that is just 10cm high and 30cm wide with a polished sleek design that will add a finishing touch to your retail store. As a versatile solution, mPOP is ready to work with Vend software and a compatible card payment system.
Vend has also integrated a number of Star countertop and mobile printers including the new Star TSP143IIIU, the only printer today that can communicate and charge simultaneously and directly via the Apple-supplied lightning cable with an iPad. This printer offers not only a more cost-effective alternative to a Bluetooth or WiFi printer, but also the benefits of iPad ePOS with the reliability of a traditional system given that connection will be maintained at all times. For traditional ePOS terminals, the TSP143IIIU will act as a fast, entry-level USB printer.
"As the first cloud-based retail point of sale, Vend is at the forefront of innovation, working with best in breed partners like Apple and Star Micronics to provide the latest advancements in retail technology. Vend together with Star AllReceipts™ allows retailers to serve customers anywhere on the shop floor, providing a digital receipt right to their smartphone. This helps increase efficiency, profits and create a memorable in-store experience for customers," says Pierre-Emmanuel Perruchot de La Bussière, General Manager at Vend.
"As a dedicated software partner we are delighted to have Vend demonstrating its advanced cloud-based point-of-sale and retail management software with Star's mPOP on our stand at RBTE", adds Annette Tarlton, Marketing Director, Star Micronics EMEA. "With advanced software and integration with leading payment applications, Vend allows retailers to offer not only enhanced customer service but also a seamless checkout experience."
About Vend
Vend is cloud-based point-of-sale and retail management software that lets retailers run their business in-store, online, and on-the-go. Vend's software includes inventory management, Ecommerce, customer loyalty, and reporting analytics. Vend integrates with other world-leading business and payments applications including Shopify, Square and PayPal, and is a key retail partner in Apple's global Mobility Partner Program. Vend is trusted by retailers in over 140 countries and is used in more than 20,000 stores worldwide. Founded in 2010, Vend has offices in Auckland, San Francisco, Toronto, London and Melbourne, and has raised more than US$45 million from top-tier investors. For more information, please visit: http://www.vendhq.com.
About Star Micronics
Founded in 1947, Star Micronics is one of the world's largest printer manufacturers and has facilities for worldwide production, marketing and support. Employing over 1900 staff and achieving turnover in excess of £250 million, Star Micronics has developed a POS printer portfolio that spans thermal and dot matrix printers and mechanisms, designed for barcode, ticketing, receipts and labelling. Star's proven technology is also being utilised to install print mechanisms in multimedia kiosk environments. The Star Micronics' range is available internationally via a distribution channel comprising distributors and dealers.
-oOo-
For further information, please visit www.Star-EMEA.com or contact:
Annette Tarlton
Marketing Director
Star Micronics EMEA
Tel: +44 (0) 1494 471111
Email: Atarlton@Star-EMEA.com
Claire Smith
PR Manager
Star Micronics EMEA
Tel: +44 (0)1494 471111
Email: Csmith@Star-EMEA.com