High Wycombe, UK, 8 March 2016 Star Micronics announces that it will be joined by PCMS at RBTE, Olympia, London (9 - 10 March 2016) on Stand 310. PCMS will be demonstrating its BeanStore POS software, used globally by Tier One retailers, with Star's combined Bluetooth printer and cash drawer solution mPOP™ and TSP100 futurePRNT™ series with Star's digital receipting service AllReceipts™.
PCMS Group is a retail technology vendor that supplies a set of focused solutions and services to retailers around the world. Its main offering is its VISION Commerce Suite - a portfolio of solutions that meets the needs of retailers. The Commerce Suite encompasses a number of omni-channel solutions that include point of sale and mobile POS, customer engagement solutions, analytics, profit protection, order management, ecommerce and store and central management.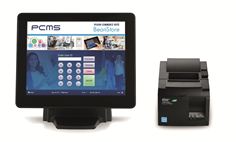 PCMS joins Star Micronics at RBTE 2016
PCMS will be demonstrating its VISION BeanStore POS software that is used across the globe by Tier One retailers. The software offers a broad range of functionality as well as the ability to easily integrate existing systems and, at a later stage, add on further offerings including mobile POS or loyalty schemes. The software further allows retailers to improve the customer experience, simplify branch administration and establish centralized support functions.
Steve Powell, Director of Sales – EMEA, PCMS states: "It has been a pleasure partnering with Star. The combination of our leading retail POS solution compliments Star's innovative hardware and provides retailers with the ability to offer a unified consumer journey. The integration between BeanStore and Star printers has been seamless".
PCMS has integrated its VISION BeanStore POS software with mPOP, Star's combined printer and cash drawer solution that offers a lightweight and portable solution measuring just 10cm high and 30cm wide with a sleek design that will complement any counter top. Traditionally targeted at the micro merchant, Star has extended the appeal of mPOP to retailers of all sizes thanks to its Windows SDK. A versatile solution, mPOP is ideal for a range of environments from seasonal pop up shops to bars and cafés.
PCMS has also integrated Star's TSP100 futurePRNT series. With over 5 million installations worldwide, the TSP100 printer has an established customer base that is able to instantly benefit from a range of software tools including Star's cloud based digital receipting service AllReceipts. Working independently of a retailer's POS software and with zero development required, Star's digital receipting service offers retailers a free of charge, fast route to providing the customer with a digital copy of a print receipt as well as access to analytics, an in-store customer survey and device management tools.
Annette Tarlton, Marketing Director, Star Micronics EMEA, states: "We are delighted to be working with PCMS. Star's TSP100 futurePRNT™ series and mPOP combined with VISION BeanStore POS software from PCMS provide retailers with feature-rich, industry leading solutions for POS and mobile POS."
About PCMS
PCMS is an internationally recognised retail technology company, award winning provider of enterprise and store level software solutions for the retail and associated sectors. Our end-to-end commerce solutions allow retailers to offer their consumers a more engaged and connected shopping experience. PCMS' VISION Commerce Suite portfolio is the industry's most comprehensive enterprise platform for retail, offering a full range of integrated solutions across selling touch points including PoS, Mobile, eCommerce and more. PCMS also provides IT managed services for the retail sector including private Cloud hosting and Service Desk.
About Star Micronics
Founded in 1947, Star Micronics is one of the world's largest printer manufacturers and has facilities for worldwide production, marketing and support. Employing over 1900 staff and achieving turnover in excess of £250 million, Star Micronics has developed a POS printer portfolio that spans thermal and dot matrix printers and mechanisms, designed for barcode, ticketing, receipts and labelling. Star's proven technology is also being utilised to develop reader/writer systems for visual/smart and magnetic stripe cards and to install print mechanisms in multimedia kiosk environments. The Star Micronics' range is available internationally via a distribution channel comprising distributors and dealers.
-oOo-
For further information, please visit www.Star-EMEA.com or contact:
Annette Tarlton
Marketing Director
Star Micronics EMEA
Tel: +44 (0)1494 471111
Email: Atarlton@Star-EMEA.com
Claire Smith
PR Manager
Star Micronics EMEA
Tel: +44 (0)1494 471111
Email: Csmith@Star-EMEA.com