Omnico says retailers need to accept showrooming is here to stay and embrace omni-channel retail to defend from online threat
17 September 2013 – Retailers are facing a growing threat of 'showrooming' – research from Omnico has revealed that 1 in 10 consumers have used their smartphone to buy a product from another retailer's website while in-store. Amongst 16-24 year-olds loyalty is in even shorter supply, with 15% of young shoppers admitting to buying elsewhere via their smartphones.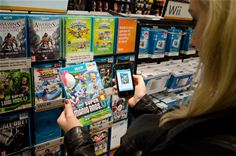 Showrooming
Almost a third (29%) of shoppers admit to using their smartphone to compare prices with other retailers' websites, while almost a quarter (23%) of shoppers say that they look at product reviews while they are shopping, to help make a decision. Meanwhile, 15% of consumers use their smartphone to check the retailer's own website to compare prices or check stock availability.
These results come from Omnico research of 1,344 UK consumers to find out how shoppers use their smartphones whilst in-store.
Smartphone ownership currently stands at 51%[1] and with the roll-out of 4G networks, usage is expected to rise further. The latest ONS figures[2] show that online sales represent 9.5% of spend, with most analysts agreeing that in a tough economic climate savvy shoppers flock to online sites in the search of a bargain.
"Showrooming is here to stay, whether retailers like it or not," says Steve Thomas, chief technology officer, Omnico. "Some retailers try to stop it, by ignoring consumers' desire for free wi-fi or even blocking mobile signals, but this is a short sighted view. Instead, it can be embraced, by offering assisted selling and integrating their mobile and web channels to offer genuine omni-channel retail. Yes, price is very important, but there are many other factors that encourage loyalty to a brand and omni-channel, such as convenience and quality of service.
"Talking to both retailers and consumers, we've found that there's a lack of focus on omni-channel retail so far. This means that because channels aren't joined up properly, consumers are using their smartphones to join up channels their own way – and this means often going to retailers' competitors to get advice and find the best deal," adds Steve Thomas.
Top Cities for Showrooming
| | | |
| --- | --- | --- |
| | Cities | % of consumers who compare prices on competitors' websites while in-store |
| 1 | Belfast | 39% |
| 2 | Liverpool | 30% |
| 3 | London | 28% |
| 4 | Glasgow | 27% |
| 5 | Cardiff | 24% |
| 6 | Leeds | 22% |
| 7 | Birmingham | 22% |
| 8 | Newcastle | 21% |
| 9 | Manchester | 20% |
| 10 | Southampton | 20% |
[1]http://stakeholders.ofcom.org.uk/binaries/research/cmr/cmr13/2013_UK_CMR.pdf
[2]http://www.ons.gov.uk/ons/dcp171778_323522.pdf
About Omnico Group
Omnico Group helps businesses worldwide offer a complete retail experience, joining up stores, e-commerce and mobile, and providing a better understanding of the customer to drive engagement and loyalty.
Bringing over 20 years' experience and forging the combined know-how of Digipos and Clarity, Omnico Group works with brands such as Superdry, Next, YO! Sushi and Pret A Manger to offer solutions that can be deployed rapidly and help to reduce total cost of ownership.
Omnico serves the complete retail market, from high street retailers to hospitality, leisure and entertainment businesses. With a head office in Basingstoke, England, Omnico has a presence in 28 countries and a turnover of over $100 million.
For more information about Omnico, please visit the company's website www.omnicogroup.com or follow @omnicogroup on Twitter.
For more information, please contact:
Philip Szomszor / Charlotte Stoel
Firefly Communications
PR for Omnico
E: omnico@fireflycomms.com
T: +44 (0)203 170 8008