Pilot project in major Brazilian market demonstrates strong improvements in network performance and monetization without requiring network freeze
Sterling, Virginia, Friday January 9, 2015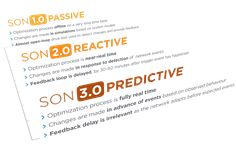 Predictive SON
Reverb Networks, the pioneering supplier of self-optimizing network solutions, has completed a successful pilot of the InteliSON self-optimizing network system in Brazil.
Reverb was able to successfully optimize a heavily-loaded 3G radio access network with a large percentage of cells reaching 90%+ loading, for up to 12 hours per day. Remarkably, Reverb's InteliSON self-optimizing network trial was carried out in a fully commercial network without implementing a network freeze of any sort.
This exceptional result entailed adapting to a stream of ongoing network changes introduced by groups and processes operating in parallel to the Reverb InteliSON self-optimizing system. The Reverb SON system dynamically discovered and adapted to changes in underlying network configuration supplied by other processes without requiring any manual intervention.
"This is really a breakthrough," said Zoran Kehler, Reverb Networks CEO. "Most competing SON systems need a steady-state network environment to operate effectively. But Reverb is able to provide all the benefits of SON without enforcing artificial restrictions and disruptive freezes on the network."
"Reverb not only improved performance drastically, but managed this improvement while constantly adapting to network changes introduced through other engineering processes, which is a highly desirable capability for a real-world SON system – you can't just stop optimizing or building out a network because an existing cell has been re-configured, re-homed, or a new cell has been added," he continued.
Unique streaming performance analytics built into Reverb Networks InteliSON provided explicit indications about where the highly-loaded and congested cells were located. These detailed analytics allow mobile network operators to pinpoint precise geographical areas for network densification or capacity enhancements.
The result of the trial was a very strong improvement in critical KPIs, while at the same time achieving an increase in total traffic served by the network. This demonstrates the key value of a self-optimizing network system - improving monetization without sacrificing quality or performance.
Reverb Networks will be represented at the forthcoming Mobile World Congress show in Barcelona Spain, from 2-5 March 2015. More information can be found at the event website:- http://www.mobileworldcongress.com.
ENDS
About Reverb Networks
Reverb Networks is a pioneering provider of automated, customer-centric and value-based self-optimizing network solutions. Reverb's InteliSON product suite enhances networks of mobile network operators through frequent and proactive self-optimization, improving network coverage and capacity and increasing spectral efficiencies. Headquartered in the United States, Reverb Networks has presence in the Americas, Europe, Middle East, and Asia, and offers support across the globe.
For more information, visit http://www.reverbnetworks.com.