Oxehealth announce world's first medical grade, totally contact free, vital sign monitoring system using digital video cameras
Oxehealth and Hanwha Techwin partnering to deliver unique camera solution tailored to the secure room market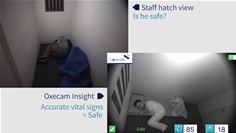 Oxehealth technology revolutionises detainee care for safer custody
'Oxecam' solutions promise to make a major contribution to improving detainee safety in mental health hospitals, police custody and prisons
Oxehealth, the first company in the world to bring a medical-grade, contact-free vital sign monitoring system using digital video cameras to market, will be launching its technology at IFSEC International this week.
Publically exhibited in a cell setting for the first time outside of Oxford, and in collaboration with globally renowned partners Hanwha Techwin, Oxecam software promises to transform the safety and care of detainees and patients in secure room environments.
Cameras equipped with the Oxecam software can measure vital signs including heart and breathing rate anywhere in a room and totally contact free, using normal digital video camera sensors.
The technology has been clinically validated at the John Radcliffe hospital in Oxford and has undergone extensive real world trials in field tests at the Broadmoor psychiatric NHS hospital and with a leading UK Police Force.
In 2015, 30 people died in police custody and a further 256 died in prisons in England and Wales – deaths that may have been preventable with the right solutions in place.
A death in custody is not only a human tragedy: self-inflicted deaths can cost as much as £3 million[1], and with prison suicides at a seven year high, it's a problem that's rapidly intensifying.
As Theresa May said in October, "Deaths and serious incidents in custody …are a tragedy that has the potential to undermine the relationship between the public and the police. As Home Secretary, I have been struck by the pain and suffering of families still looking for answers. That is why I set up this independent review."
The Oxecam software monitors detainees & patients regardless of activity: asleep or when performing disruptive activities common to these types of environments. Oxecam is able to detect risk-to-health episodes in the light and dark and during attempted concealment. Its constant monitoring raises alarms when intervention is required, rather than relying on scheduled manual checks which may come too late. The technology can also free up staff time and help keep them safe from potentially volatile detainees & patients.
As a software product, Oxecam will be provided to the market within solutions provided by hardware members of the Oxehealth Partner Programme. Hanwha Techwin's award winning WiseNet Open Platform cameras provide evidence grade images and, packaged with the Oxecam software API, will allow the two partners to bring to market a complete secure room solution that will quickly alert personnel to any sudden, concerning change in a patient's or detainee's physiology.
"We believe this type of camera monitoring, which delivers contact-free, extended vital sign monitoring, could go a significant way to reducing pressure on detention services with regard to the recently reported deaths in custody suites and prisons," said Jonathan Chevallier, Oxehealth CEO. "It provides an answer to a problem where there's currently no solution; providing a low cost and compliant system to offer constant monitoring for the safety and wellbeing of detainees & patients everywhere, particularly in challenging environments."
The technology will be showcased within a demonstration police cell with Hanwha Techwin (Stand G800) at IFSEC International in London, June 21st-23rd.
[1]"The Cost of Prison Suicide" The Howard League for Penal Reform, March 2016
About Oxehealth
Oxehealth Ltd is a biomedical software development company spun out from the University of Oxford's Institute of Biomedical Engineering in 2012. Oxehealth is focused on the continuing innovation of its Oxecam technology which turns cameras into health monitors. It does this by using a range of software products with embedded intelligent algorithms which combine three key attributes: complex signal processing & computer vision to allow accurate non-contact monitoring; machine learning, to provide personalised healthcare models; and clinical validation.
Initially developed at the University of Oxford in the research labs of world-leading scientist Professor Lionel Tarassenko and backed by IP Group plc., Oxehealth's patented Oxecam technology enables digital cameras to monitor individual physiology and provide accurate health information with a number applications in both clinical and non-clinical settings.
Oxehealth continues to extend the potential of camera technologies for health monitoring across a wide range of human vital signs, having developed camera-based vital signs monitoring algorithms and clinically validated them at the Oxford Kidney Unit and the Neonatal Intensive Care Unit, John Radcliffe Hospital.
http://www.oxehealth.com/
@Oxehealth
PR Contact: For further information, please contact Niamh Cassidy, ncassidy@thecommsco.com, or mobile: 07738 073448.