Harwell, Oxfordshire, 2nd October 2018 – Rezatec, the leading provider of geospatial data analytics to the Infrastructure, Forestry and Agribusiness sectors, has been working with The Agriculture and Horticulture Development Board (AHDB), to demonstrate the effectiveness of using satellite data to map the extent of potato crops in pilot locations across England and Scotland.
AHDB is the UK's statutory levy board funded by farmers, growers and others in the supply chain. Its purpose is to inspire farmers, growers and industry to succeed in a rapidly changing world. The assessment of innovative technologies that can enable its vision is an important focus for AHDB and this project aims to evaluate the use of satellite data.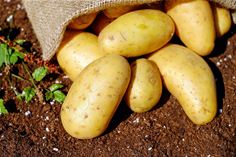 Potato crop mapping
Looking at four sites spread across the UK, Rezatec applied its proven crop identification techniques to map locations of potato crops, down to individual fields, some of which just a few hundred square meters in size. A crop health map was then generated to highlight the extent and abundance of each potato field. This enables AHDB to better understand production areas of potatoes in the UK from season to season at a micro level.
Rezatec applies its geospatial data techniques to extract specific spectral indices across the growth cycle to create a signature that identifies the crop, using both optical and radar satellite data sources. By applying its in-house machine learning algorithms to these indices, Rezatec can distinguish potato from other crop types with up to 95% accuracy.
Additionally, through active remote sensing monitoring, Rezatec can also assess variables of crop performance, e.g. health, against the crop model through the growing season, and, using its data science techniques provide growers with critical information to take corrective action and ultimately increase crop yields.
Dr Jim Dimmock, Resource Management Scientist at AHDB summarised: "It is evident from our collaboration with Rezatec that the application of satellite data for mapping crop extent is of great value and compared to more traditional methods, we were impressed by the ability to scale across large areas with high levels of accuracy."
Dr Andrew Carrel, Chief Technology Officer at Rezatec commented: "Rezatec's agriculture management services are very versatile, ranging from identifying crops at a field, and even sub-field level, and monitoring crop performance, up to macro-level analytics to support commodity crop trading for multiple end-users including Government and traders."
Rezatec provides its agricultural management services around the world to a wide range of agricultural end-users from sugar cane and wheat farmers in Mexico to dairy farmers in the UK.
ENDS
Editor's notes
About Rezatec
Rezatec™ applies data science to satellite imagery and geospatial data to deliver sophisticated, cloud-based analytics to customers owning and operating high value, distributed land-based assets. Rezatec data services enable improved margins, enhanced competitive advantage and optimised asset management for its customers. Rezatec customers cover the globe and are leaders in their respective industries in the water, agriculture, infrastructure and forestry sectors. For more information about Rezatec visit www.rezatec.com.
About the Agriculture and Horticulture Development Board
AHDB, is a statutory levy board, funded by farmers, growers and others in the supply chain to help the UK industry succeed in a rapidly changing world. AHDB want to create a world-class food and farming industry, inspired by and competing with the best. AHDB works for more than 100,000 farming and supply chain businesses across the country. Our main team is based at Stoneleigh in Warwickshire supported by a 100+ force of regional officers up and down the country out getting hands on with farmers, growers and processors. Our international team develop export markets in new countries such as China and the Far East, as well as looking after key markets for UK exports such as France and Belgium. For more information about AHDB, visit https://ahdb.org.uk/.
For editorial enquiries contact:
Simon Haskell, Marketing Manager, Rezatec Limited
Tel: 01865 817537, Email: simon.haskell@rezatec.com