Rippll have been awarded the 'Most Effective Location Based Service' at the 2011 Mobile Marketing Awards. The award was given in recognition of the powerful ubiquitous nature of Rippll's GeoWave product which can be plugged into any mobile site or app in order to serve location based content or advertising. Having powered location based ad campaigns for TGI Friday's, McDonalds, HMV and many other leading brands throughout 2011 Rippll GeoWave has become the first name in Location in the mobile space.
On a night where Sainsbury's, Pepsi, New Look, Debenhams and Sky all picked up awards for their work in mobile marketing the event underlined the importance of mobile in today's marketing mix. Along with Rippll in the Most Effective Location Based Service category were Navteq who have pioneered map based advertising on Nokia devices and are now looking at their Partnership with Microsoft to further their location based offering.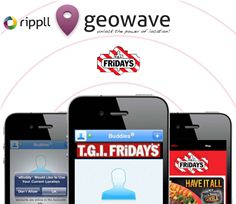 GeoWave by Rippll
Rippll Founder and CEO, Doug Chisholm said "This is fantastic recognition for all the effort we have invested in created a mobile platform that makes Location Based Marketing easier for brands to execute, aligning with our vision to unlock the power of Location for high street brands."
To see a live demo of Rippll GeoWave in action visit www.rippll.com/geowave
About Rippll
Rippll is a location based marketing company providing platform solutions for high street brands to measure and increase sales using mobile apps and location based targeting. Founded in 2008 by Doug Chisholm, who was previously the Digital Account Director for Burger King & Tesco, Rippll began with the challenge of addressing the potential of the smartphone to enrich digital marketing. Rippll delivered some of the very first location based advertising campaigns across iPhone, Android and other smartphone platforms. Rippll have also developed a powerful template app platform for retailers that helps smaller brands get to market fast and includes Rippll's unique location based marketing features.
Media Contact
Doug Chisholm
+44 (0)207 399 7493
contact@rippll.com
Rippll Ltd
Second Floor
Old Inn House
2 Carshalton Road
Sutton, SM1 4RA
www.rippll.com