LONDON – August 16, 2012 – AppyNation and Gray Cooper Media today announced the launch of Fluid Football, the next evolution in tactical soccer games, now available on the App Store for iPhone, iPad and iPod touch. Developed by Chromativity in close collaboration with professional football commentators Andy Gray and Richard Keys, Fluid Football's arrival ushers in a new type of football game that gives players unparalleled freedom to work their way through a series of challenging set piece scenarios using whatever combination of real world tactics they deem suitable in order to score and win.
Designed to appeal to any football fan's inner strategist, Fluid Football puts real-time tactical decision making right at the player's fingertips. Faced with a variety of real-world scenarios, players plan their strategy in real time via an overhead view of the pitch, stringing together passes, out-pacing defenders, setting up pinpoint crosses and any one of hundreds of possible strategies. Players can devise complex sequences and strategies via simple finger swipes to direct their team's actions to line up a shot on goal. The camera then switches to a 3D 'player's eye' view in which the player must successfully direct their shot on target against the goalkeeper and defenders.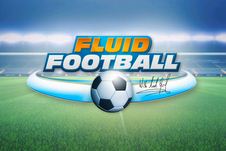 Fluid Football Logo
"We're thrilled to be bringing such a unique tactical football title to the App Store," said Andy Gray, Director, Gray Cooper Media. "We've been very closely involved with the game's development from day one and we've invested a lot of our personal experience into the game to ensure it has as much authenticity as possible. If you can do it on the field you can do it in Fluid Football."
Fluid Football is now available for free from the App Store on iPhone, iPad and iPod touch at http://itunes.apple.com/gb/app/id524972269
Fluid Football is listed as Fluid Soccer on the App Store in the United States and Canada.
------ Ends ---------
Follow all the latest Fluid Football news on Facebook: http://www.facebook.com/FluidFootball and Twitter: http://www.twitter.com/FluidFootball
Note to editors:
IMPORTANT: Fluid Football is listed as Fluid Soccer on the App Store in the United States and Canada.
Further screenshots, videos and information will be made available on appromoter: http://www.appromoter.com/admin/login.php
The media pack can be downloaded from dropbox: https://www.dropbox.com/s/hmmrzvakdf80jvo/Digital%20Press%20Kit.zip
Watch the trailer online: http://www.youtube.com/watch?v=MAcOWjYAW8Y&feature=youtu.be
Or watch the gameplay video here: http://www.youtube.com/watch?v=ku57eN3xM_c
For press enquiries, or to request a promocode, please contact:
Valentina Ciolino
dimoso
valentina@dimoso.com
tel: +44 20 7033 2660
About Gray Cooper Media
Formed by Andy Gray and Richard Keys to use their wealth of experience to partner with leading game developers and publishers, creating a new kind of football gaming experience on mobile devices.
Twitter: @TSKeysandGray
About AppyNation
AppyNation is a revolution in games publishing that favours independence and collaboration between developers and publisher, focused on (but not limited to) delivering engaging, social experiences on Apple's iOS and Google's Android platforms.
Born out of an idea shared by developers Finblade, Proper Games, Niffler, Onteca, Supersonic and Chromativity, the collaboration between publisher and digital, social and independent UK developers AppyNation represents has been very positively received by the industry and has the support of NESTA, industry associations TIGA and UKIE and the UK Government.
Twitter: @AppyNation
About Chromativity
Chromativity (formerly Lightning Fish Games) is one of the world's leading motion videogame developers on Microsoft Kinect, PlayStation Move and Nintendo Wii. They have recently completed Adidas miCoach for Xbox 360 and PlayStation 3, their fifth full-price console product.
Chromativity is based in Oxfordshire, United Kingdom and also has a development studio in Pune, India. Chromativity are expanding with ground breaking titles for PC and mobile platforms, their first iOS/Android game is Fluid Football, due out this Summer.
Twitter: @Chromativity
Fluid Football is Copyright © 2012 Gray Cooper Media Ltd. and Chromativity Ltd. Developed by Chromativity Ltd. Published by AppyNation Ltd. and Gray Cooper Media.