Rostrvm Solutions, the UK contact centre software provider, has launched a handy and useful app for mobile devices, to assist busy managers in calculating inbound call centre staffing needs.
Rostrvm's inbound call centre calculator app calculates the number of staff needed to deal effectively with calls and is available now through the App Store and Google Play.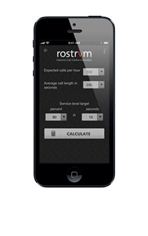 rostrvm Call Centre Calculator app
The calculator provides an instant indication to managers of the number of people needed to man call centre phones whilst meeting the required service level targets.
The app is quick and easy to use - simply enter the expected number of calls per hour and the average call length in seconds, then insert the service level target percentage needed in a set number of seconds. The calculator will show the number of agents required instantly.
The calculated number of agents indicates the number that must be either handling calls or available to handle calls at all times in the hour to meet the required service level.
Ken Reid, Marketing Director at Rostrvm Solutions, said, "Customers must be kept happy but staffing needs can change rapidly within some of today's contact centres due to the dynamic marketplaces they serve. Managers need fast and easily accessible information to help them make efficient calculations, wherever they are, 24 hours a day."
Contact Rostrvm Solutions on 0800 6122 192 or visit www.rostrvm.com
App Store is a Service Mark of Apple Inc., registered in the U.S. and other countries.
Google Play is a trademark of Google Inc.
About Rostrvm Solutions www.rostrvm.com
Rostrvm Solutions is a leading provider of contact centre software applications that make contact centres and back office processes work efficiently and effectively.
The company has built a solid reputation as a leading software developer of a suite of applications that help organisations to achieve and exceed business objectives whilst delivering personalised customer service.
The rostrvm call centre application is established across a broad spectrum of industry sectors with customers including Aston Villa FC, Canterbury City Council, EDF Energy, London Borough of Wandsworth, Nottinghamshire County Council, Insurance Dialogue Limited, Asia Risk Technologies and Telefocus.