Following the success of its first Independent Retailer reward programme in 2014 Rotary Watches are once again partnering with CottrillsReward to re-launch Rotary Rewards in Spring 2016 – an online programme designed to encourage and support Independent retailer's sales staff to demonstrate and recommend their products, earning reward points for each timepiece sold.
Annette Hill-Stewart, UK Sales Director of Rotary Watches: "We were delighted with the previous results as both in-store demonstrations and sales improved significantly. We also were keen for store sales staff to have an improved knowledge of both the Rotary and Dreyfuss product range. The focus provided by the programme meant that they were motivated to research and study the features that make Rotary watches stand out from our competitors.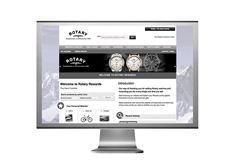 Rotary Rewards Online Platform Powered By CottrillsReward
We had no hesitation in again partnering with CottrillsReward to create and launch our reward programme for 2016, our own sales team were pleased to again have this valuable tool to support the important Independent sales channel.
The simplicity, ease of use of the website along with the collateral provided by CottrillsReward makes it simple for sales staff to access their online account, input sales data and to see their reward points which can be redeemed for thousands of high quality branded products and experiences."
About CottrillsReward
CottrillsReward - Rewarding the people that matter to your business
www.cottrillsreward.com/about-us
It's the passion, knowledge and commitment to delivering great results that makes CottrillsReward the reward, recognition and incentives company that is trusted by over 500 clients in every B2B sector in the UK.
With over 25 years of industry experience (established since 1990), we have partnered with our clients to provide engaging bespoke schemes and we take pride in delivering an excellent service with the highest levels of care for the recipient's experience taken at every stage.
Some of the biggest names in British business such as Tesco, Ford and Jaguar Land Rover trust us to deliver and manage schemes on their behalf.
www.cottrillsreward.com/get-in-touch
Address: The Picturedrome, Chestergate, Macclesfield, Cheshire, SK11 6DU.
Telephone: 0344 826 2008
Email: sales@cottrillsreward.com
LinkedIn: www.linkedin.com/company/cottrillsreward
Twitter (@CottrillsReward): www.twitter.com/cottrillsreward
Facebook: www.facebook.com/CottrillsReward