Mytton to lead team working with agencies, trading desks, ad networks, DSPs and other buying partners
Former Head of RTB Demand Luke Fenney becomes Head of Yield Management, International and Luke Rimmington joins from Xaxis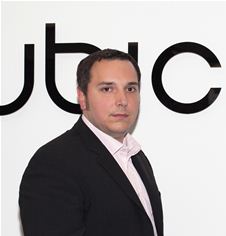 Craig Mytton
LONDON – 29 November, 2013, Rubicon Project, which operates one of the advertising industry's largest, fastest independent technology platforms for buying and selling digital advertising, is expanding its technology and buy side capabilities in the UK with the appointment of Craig Mytton. Formerly the Account Director, Strategic Partnerships EMEA at AppNexus, Mytton will lead a team focused on improving efficiencies and working practices with all of Rubicon Project's buying partners in the UK and Ireland including media planning and buying agencies, online advertising networks, mobile media agencies and Demand Side Platforms (DSPs). He brings twelve years of industry experience to the role including six years working in media agencies, including stints at MediaCom, Essence and Cheeze, now Jaywing, and six years working for a range of publishers including Haymarket, Teletext and Miva formerly eSpotting.
Reporting into SVP and Commercial Director EMEA, Oliver Whitten, Mytton will work closely with buying partners to optimise their adspend, including providing data and insight on the performance of their campaigns on Rubicon Project's technology platform and industry analysis, as well as with Rubicon Project's yield management team and account management team, and support the growth of automated trading in the UK and Ireland.
The move is part of an evolution for the International business to create dedicated teams for Rubicon Project's buy-side partners in each key region – such as the relocation of Jana Jakovljevic to head up Northern European Demand in Germany - and for teams to work across all buying sources, rather than have specialist teams for each.
The former Head of RTB Demand, International, Luke Fenney, will cover leadership of the Yield Management team in maximising the revenue International publishers see from Rubicon Project's Advertising Automation Cloud. Luke Rimmington joins this team as an Insight Analyst, bringing three years of experience in a range of campaign management roles at GroupM, most recently at Xaxis, WPP's trading desk and audience buying platform for GroupM agencies. He will manage and optimise the yield for a range of publishers to maximise their revenue, analyse inventory metrics and trends across accounts and provide customer support in conjunction with the account management team.
Oliver Whitten, SVP and Commercial Director EMEA, Rubicon Project, explains, "The UK's agency landscape has changed dramatically in the past 18 months with agency trading desks deploying sophisticated buying strategies across our platform targeting audiences using first party data and creating more direct deals in Connect and private marketplaces than any other country in the world. We're also seeing increasing interest from the wider media planner / buyers and the growth of next generation ad networks. Craig Mytton worked with European DSPs in his previous role at AppNexus and has a strong agency background, understanding the agency business and how they can best deliver results for clients. This buy and sell side experience combined with and a good understanding of the technical and business aspects of automated advertising will help Rubicon Project work ever more effectively with buying partners in the UK and Ireland, thereby enabling publishers to benefit from increased revenue."
Whitten continues, "We are creating dedicated regional resources in market to improve the depth of service we provide buying partners in the UK and Ireland, Northern, Central and Eastern Europe, Southern Europe and APAC. After four years at Rubicon Project, Luke Fenney will move across to be responsible for Yield Management working with all the publishers on Rubicon Project's Advertising Automation Cloud, drawing on his experience of growing RTB revenue for the company as well as his yield management experience at Rubicon Project, MySpace and RealEstate.com.au. Luke Rimmington, who drove the private marketplace strategy for Xaxis in the UK and account managed automated advertising campaign for a range of GroupM agencies, will be a great asset to his team."
Craig Mytton, Head of Buyer Cloud adds, "Rubicon Project is the most dynamic company in the advertising automation field, working with the leading premium publishers in the UK and Ireland. I am keen to work with all the buying sources to make it easier, more efficient, and appealing for them to increase their spend with these publishers. Improving buyer performance and maximising sellers revenue though RTB, private marketplaces and direct orders."
Mytton spent a year at AppNexus, leading their European relationships with all external DSP's, retargeters and supply side platforms. Prior to that he audited and selected the supply partners for the biddable display offering at Essence, which followed a role as Head of Performance Media at Organic UK. He spent three years before that creating a multichannel digital department at MediaCom integrating search engine marketing for clients including Dell, RBS and VW. His previous experience within publisher sales includes roles selling magazine space, online display and paid search listings at MIVA where he oversaw a team of account managers responsible for Agency relationships across the UK.
Luke Rimmington has spent the past three years at WPP account managing relationships with agencies in the group and media suppliers. Most recently, he spent a year at Xaxis as Media Team Account Manager responsible for developing media and data sources, improving transparency and daily campaign performance management which followed a year hot desking at MEC to support their campaigns. He also spent a year at the MiG managing activity for MEC and M4C and has a degree in Business Economics.
Luke Fenney joined Rubicon Project in 2009 from MySpace where he spent a year working as a performance sales campaign manager, and was a digital campaign manager at RealEstate.com.au, part of the REA Group, for two years before that. Anissa Assoul, Head of Yield Management, International is on maternity leave.
About Rubicon Project
Rubicon Project pioneered advertising automation and is now doing for advertising what companies like NASDAQ did for stock trading. The company's automated advertising platform is used by more than 500 of the world's premium publishers to transact with over 100,000 advertising brands globally. A company driven by innovation, Rubicon Project has engineered one of the largest real-time cloud and Big Data computing systems, processing trillions of transactions within milliseconds each month. According to comScore (Sep 2013), Rubicon Project reaches more than 95 percent of U.S. Internet users per month and is ranked #1 in reach. The company's customers include eBay, TIME, ABC News, the Wall Street Journal, Tribune Company, Virgin Media, People, Universal and legions of other Fortune 500 companies. Headquartered in Los Angeles, the Rubicon Project has seven offices across the globe including New York, San Francisco, Hamburg, Sydney and London.
For further information please contact:
Joanna Burton
Marketing Communications Director, International
Rubicon Project
e: JBurton@RubiconProject.com
t: +44 (0)20 3206 2427