InfiNet Wireless takes a remote monastery online Using Wireless Broadband and the Internet to help them Reach the 'Technology Generation' congregation.
Encouraging and reaching a congregation in this modern era is always going to be a challenge for any religious organisation. However, today's modern technology can also offer great opportunities to touch a broader, ever-diversifying audience as well as reaching out to members of the wider community who may find it difficult to attend church services in person.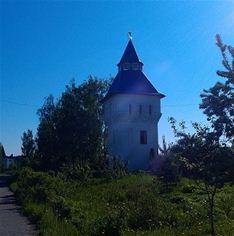 Monsegur monastery of the Russian Orthodox church of the Theotokos Dmitrovsky district, Moscow region.
The Monsegur monastery of the Russian Orthodox Church of the Theotokos lies in a remote area of the Dmitrovsky district in Moscow. Its location is some distance from any populated area, and attendance of its services has been subject to a slow decline over recent years primarily due to the monastery's secluded location.
In an attempt to boost the numbers of its congregation, Monsegur decided to turn to technology and began to explore the opportunities that it could provide to help them reach their congregation. They concluded that broadcasting their daily religious services and seminars for their congregational members through the world wide web would not only help them reach back out to lost members of their congregation, but also touch a brand new audience. The online broadcast would also mean that the local congregation could enjoy the service from the comfort of their own home or local community hall, without having to endure the long trek to the remote monastery.
Turning to technology
To achieve this bold initiative, the Monsegur monastic community called on InfiNet Wireless - one of the largest, privately owned Broadband Wireless Access (BWA) development and manufacturing companies in the world - to help it achieve its online goals. InfiNet Wireless identified that to perform the broadcast successfully would require a direct communications link from the monastery to the main infrastructure hub, a distance of over 15km across difficult terrain. Provisioning of this link would enable the monastery to broadcast video and content with a consistent throughput of at least 200 Mb/s. The solution would also need to be able to endure Moscow's very harsh climate, including temperature extremes in excess of -18 degrees Celsius in the winter months.
InfiNet Wireless proposed a wireless solution using their InfiLink 2x2 Point-to-Point (P2P) wireless broadband system. A wireless implementation would save both time and cost in terms of deployment, whilst still operating with minimal intervention at the high bandwidth and speeds required over the distance. Furthermore, increasing the capacity of the link over time would be a simple matter of 'switching on' additional wireless link capacity in the base station units' software - a relatively simple upgrade compared to laying additional physical cabling or deploying additional wireless base units as the bandwidth requirement increases over time.
Reaching new audiences
The wireless link for the monastery is now fully operational and coping admirably with the harsh climatic challenges - not only those of extreme temperatures, but also problems that extreme weather creates for wireless line-of-sight systems such as signal dispersion, signal degradation or interference from heavy snowstorms and freezing fog. The Monsegur monastery has been able to rebuild a strong following - from both the local and global internet community - and now broadcasts to over 500 members daily, who actively participate in their service broadcasts. The broadcasts are so popular that the Monastery has now expanded their range of broadcasted services and provides content through media such as web radio and cached video content, in addition to their live-streaming video broadcasts. Monsegur has truly reached out and touched the lives of an internet generation, not only in the Dmitrovsky district of Moscow but across the world.
"This was both a challenging and fulfilling project to work with", commented Kamal Mokrani, Global Vice President of InfiNet Wireless, "and the result showcases the ability that today's wireless communications can have in transforming communities and organisations. Monsegur has been able to adapt itself through modern technology to better reach and serve a thriving community, enabling it to spread its message and community support locally, nationally and internationally. It has been a privilege to be able to play a part in the realisation of this modern vision of a highly traditional and respected organisation."
Ends
About InfiNet Wireless
InfiNet Wireless is in a unique position, being one of the largest privately owned Broadband Wireless Access (BWA) development and manufacturing companies in the world. Since foundation, InfiNet has maintained organic growth through innovation and the ability to deliver complete customer satisfaction throughout. Listening to its customers over more than 20 years of research and product development has created a range of fixed wireless connectivity solutions that are a perfect fit, and therefore the natural choice, for global communication corporations and governments and all who require uncompromised connectivity. With over 200,000 deployments from the plains of Siberia to the wilderness of the Sahara, InfiNet Wireless works in market segments that deliver Broadband Wireless Access to telecom operators, government (mostly for public safety projects involving CCTV and video surveillance), transportation (including mobile and nomadic functionality) and oil & gas. www.infinetwireless.com
For further information and press enquiries please contact Beth Dyson beth.dyson@proactive-pr.com or +44 (0)1636 812152.