The Netherlands, Feb 27, 2018: ASPIDER-NGI, provider of independent mobile solutions for managing IoT connectivity, today announced a partnership with SIMPoint, a specialist in IoT, M2M and LoRa connectivity.
The partnership provides full access to the ASPIDER-NGI IoT and eSIM solutions: instant online access, simple controls to activate, control and analyse. Also included a fully branded web tooling and API integration to allow the partner to better manage their customers. The program provides full access to bootstrap profiles, Multi-IMSI configurations, and remote SIM provisioning.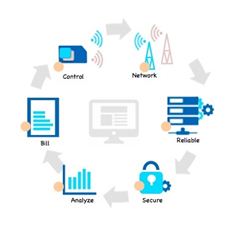 IoT Lifecycle
"We provide our customers with the right SIM cards for their M2M and IoT solutions," said Rob Lammers, SIMPoint MD. "With the ASPIDER-NGI components for eSIM & IoT, we can remove the traditional commercial and technical lock-ins, and allows us to add new profiles for our customers without a SIM swap."
The program delivers control to SIMPoint so that they have the flexibility to manage their business and support their clients:
- Own the eSIM and manage Apps and Operator profiles.
- Activate and deactivate ASPIDER-NGI subscriptions at any time.
- Pay only for what is used, only on active SIMs.
- Full control to create custom price-plans and contract terms.
- Full pooling of usage across devices - no bundle breakage.
- Manage preferred networks and coverage per country.
- Add SIM applications or authentication/security to the eSIM.
"We have taken a new approach to give control and ownership for IoT and M2M," says Michel Zwijnenberg, VP Strategy & Business Development IoT & eSIM at ASPIDER-NGI. "We enable service providers to offer to their customer the promise of freedom and control, removing lock-ins, full control over own price plans, ownership of your own SIM … now we are adding partners to deliver localized solutions."
Rob Lammers, CEO SIMPoint, "Ownership and control over our eSIM gives SIMPoint customers more flexibility and options to improve coverage and longevity for their solutions. We are also inviting our strategic operator partners to participate on the SIMPoint eSIM to extend and build their market penetration."
"Working with Trade associations like BTG showed us that the reseller sector is perfectly positioned to deliver IoT and eSIM solutions to their sectors," says Jan Mooijman, CEO ASPIDER-NGI. "We are now looking to build exclusive relationships in each country and in specific vertical sectors with innovative partners like SIMPoint."
ABOUT SIMPOINT
SIMPoint is a business partner of KPN and one of the fastest growing IoT connectivity specialist in The Netherlands and The Caribbean. (Soon Germany to be added) We deliver customized Machine-to-Machine communication (2, 3 and 4G) and connectivity on Low Power Wide Area Networks (LoRa). Customized data plans, variable durations, extended security (VPN's, customized APN's) and full control with our customer portal and control center (rules and alerts on miss-usage).
The partnership with ASPIDER-NGI completes our portfolio. We are able to deliver worldwide high class connectivity for M2M, LoRa (Netherlands only) and soon LTE-CatM and NB-IoT to be added. With almost 3.000 satisfied customer with hundreds of thousands of sims, SIMPoint provides everything you need for your customized IoT connectivity. Curious? For more information visit https://www.simpoint.com/en/. We are more than happy to welcome you!
About ASPIDER-NGI
ASPIDER-NGI is an operator independent company providing managed connectivity allowing you to build and control your own mobile solutions. We build, support and operate innovative mobile and IoT platforms. We provide the network and expertise you require, and deliver with the flexibility and agility you need to disrupt and grow your market. ASPIDER-NGI delivers and supports voice, data, SMS, multi-IMSI and eSIM products to manage and connect billions of connections for IoT, MVNO, Content and Corporate Mobile solutions. Hundreds of clients have been launched around the world over our 15 year history, from traditional M2M and MVNO projects, to OTT and IoT OEM solutions for Operators and Corporates. For more information, visit www.aspider-ngi.com.
RSS News Feed for ASPIDER-NGI: https://aspider-ngi.com/feed/