Netphone™ Will Achieve Faster Time to Services Revenue Using Red Bend's Mobile Software Management Solution
Makati, Philippines and WALTHAM, Massachusetts, USA - February 8, 2011 - Smart Communications, Inc. (SMART), the Philippines' leading wireless services provider with 44.1 million subscribers, and Red Bend Software, the market leader in mobile software management (MSM), today unveiled the Netphone™ - the world's first smartphone featuring widgets from the Wholesale Application Community (WAC) that are independently managed over the air. With Mobile Software Management from Red Bend, SMART will realise faster time to revenue by deploying and managing new, innovative services that will make the Netphone the center of SMART consumers' social lives.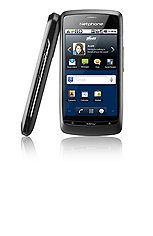 Product shot
The Netphone comes with a suite of applications that provide users one-touch, one-screen access to the most popular communications and social networking services, as well as relevant customer account services. Powered by the Android 2.2 Froyo operating system, the device is highly customisable by the user. Moreover, the Netphone comes with its own branded software and applications relevant to emerging market customers.
SMART and Red Bend will showcase a "Day in the Life of a Netphone Subscriber" at Mobile World Congress 2011 in Hall 4, Level 3, Suite 50 (4.3HS50).
"We chose Red Bend as a strategic partner in our Netphone strategy because of their innovative solution, trusted expertise and unparalleled support in helping to bring our vision to reality," said Napoleon L. Nazareno, President and CEO of Smart Communications, Inc., who serves on the WAC Board of Directors. "With software at the heart of the Netphone experience, it is vital that we have full control over the entire device, ensuring we can rapidly deploy new widgets, applications and services over the air to continually enhance the Netphone's value and control the software assets that drive our services revenue."
Using Red Bend's standards-based vRapid Mobile™ Software Management solution, SMART becomes the first operator to:
Manage its suite of SMART-branded embedded software and applications, including WAC-compliant widgets, individually and independently from the OEM's firmware, using the OMA-DM SCOMO standard

Push new revenue-generating mobile services that use WAC widgets to Netphone subscribers over the air, versus waiting for consumers to discover new apps on the WAC-based SMART Shop or Android Market

Offer the same software-managed user experience across different device price points and mobile platforms including Android and Brew MP
"It is a tremendous opportunity for Red Bend to utilise the full capabilities of our Mobile Software Management solution in a strategic project such as the Netphone," said Yoram Salinger, CEO of Red Bend Software. "It demonstrates the value that Red Bend brings to service providers such as SMART, where we can serve as a solutions provider and make MSM a strategic business enabler for their entire ecosystem."
About Red Bend Software
Red Bend® Software is the leader in mobile software management (MSM). The company provides software solutions for managing firmware, applications and devices over the air. Red Bend's award-winning products enable device manufacturers, mobile operators and software developers to increase revenues, reduce support costs and achieve faster time to market by remotely managing their software assets on mobile devices. Red Bend's software has been deployed in 1 billion mobile devices by eight of the top handset manufacturers and leading mobile operators such as NTT DOCOMO and China Mobile, as well as dozens of other companies in the mobile, M2M and WiMAX markets. Unlike device management vendors with proprietary end-to-end systems and manufacturers' internally developed solutions that are platform specific, Red Bend is the only company offering independent client software that is interoperable with any standards-based server and that works with any platform on any type of mobile device. Red Bend entered the high-growth mobile virtualization market with its acquisition of VirtualLogix in September 2010. Founded in 1999, Red Bend is a privately held, venture capital-financed company with offices in China, France, Israel, Japan, Korea, the U.K. and the U.S.
About Smart Communications, Inc.
Smart Communications, Inc. is the Philippines' leading wireless services provider with 44.1 million subscribers on its GSM network as of end-September 2010. SMART has built a reputation for innovation, having introduced world-first wireless data services, including mobile commerce services such as Smart Money, Smart Load and Smart Padala. SMART also offers 3G and HSPA services. Its Smart Link service provides communications to the global maritime industry. Smart Broadband, Inc., a wholly-owned subsidiary, offers a wireless broadband service, Smart BRO, with 1.3 million subscribers as of end-September 2010. SMART is a wholly-owned subsidiary of the Philippines' leading telecommunications carrier, the Philippine Long Distance Telephone Company. For more information, visit www.smart.com.ph.
- End -
Note to Editors: Images of the SMART Netphone Enabled by Red Bend Software are available for download and use on flickr - http://www.flickr.com/photos/53479053@N07/
UK press and analyst contact:
Noiseworks
James Delves (tel:01628 628 080 or Jamesd@noiseworks.com)
Other contacts:
For Red Bend Software:
Kevin Flanagan (mobile +1 781 856 2589 or kevin.flanagan@redbend.com)
For Smart Communications:
Ramon Isberto
(mobile +63918 900 0398 or rrisberto@smart.com.ph)