18th June 2019: SML, a global leader in delivering item-level RFID solutions for the retail market, today announced the successful results of its collaboration with Microsoft. The combination of SML's Clarity® application platform and Microsoft Azure is enabling 1,000s of retail stores around the globe to enhance inventory accuracy above 98%, resulting in an increase in sales and improved customer service.
SML is a trusted technology partner for the largest global brands who are using the technology to perform frequent stock counts and to stream-line receiving and replenishment of goods. Auburn University's RFID Lab found that in order to achieve the same accuracy manually, it would take staff approximately 154,000 hours to read 100 million barcodes. Obviously, this would not be practical to do counts every week.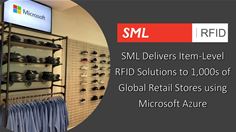 SML Delivers Item-Level RFID Solutions to 1,000s of Global Retail Stores using Microsoft Azure
Due to the time needed to manually count stock, many retailers only perform stock counts once a year; leading to inventory accuracy of less than 70%. With item-level RFID technology accuracy increases to approximately 98%. Using Clarity® retailers are counting 100 million items every week in less than 6,000 hours. This is 1/25th of the time of manual counts making it reasonable to perform frequent stock counts of entire stores.
SML's CTO and Senior VP of RFID Solutions, Dean Frew, said: "Item-level RFID is changing the way retailers are running their business in order to better compete. We are seeing more and more retailers experiencing the benefits using RFID technology. By delivering this capability on Microsoft Azure, we've been able to provide scalable, high performance and simple solutions leading to disruptive business results for retailers."
As a result of SML's simple RFID solutions being delivered on Azure cloud technology, these innovative RFID technologies become more accessible to thousands of retail stores around the world and it is easy to scale to thousands more.
"We are able to deliver some of the most exciting results that we have been part of in the retail sector and they are clearly helping retailers transform their businesses", comments Shish Shridhar, Director of Global Business Strategy, Retail and Consumer Goods Industry, Microsoft Corp. "It's pretty clear that this technology combination will be the default standard on how retailers manage their inventory and deliver improved customer service."
-ENDS-
About SML:
SML is a leading technology provider for this New Era in Retailing. As the full-service RFID solution provider and trusted partner to the world's largest retailers and fashion brands, delivering proven results and rapid ROI's. SML offers the industry a broad spectrum of cost-effective high performance certified RFID Inspire™ tags and a global network of encoding solutions to enterprise-class RFID software Clarity® for retail stores throughout the supply chain.

With a presence in over 30 countries, SML is the #1 item-level RFID software provider in the world and has the largest global network of source-tagging service bureaus that enables it to be the leading technology provider - making solutions impactful, scalable and simple.
Information Contact
Kevin Winfield, Jargon PR
US Tel. +1 (214) 540-6402
UK Tel. 44 (0) 1189-739-370
Email: SML@jargonpr.com