14th November 2019, Corby UK - SML RFID, the leading provider of RFID tagging products and solutions, has today announced the launch of its Retail Ideation Space (RIS) in Corby, UK. The new space is host to the full suite of SML's technologies that are defining the Next Era in retailing and highlighting SML RFID's TotalCare offering.
With over 40% of retail stores using SML's Clarity® technology located in the UK, the Retail Ideation Space will provide retailers and brand owners with a real-world technology collaboration, enabling them to gets hands-on experience using and testing some of SML's latest RFID tag and software developments and partner technologies. It further strengthens SML's position of the RFID solution provider in the UK as it addresses customer demand for a centre of its kind within the UK.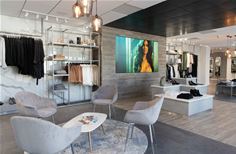 SML RFID Corby RIS
Corby's RIS will showcase SML's latest RFID tagging technologies and solutions, including its highest-performing tags. Furthermore, inventory execution, omnichannel picking, customer experience, self-checkout and robotics will also be amongst the various solutions that the centre will showcase. The center will also be host to 'Academy' workshops, which will help retailers and brand owners better understand and work through the various technologies and processes required for scalable solutions.
SML's RIS scheme is the vision of its Senior VP and CTO, Dean Frew, and his team with the Corby RIS being spearheaded by UK General Manager, and RFID advocate, Shane Clarke.
"The UK market is one of the leading regions in the world for the adoption of RFID, with retailers such as Tesco and Matalan implementing significant rollouts of RFID technology across hundreds of their stores nationwide, commented Shane Clarke. "Alongside France and Sweden, there has been a hive of retail-based item-level RFID pilots and rollouts by UK retailers, so the RIS in Corby is the perfect location for SML to support our customer's RFID implementation."
The new RIS is located in the centre of the UK, just one hour outside of London so is easily accessible for all major retailers across the country, as well as businesses from all over Europe. The UK is one of the Top 5 EU Apparel markets, contributing to around 13% of its total value in recent years.
"With the adoption of item-level RFID solutions within the retail industry rapidly accelerating in Europe, specifically within the UK, the location of the RIS was an obvious choice for SML" explained Dean Frew, Senior VP and CTO of RFID Solutions at SML Group. "Our RIS scheme consolidates SML's position as the 'go-to' total solutions provider, as well as offering a platform for retailers to engage with our expert team and see that item-level RFID in retail be simplified and create substantial ROIs."
The launch of the RIS in Corby comes after SML's successful launch of its Plano RIS in June as well as its Shanghai RIS in September.
-ENDS-
About SML:
SML is a leading technology provider for this New Era in Retailing. As the full-service RFID solution provider and trusted partner to the world's largest retailers and fashion brands, delivering proven results and rapid ROI's. SML offers the industry a broad spectrum of cost-effective high-performance certified RFID Inspire™ tags and a global network of encoding solutions to enterprise-class RFID software Clarity® for retail stores throughout the supply chain.
With a presence in over 30 countries, SML is the #1 item-level RFID software provider in the world and has the largest global network of source-tagging service bureaus that enables it to be the leading technology provider - making solutions impactful, scalable and simple.
Information Contact
Kevin Winfield, Jargon PR
US Tel. +1 (214) 540-6402
UK Tel. 44 (0) 1189-739-370
Email: SML@jargonpr.com