George Adams, UK Engineering Director of SPIE, the independent European leader in electrical and mechanical engineering and HVAC services, energy and communication systems has been appointed Chair of the CIC (Construction Industry Council) Green Construction Panel, a position which will see him actively involved in the London Climate Change Partnership. Besides this role George has been chosen to lead the Adaptive Cities Group, a CIBSE (Chartered Institution of Building Services Engineers) initiative.
George will hold the new CIC role for an initial three year period. During this time, he and other members of the panel, one of a number of new specialist panels maintained by the Council, will advise on twelve issues relating to sustainability and carbon reduction including Climate Change Mitigation and Buildings, Aiming for Low Carbon Economy and Adaptation Design Strategy.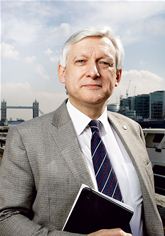 George Adams Outside
Commenting on the panel, George says: "The essence of our work on the Green Construction Panel is speed; we need to move quickly in order to counteract the effects of climate change. That means focussing on the adaptability of buildings and urban environments, looking at how the climate impacts cities and placing a strong emphasis on the people and communities that live in and use buildings. How can we adapt to cope with the threat of urban heat islands, for example? The information we gather will be used by the CIC when submitting proposals to Government."
Leading the panel in identifying and promoting green policies within the construction industry, George will work to encourage their implementation, funding, dissemination and exploitation. This includes long-term green strategy and improving the public perception and image of the construction industry.
"Going forward, there are four key topics we must focus upon," explains George. "There's sustainability of course, but there's also collaborative working – that is encouraging the industry to work together to form holistic solutions, and planning. The last one is risk management – we need to be building the future into risk management and bearing in mind the potential of climate change when planning future urban projects."
As part of his work with the CIC, George will assist the London Climate Change Partnership, holding workshops and advising building owners about the future of building and construction, in particular environmental systems within buildings.
In addition, George has been appointed Group Leader of the CIBSE Adaptive Cities Group, an industry-wide initiative which will look at the engineering aspects of how the industry looks to adapt cities in the future.
Renaud Digoin Danzin, Strategy and Development Director of SPIE UK, comments: "The construction industry forms part of the heart of SPIE and we recognise that we are at a point where action is now needed to protect our urban environments from future events. SPIE, as the independent European leader in multi-technical services in the areas of energy and communication, applies a green economy policy throughout its business – many of our values are in keeping with the CIC Green Construction Panel's and CIBSE Adaptive Cities Group's goals. They are reflected in the daily activities of our various divisions and we are proud that George is reinforcing these through his external activities."
***
About SPIE UK
SPIE UK provides energy, safety and environmentally focused solutions across multi-technical and support services from initial design, through installation, testing, commissioning to long term maintenance and facilities management, and employ more than 3000 employees from regional offices throughout the UK.
Join SPIE UK's LinkedIn community at http://www.linkedin.com/company/305280
About SPIE
As the independent European leader in multi-technical services in the areas of energy and communication, SPIE supports its customers to design, build, operate and maintain facilities that are energy-efficient and environmentally friendly.
With nearly 500 locations in 34 countries and 37,000 employees, SPIE posted in 2013 –on a pro forma basis including 2013 acquisitions– consolidated production of €5,1 billion over its four strategic segments "Energies" (23%), "e-fficient buildings" (24%), "Smart city" (35%) and "Industry services" (18%) and consolidated EBITA of €315 million.
http://www.spie.com/
www.myspie.eu
https://www.facebook.com/SPIEgroup
http://twitter.com/spiegroup
Press contacts
SPIE Limited
Jeff Evans, Head of Marketing & Communications'
Tel. + 44 (0)207 105 2401 (DDI)
jeff.evans@spie.com
www.spieuk.com
onechocolate communications
Sue Grant and Charlotte Ward
Tel. +44 (0)20 7437 0227
http://onechocolatecomms.co.uk/