High Wycombe, UK, 21 September 2017 - International POS printer manufacturer Star Micronics announces today that it will be joined by leading software provider SWOOPOS on Stand 5151 at Restaurant Tech Live 2017 (26 - 27 September, ExCeL, London). SWOOPOS offers seamless mobile ordering, an inventory and staff management system, extensive customer data and analysis as well as beacon marketing and a customer loyalty scheme.
Offering a complete range of point of sale hardware and software that can be adapted to fit any hospitality operation, SWOOPOS provides a comprehensive set of features that links the front to the back-of-house and makes day-to-day running easier and more efficient.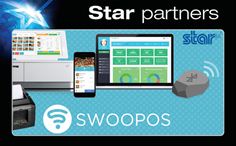 Star Micronics and SWOOPOS at Restaurant Tech Live 2017
The software alleviates a lot of the challenges facing the hospitality sector today. It provides venues with a holistic and comprehensive solution for managing operations, and now accepts mobile payments via Apple Pay and Android Pay. SWOOPOS is currently available in around 100 venues and is expanding rapidly throughout the UK. Managers and business owners can see real-time sales and figures at the touch of a button - wherever they are in the world, and can compare multiple sites quickly and easily.
SWOOPOS' tablet POS solution is made all the more effective by its choice of Star as hardware provider, having integrated the TSP143IIIBI Bluetooth printer as well as the combined Bluetooth printer and cash drawer solution mPOP™.
Designed to work with a range of operating systems including Android, iOS, Linux, Mac OS and Windows, the TSP143IIIBI provides an autoconnect function for iOS after power on or an out-of-range situation thus ensuring functionality at all times. Featuring a print speed of 250mm/second, a guillotine auto cutter (MCBF 2 million cuts) as well as thin paper capability, the printer provides benefits for the environment and reduced operating costs for the retailer. The cost-effective solution includes the convenience of an internal power supply along with a vertical mount kit in the box.
Star's mPOP™ allows businesses to benefit from a compact, high performance tablet POS system. As a unique combined Bluetooth printer and cash drawer mobile point of purchase solution, mPOP is low cost and lightweight at just 10cm high and 30cm wide with a sleek design that will complement any counter top. Alternatively, mPOP with front feed receipting can easily be secured under the counter for enhanced space-saving. With intuitive top loading and easy front feed as well as a partial cut guillotine, the thermal printer automatically cuts the 58mm wide receipt. Outstanding connectivity alongside intuitive functionality and simple integration define Star's unique solution.
As Lee Nazari, CEO & Founder of SWOOPOS comments: "Without the hardware from Star Micronics, a key part of the SWOOPOS puzzle would be missing. Using their systems has enabled our business to go from strength to strength and help us change the way restaurants, bars, and cafés do business. Combining our technology with Star Bluetooth printers means we can deliver a truly holistic solution for the challenges facing the hospitality scene across the UK."
"We are delighted to have SWOOPOS on our stand at Restaurant Tech Live 2017", states Annette Tarlton, Marketing Director, Star Micronics EMEA. "With such innovative POS software that allows the hospitality sector to benefit from targeted marketing and detailed business insight, SWOOPOS is a leader in its field."
Background Information on Star Micronics
Founded in 1947, Star Micronics is one of the world's largest printer manufacturers and has facilities for worldwide production, marketing and support. Employing over 1900 staff and achieving turnover in excess of £250 million, Star Micronics has developed a POS printer portfolio that spans thermal and dot matrix printers and mechanisms, designed for printing barcodes, ticketing, receipts and labelling. Star's proven technology is also being utilised to install print mechanisms in multimedia kiosk environments. The Star Micronics' range is available internationally via a distribution channel comprising distributors and dealers.
-oOo-
For further information, please visit www.Star-EMEA.com or www.swoopos.com or contact:
Annette Tarlton
Marketing Director
Star Micronics EMEA
Tel: +44 (0)1494 471111
Email: Atarlton@Star-EMEA.com
Claire Smith
PR Manager
Star Micronics EMEA
Tel: +44 (0)1494 471111
Email: Csmith@Star-EMEA.com
Emma Marshall
SWOOPOS
Tel: 07539 852 409
Email: emma@swoopos.com