Safetybank has won the Most Innovative IT System/App Award at The Housing Innovation Awards 2016.
The awards ceremony celebrates the leading talent in the housing sector, those who strive to innovate and transform construction and housing standards.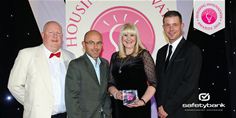 Safetybank Award Win Photo
Now in its fifth year, the annual award ceremony was held at the Grand Connaught Rooms located in Covent Garden where Safetybank founder, Jody Kennedy, accepted the award along with Terry Bird and Sandra Fawcett the directors of Swan Housing.
The Most Innovative IT System/App Award celebrates IT systems and apps being used to improve services and help clients overcome a specific issue within their organisation in the housing sector, specifically systems and apps that have had a positive effect on organisations allowing them to save time and money.
About Safetybank
Founded in 2003, the company began with an extensive audit of the construction and property industries, a process inspired by feedback from the construction industry and its insurance partners that risk needed to be effectively managed at the front end. From major principal contractors and developers to smaller subcontractors, a common problem was identified. Approaches to health and safety management varied significantly and there was no common – or easy – process around the storage and maintenance of information.
About Swan Housing
Swan Housing Association was first formed in 1994 and provides high-quality and affordable homes to rent and buy. Today, they operate in Essex and East London and locally manage over 11,000 homes, with plans in place to deliver over 1,000 new homes as part of an ambitious three year strategy.
-Ends-
Contact Details
Shayne Cuffy
T: 0203 675 3333
E: pr@olive.co.uk