Paris, France, 25 February, 2013 – The Province of Utrecht in the Netherlands installed dynamic glass from SAGE in its new Provincial House (Provinciehuis Ultrecht) to solve sun glare and heat gain problems that hindered legislative business.
The Provincial House was designed by architect Peter Vermeulen and officially opened by Dutch Queen Beatrix in June 2012 as the new center of the Province's democracy. Council members convene inside in a circular hall called the Commission Room, which is crowned by a unique round skylight to bathe the space with natural light and provide a view to the sky.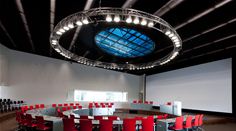 Utrecht Provincial House
Due to the glare caused by the out-of-reach skylight, council members were unable to use the space for audio-visual presentations, which was one of the primary functions of the room. The Provincial House installed SageGlass® underneath the existing skylight to solve the problem. SageGlass is electronically tintable dynamic glass that can darken or clear to maximise daylight and outdoor views in buildings while controlling the sun's rays.
Thirty-two SageGlass skylights provide four zones of sun control that can be tinted and cleared on-demand with the push of a button. In addition to the sun glare control, SageGlass also offers the Provincial House energy efficiency benefits by controlling solar heat gain that can build up over the day, reducing the building's HVAC needs.
Installing SageGlass as a retrofit solution enabled the Provincial House to use the space both as a conference room and a multi-function venue for presentations and videos any time of the day. The SageGlass skylights were installed by GLASSOLUTIONS SAS GLAS (member of the GLASSOLUTIONS SAINT-GOBAIN installation network).
About SAGE Electrochromics, Inc.
SAGE Electrochromics, with 10 years of customer experience in the USA, is the world's leading manufacturer of advanced dynamic glass that can be tinted or cleared to optimise daylight and improve the human experience in buildings. SageGlass controls the sunlight and heat that enter a building, significantly reducing energy consumption while improving people's comfort and well-being. SageGlass can reduce a building's cooling load by 20% and HVAC requirements up to 30%. It is a smarter, more elegant solution than conventional sun controls such as mechanical window shades, blinds and louvres. The company was founded in 1989 and today is a wholly owned subsidiary of Saint-Gobain of Paris, France, visit www.sageglass.com.
About SAINT-GOBAIN
Saint-Gobain, the world leader in the habitat and construction markets, designs, manufactures and distributes building materials, providing innovative solutions to the challenges of growth, energy efficiency and environmental protection. With 2011 sales of more than €42 billion, Saint-Gobain operates in 64 countries and has nearly 195,000 employees. For more information about Saint-Gobain, visit www.saint-gobain.com.
For more information or if you are interested in an interview please contact:
onechocolate communications
Tel: 0207 437 0227
E-Mail: sage@onechocolatecomms.co.uk
For more information visit:
Website: www.sageglass.com
Twitter: twitter.com/SageGlassEurope
Facebook: Facebook.com/SageGlass
LinkedIn: linkedin.com/company/sage-electrochromics-inc
YouTube: Youtube.com/SAGEElectrochromics