Sara's Halal Foods have today announced the launch of a new online halal meat shop www.saras.co.uk. The shop provides UK Muslim consumers with the largest range of halal meat products currently available online in the UK.
The online halal meat shop offers certified fresh halal meat and poultry, chilled sliced meats, and a range of frozen products such as halal burgers, kebabs, sausages, and also a range of marinated products – all delivered direct to the customers home.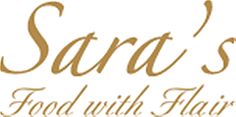 Sara's Logo
Kamruddin Kothia, Director, commented "We are delighted to be able to offer the Muslim community in the UK a new convenient way of shopping for their halal meat. We currently provide the widest range of halal meat products online. In addition to the usual products you would expect in any halal meat shop, we also stock more exotic halal foods such as polony, salami and biltong - all at competitive prices together with the convenience of home delivery"
"Our initial customer trials proved a great success" says Kamruddin Kothia "Our customers have found the website easy to use and the home delivery very convenient"
In order to provide a level of assurance to the Muslim community that the Sara's products are genuinely halal, all the meat products are certified by HMC, the Halal Monitoring Committee in the UK.
About Sara's Halal Foods
Sara's Halal Foods is operated by eBusiness UK Limited in association with KQF. eBusiness UK is one of the UK's longest established companies specialising in ecommerce development and management, and KQF is one of UK's leading suppliers and manufacturers of halal meat products. For more information about eBusiness UK, please visit www.ebusinessuk.com.
What is Halal?
Halal is an Arabic term which means permissible or lawful in Islam. In reference to food, it is the Islamic dietary standard, as prescribed in Islamic Law.
What is The Halal Monitoring Committee (HMC)
HMC is a non profit making organisation set up to monitor, inspect and certify Halal products, in particular the halal meat and poultry sector. HMC was established in early 2003 consisting of various Muslim Scholars and community figures from diverse backgrounds. For more information, please visit www.halalmc.net
Notes to editors:
For full product range please go to www.saras.co.uk

For high resolution images of products and for further editorial information, please contact Mr Kamruddin Kothia on sales@saras.co.uk or telephone +44 1254 51179
###