Cape Town, South Africa, and Brussels, Belgium, November 2, 2017 - SatADSL, a provider of professional VSAT services via satellite, today announced the availability of the industry's first multi-hubs Cloud-based Service Delivery Platform (C-SDP), with C-, Ku- and Ka-band capability.
The Service Provider has also revealed plans to launch new Ka-band services in South Africa and Zimbabwe in the first quarter of 2018 to complement its current Ku- and C-Band services. These will be extended to the rest of the African continent in the middle of 2018.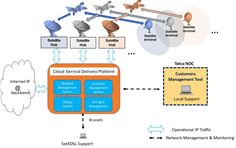 The overall architecture of the SatADSL Cloud-based Service Delivery Platform
Through SatADSL's C-SDP, a complete OSS/BSS, carrier-grade, fully redundant platform, Telcos and Service Providers can, for the first time, offer, via the cloud, satellite services over any frequency band. It includes a Network Management System which allows IP traffic to be shaped and routed from and to different hubs, while the built-in Customer Management Tool allows Telcos and Service Providers to manage and monitor their own customers. A Hotspot Management System lets remote hotspot networks be configured, managed and monitored and a Billing System enables online payments and automatic billing.
"The C-SDP is truly a unique solution and has been launched in direct response to market demand," said Caroline De Vos, Chief Operations Officer and Founder of SatADSL. "While it is predominantly aimed at Service Providers, we also plan to allow other operators to access the C-SDP, giving them the ability to control multiple technologies on different satellites, all from one single management tool. We also plan to evolve the platform further as the satellite landscape continues to change and develop."
Among the latest technologies SatADSL's C-SDP can connect to is the latest release of the HTS-optimized Newtec Dialog® multiservice platform. This is enabling the launch of SatADSL's innovative Ka band services in South Africa and Zimbabwe next year.
"As a manufacturer of innovative satellite hub systems, we believe that SatADSL, including its OSS/BSS platform, delivers a very good complement to our product offering," said Jo De Loor, Market Director for HTS and Enterprise at Newtec. "The C-SDP and the capabilities it brings to Telcos and Service Providers is a natural fit for our Newtec Dialog customers, enabling them to extend their market reach."
SatADSL will showcase the advantages its C-SDP can bring to Telcos and Service Providers, along with its other connectivity offerings, at stand D71 at AfricaCom 2017, which takes place at CTICC in Cape Town from Tuesday, November 7 to Thursday, November 9.
ENDS
About SatADSL
SatADSL (www.satadsl.net) is a satellite Service Provider which designs and offers innovative satellite networking solutions to banks, microfinances, broadcasters, NGOs, Governments, ISPs, telecom operators and other companies in Africa and the Middle East in remote areas or where terrestrial infrastructure is not reliable.
Founded in 2010, SatADSL has already installed more than 3,000 VSAT networks in more than 45 countries. It specializes in providing tailor-made solutions based on customers' specific requirements and flexible service plans that meet its clients' budgets.

Through its carrier-grade Service Delivery Platform (SDP), which integrates the most advanced technologies, SatADSL provides custom-made networking solutions, tailor-made service plans and value-added services, including hierarchical service control and monitoring, traffic prioritization and online billing and payments, for any frequency band and any access technology.
About Newtec
Newtec, (www.newtec.eu), is specialized in designing, developing and manufacturing equipment and technologies for satellite communications. As a pioneer in the industry, Newtec is dedicated to creating new possibilities for the broadcast, consumer and enterprise VSAT, government and defense, cellular backhaul and trunking and mobility, offshore and maritime markets. Our products and technologies can be applied in a wide range of single and multiservice applications from DTH broadcasting, video contribution and distribution and disaster recovery and backbones for cellular backhauling, to small and medium enterprises, SCADA and oil and gas networks, aircrafts and vessels.
Since 1985, our dedicated team of specialists has set industry standards with the most efficient, scalable and economical technology solutions. New challenges and customer needs offer opportunities to explore new boundaries. This empowers us to work even harder, helping customers to perform their best so that, together, we can make the world a safer, more informed and connected place. As a result, more than 3 billion people watch TV every day thanks to Newtec technology.
Newtec is a European company headquartered in Sint-Niklaas, Belgium. Through additional commercial offices in Dubai (UAE), Singapore, Beijing (China), Sao Paulo (Brazil) and Stamford, CT (USA) as well as an extensive network of over 100 certified partners, Newtec can meet customer's needs worldwide.
Visit Newtec at upcoming events worldwide like AfricaCom, November 7-9, at stand F9.
PR Contacts
SatADSL
Caroline De Vos
Co-Founder & COO
+32 478 31 13 76
Caroline.devos@satadsl.net
and
Jayne Brooks
+44 1636 704 888
jayne.brooks@proactive-pr.com
Newtec
Kerstin Roost
Director, Strategic Marketing & Public Relations
+49 177 219 0820
Kerstin.Roost@newtec.eu