Newtec, Network Innovations, VRT Sandbox and Pacific Live Media have teamed up to enable the Punch Powertrain Solar Team to live stream from the Australian outback.
DARWIN, Australia, and IBC2017 Show, AMSTERDAM, the Netherlands, 18 September 2017. Satellite will be used to live stream interviews and backhaul action video clips of the Punch Powertrain Solar Team as they compete in the Bridgestone World Solar Challenge – a 3,000 km solar car race across the Australian outback from October 8, 2017 to October 12, 2017 – with Newtec, Network Innovations, VRT Sandbox and Pacific Life Media today announcing their collaboration for the event.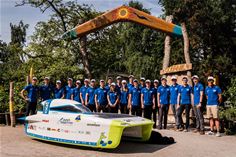 Punch Powertrain Solar Team
"At previous editions of the race, communication with our fans in Belgium was limited to providing small video clips", said Thierry Garritsen, spokesperson at the Punch Powertrain Solar Team. "Transmission of these clips was a very time-consuming process, as it included driving up to 150 km away to find a broadband connection. This year, we were looking for a solution that allows us to be in live contact with our home base without too much hassle." Garritsen continued. "Thanks to the IP satellite solution provided by Newtec, Network Innovations, Pacific Live Media and VRT Sandbox, we can now go online and live stream on Facebook from wherever we are, daily. We can take ad hoc questions from our audience, on top of providing additional action clips for delayed viewing. We invite everybody to join us on www.facebook.com/solarteam.be."
Network Innovations, a global satellite communications solution integrator, will provide its MAVERICK service, powered by Newtec Dialog®, to the Punch Powertrain Solar Team, enabling the crew to broadcast daily overviews of their journey from Darwin to Adelaide.
The MAVERICK VSAT service is a unique way of delivering satellite communications, offering customers reliable, flexible, customized solutions with higher bandwidth at guaranteed throughputs.
MAVERICK is powered by the Newtec Dialog multiservice platform, which features Newtec's unique, award-winning, dynamic Mx-DMA® bandwidth allocation technology. Newtec will also be responsible for project management.
VRT Sandbox will provide the technology that allows the Punch Powertrain Solar Team to broadcast a multicam "report of the day" via Facebook Livestream and will support media coverage in the lead-up.
Pacific Live Media, based in Australia, offers a full range of equipment and services to acquire content right across the media spectrum, from live breaking news, to local sports and events. A local Pacific Live Media crew will accompany the Punch Powertrain Solar Team through the Australian desert and assist with all media coverage.
"For events like the solar car world championship, satellite is the only way to deliver the connectivity which enables everyday communication which we now take for granted," said Hans Masart, Market Director of Broadcast at Newtec. "We are delighted to bring together all the companies taking part to provide a solution which will allow the Punch Powertrain Solar Team to share this unique experience with their fans, friends, families and their partners when it happens, wherever it happens."
"Working together with Newtec, we have been able to provide a solution which ideally fits the needs of the Punch Powertrain Solar Team, regardless of the remote location of the race," said John Stoltz, Vice President, Global Enterprise and Media at Network Innovations. "By relying on Network Innovations' world-spanning hybrid terrestrial/satellite network, including an IP solution such as Newtec Dialog, the crew will benefit from on-demand bandwidth and reliable connectivity, enabling seamless live streaming, as well as any general broadband application."
"We are honored to be a part of this project and are excited to witness this collaboration come to life at the upcoming Bridgestone World Solar Challenge," said Karel De Bondt, Open Innovation Manager at VRT Sandbox. "Acting as a matchmaker for the project, VRT Sandbox brought together a team of technology partners that will enable the Belgian Solar Team to produce a daily, live, multicam talk show in the middle of the Australian desert on Facebook and other streaming platforms, using a very small crew and the latest cutting-edge IP over satellite technologies and live streaming solutions."
"The challenge to deliver the connectivity needed for reliable IP video streaming, especially in this remote environment, is significant. The solution we have designed with our partners gives us the confidence we will succeed, and that we can overcome any challenges along the way," added Chris Dredge, Managing Director at Pacific Live Media.
- ENDS -
Your Contact
Newtec
Kerstin Roost
Strategic Marketing & Public Relations Director
Tel: +49 177 219 0820
Kerstin.Roost@newtec.eu
Visit Newtec at upcoming events worldwide.
About Newtec
Newtec, www.newtec.eu, is specialized in designing, developing and manufacturing equipment and technologies for satellite communications. As a pioneer in the industry, Newtec is dedicated to creating new possibilities for the broadcast, consumer and enterprise VSAT, government and defense, cellular backhaul and trunking and mobility, offshore and maritime markets. Our products and technologies can be applied in a wide range of single and multiservice applications from DTH broadcasting, video contribution and distribution and disaster recovery and backbones for cellular backhauling, to small and medium enterprises, SCADA and oil and gas networks, aircrafts and vessels.

Since 1985, our dedicated team of specialists has set industry standards with the most efficient, scalable and economical technology solutions. New challenges and customer needs offer opportunities to explore new boundaries. This empowers us to work even harder, helping customers to perform their best so that, together, we can make the world a safer, more informed and connected place. As a result, more than 3 billion people watch TV every day thanks to Newtec technology.
Newtec is a European company headquartered in Sint-Niklaas, Belgium. Through additional commercial offices in Dubai (UAE), Singapore, Beijing (China), São Paulo (Brazil) and Stamford, CT (USA) as well as an extensive network of over 100 certified partners, Newtec can meet customer's needs worldwide.
About Punch Powertrain Solar Team
Twenty-one students form the basis of the Punch Powertrain Solar Team, www.solarteam.be. We started in July 2016 and have set out to build a top notch solar car in only 15 months. We're going to race in various competitions, including the 2017 Bridgestone World Solar Challenge in Australia. By doing so, we want to fulfill our 4 main goals as a non-profit.
The promotion of renewable energy. Racing on solar energy generated by the solar panels on top of our solar car, serves as a very strong example of the possibilities of solar energy.
Generate interest among youngsters for science and technology. Together with different partners, we organize a yearly event called the Solar Olympics. We challenge all high school students of Flanders to build a solar car or solar powered gadget. After a couple of feedback sessions organized by us, they have the opportunity to exhibit their creation.
Promotion of advanced technologies. We combine some of the best global technologies in our solar car.
Facilitate and encourage entrepreneurship. The team members involved in building the solar car change every two years. The alumni gathered over the past years come together on a regular basis to discuss sustainable solutions towards prevalent problems.
About Network Innovations
Network Innovations (NI, www.networkinv.com) is a global satellite communication's solution integrator, focused in the provision and support of systems which enable its customers to communicate anywhere on the planet. Incorporated in 1988, Network Innovations has grown consistently and profitably through a team of professionals located at offices around the globe. It has specialized in the successful development and delivery of turn-key communications solutions for the media, energy, maritime, enterprise and government sectors. Its flexibility to custom-design solutions and integrate various satellite communications technologies for customer and industry specific needs is one of its key differentiators. Please visit www.networkinv.com for more information.
About Pacific Live Media
Pacific Live Media (PLM, www.pacificlivemedia.com) is a specialist vendor of equipment and services to the broadcast and online media industries. Uniquely positioned across new media and broadcast, PLM represents leading manufacturers in these fields and provides both equipment and services when necessary to ensure their customer needs are exceeded. Covering Oceania, including Australia, New Zealand and the Pacific Islands (Fiji, New Caledonia etc) please don't hesitate to make contact for more information at www.pacificlivemedia.com.
About VRT Sandbox
VRT Sandbox, www.sandbox.vrt.be, is VRT's media technology accelerator. VRT is the Flemish public broadcaster in Belgium. VRT Sandbox was founded in 2014 and has since won several international Innovation awards. VRT Sandbox boosts media innovation by matching startups, external organizations and companies working in media innovation to the public broadcaster VRT for short-term innovative collaborations. VRT Sandbox also collaborates with "intrapreneurs" at VRT and offers a fablab environment demonstrating bleeding edge technologies.