New Forests, a sustainable forest investment manager, has used Rezatec's geospatial data analytics to deliver a cost-effective forest inventory to support its US investments in natural climate solutions.
As investors, corporates and governments turn to nature-based solutions for climate mitigation, satellite data analytics and AI are playing an increasingly important role in the origination and efficient management of forest carbon offset projects. Rezatec's services supported the analysis of prospective investments for Forest Carbon Partners, a New Forests investment fund that finances and develops carbon projects to generate carbon offsets for sale in California's cap-and-trade market.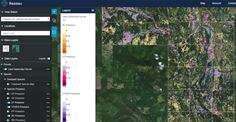 Screen shot of Rezatec's Geospatial Portal, the online delivery mechanism and visualisation tool. This specific example shows Forest Species Mapping data and land parcel boundaries displayed within the portal.
"New Forests requires accurate and precise forest inventory to quantify climate benefits from managing forests sustainably. Rezatec's platform provided improved efficiency in field data collection, resulting in timely, accurate and spatially resolved results that met our due diligence and business development needs," explained Peter Tittmann, Manager of Investment Analytics for New Forests in San Francisco.
Specifically, New Forests engaged Rezatec to produce a comprehensive forest inventory more efficiently than by conducting a traditional, large field-based survey. Through the analysis of satellite imagery, Rezatec provided New Forests with a sampling protocol to inform the field survey, enabling them to optimise the deployment of field crews, sending them to exact survey locations thereby reducing the need for a large sampling size, whilst ensuring complete representative sampling.
Using the field data collected, together with satellite imagery processed through Rezatec's AI algorithms, Rezatec produced a detailed final inventory reporting species and volume information as well as above-ground carbon estimates for the entire forest. The high-quality data and information also contribute to development of detailed management plans for forests and carbon projects, creating efficiencies that build on initial due diligence work.
Tim Vallings, Chief Commercial Officer at Rezatec commented, "Satellite imagery is a great input to support operations and planning. We are pleased to have presented New Forests with a solution that reduces its inventory costs, making climate mitigation projects more affordable, and that helps demonstrate that technological innovation can provide invaluable tools in scaling up and accelerating investment in natural climate solutions."
Rezatec's forest management and forest monitoring services are deployed around the world to provide innovative and critical support to forest owners and operators including early detection of pest and disease, burn severity indices for trees and mill optimisation tools. To learn more about these and other Rezatec forestry services, visit www.rezatec.com/forestry.
ENDS
Editors Notes
About New Forests
New Forests is a sustainable real assets investment manager offering leading-edge strategies in forestry, land management, and conservation. As global demand for resources grows, there is a need to increase productivity while ensuring the conservation of the world's remaining natural forests. New Forests seeks to create investment strategies that provide lasting solutions to this challenge. Through responsible management of forests and other real assets, New Forests creates shared benefit for investors and local communities alike. New Forests has international reach, with offices and assets in Australia, New Zealand, Southeast Asia, and the US. To learn more, visit www.newforests.com.au.
About Rezatec
Rezatec applies data science to satellite imagery and geospatial data to deliver sophisticated, cloud-based analytics to customers owning and operating high value, distributed land-based assets. Rezatec data services enable improved margins, enhanced competitive advantage and optimised asset management for its customers. Rezatec customers cover the globe and are leaders in their respective industries in the water, agriculture, infrastructure and forestry sectors.
For more information about Rezatec visit www.rezatec.com.
For editorial enquiries please contact:
Simon Haskell, Marketing Manager, Rezatec Limited
Tel: +44 (0)1865 817537, Email: simon.haskell@rezatec.com