Conclusions from a Workshop held at Laohu Valley Reserve
(Oct 2010 Johannesburg, South Africa) International wild cat scientists gathered at Laohu Valley Reserve in the Free State of South Africa mid-month to evaluate the progress of the South China Tiger Rewilding and Reintroduction Project (hereafter abbr. SCT Project) undertaken by Save China's Tigers (SCT), and assess its role in conserving the South China tiger (aka. Chinese tiger) in the wild.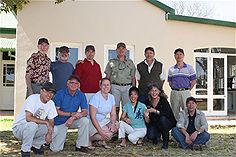 Together at SCT Rewilding Workshop
The "Rewilding" workshop included Dr. Peter Crawshaw of Centro Nacional de Pesquisa e Conservacão de Mamiferos Carnivoros, Cenap/ICMBIO, Dr. Gary Koehler, Dr. Laurie Marker of Cheetah Conservation Fund, Dr. Jim Sanderson of Small Wild Cat Conservation Foundation, Dr. Nobuyuki Yamaguchi of Department of Biological and Environmental Sciences of Qatar University, and Dr. David Smith of Minnesota University, Chinese government scientists as well as representatives of SCT.
The South China tiger is an iconic symbol in Chinese history but only a few may remain in the wild and less than 100 currently live in captivity. Some had predicted that the South China tiger would vanish by 2010 but SCT project has brought new hope for their survival.
In 2000 Ms. Quan established SCT as a charitable foundation. SCT reached agreement with the Chinese government to transfer zoo-born South China Tigers from China to SCT's 300 square km wildlife reserve in South Africa (known as Laohu Valley Reserve) to breed and rewild them. The goal is to prepare tigers born in captivity for introduction to wild habitat in China where tigers once lived. South Africa was chosen as a springboard thanks to its leadership in wildlife management, readily available land, and abundant game. SCT has also been working with the Chinese government to identify suitable for the establishment of pilot reserves in China. These reserves will provide a large protected wilderness environment for the reintroduced tigers, as well as other wildlife in the ecological chain.
Starting 2003, the project acquired four studbook registered South China tiger cubs. These cubs, familiar only with concrete box display cages, were initially reluctant to leave the concrete pad adjacent to the gate of their new natural enclosure in South Africa. Their paws had never touched grass. They underwent rewilding training after their arrival and since 2007, eight tiger cubs were born in Laohu Valley Reserve, five survived and learned to hunt like their parents.
Results of the workshop confirmed the important role of the South China Tiger Rewilding Project in tiger conservation. "Having seen the tigers hunting in an open environment at Laohu Valley Reserve, I believe that these rewilded tigers have the skill to hunt in any environment. We need to use an adaptive learning process when tigers are introduced in China so one strategy might be to release two at a time. Often when you do a reintroduction you may have to repeat the action in order to be successful. SCT should not give up even if the first reintroduction is not successful," Dr. David Smith remarked.
"In addition, SCT has also done a remarkable job in recovering habitat for South African wildlife. The workshop's conclusion is timely given the continuing decline of wild tiger populations and their habitat. The initiatives undertaken at Laohu Valley Reserve may represent a model for the conservation of other carnivores and their habitats", Dr. Peter Crawshaw added.
In a just released report, Walston et al. ("Bringing the Tiger Back from the Brink- The Six Percent Solution" Sept 2010) stated, "Despite a long history of concern for wild tigers, both their range and total number have collapsed: fewer than 3,500 animals now live in the wild, occupying less than 7% of their historical range. "While the report concludes that tiger conservation must focus first and foremost on protecting 42 sites that contain almost 70% of all remaining wild tigers, the authors acknowledge that "this is but one element of a long-term recovery strategy". Li Quan, Founding Director of SCT agrees, "It is essential that we protect the core areas identified by Walston et al. (2010), but given that no source site was identified in China, an alternative strategy must be applied for South China tiger conservation. It is especially so considering the South China tiger is the only extant subspecies without any source site. This is where 'Rewilding' can play an important role. "
I am concerned that the remaining tiger populations outside the source sites will disappear and their habitat will be lost forever. It's time to restore the habitat for the wellbeing of both tigers and humans. We have already lost too much, and we must regain some of what we have lost. Accepting the status quo is unacceptable," said Dr. Jim Sanderson. "SCT offers an additional strategy to increase the number of wild tigers and their habitat."
"If we accept the constant erosion of nature, probably there is no realistic chance to conserve large terrestrial carnivores," added Dr. Nobby Yamaguchi.
"Conservation of tigers requires creative strategies. Saving core areas must be a priority, and the rewilding project can help assure that non-core areas are included in the world's conservation effort", concluded Dr. Gary Koehler who assessed the status of the wild populations of South China tigers in the early 1990s.
Mr. Lu Jun, representative of the Chinese government to the South China Tiger Reintroduction Project, affirms "The South China tiger is only found in China and the Chinese government is committed to re-establishing viable populations of this subspecies in the wild. China has already taken actions to save the South China tiger and restore its habitat, and will continue to do so in the future."
For more information on SCT: www.savechinastigers.org
For any media inquires,
email: info@savechinastigers.org
Tel: +44 20 7956 2422
-END-
Background information
SCT Media Fact Sheet
SCT (SCT) is an international charity dedicated to saving the Chinese Tiger from extinction. The Chinese Tiger, commonly known as the South China tiger or Panthera tigris amoyensis, is the oldest sub-species of all tigers and is also the most endangered with less than 100 remaining. The primary cause for the South China Tiger's demise is extirpation and habitat destruction as China's population has grown to more than 1 billion. The charity's aim is to raise awareness of the plight of the Chinese Tiger and to strive for its protection and preservation through public education, implementation of advanced conservation models in China, and raising funds to support these initiatives.
Background to SCT
Founded in 2000 by Beijing native Li Quan SCT is a registered charity in Hong Kong, United Kingdom and United States. SCT also has an operations office in Beijing, China. The rewilding of the South China tiger is taking place in Laohu Valley Reserve, South Africa.

SCT depends on public and corporate donations to fund its programs.

SCT's main program is the rewilding and breeding of zoo-born Chinese tigers in South Africa so that they eventually can be released into purpose built reserves in China. The first tigers are expected to be returned in 2011.

In November 2002 a Chinese Tiger Reintroduction Co-operation agreement was signed by the Wildlife Research Centre of the State Forestry Administration of China and the Chinese Tigers South Africa Trust. The agreement calls for the establishment of a Chinese Tiger Conservation Model in which a Pilot Reserve in China is established using African reserve management expertise, where indigenous Chinese wildlife will be reintroduced into rehabilitated indigenous habitat with the Chinese Tiger serving as the flagship species. Local economies will benefit once eco-tourism is fully operational.
Biography of SCT Founder – Li Quan
Li Quan, a native of Beijing, China, graduated from Beijing University. Quan received a dual degree MBA/MA from Wharton Business School and the Lauder Institute in the US. Quan then worked as an executive in the fashion industry, including as head of worldwide licensing at Gucci. After establishing SCT in 2000 Quan was instrumental in the historic Chinese Tiger Reintroduction agreement with the Chinese Government. Li says she has always loved animals, particularly cats of all kinds, and feels it is her duty as a Chinese to save the tiger -a cultural, spiritual and ecological symbol, for when this project succeeds many other species will benefit.
Tiger cub participants in SCT's Rehabilitation Program
On September 2nd, 2003, two zoo born Chinese Tiger cubs (Cathay, female and Hope, male) arrived from China to South Africa. In October 2004 two more Chinese Tiger cubs ― TigerWoods and Madonna, were transported from China to South Africa.

The tigers reside in Laohu Valley Reserve, consisting of 33,000 hectares (330 square km) in Philippolis, South Africa. They have successfully learnt how to hunt.

23 November 2007: Cathay gave birth to her first cub, Hulooo. He was the first South China tiger cub ever born outside of China. It was an important milestone not only for SCT' ambitious undertaking, but also an unprecedented achievement in tiger conservation history.

18 August 2008: Madonna gave birth to a second litter, a boy and a girl, this time in completely natural conditions. She reared them on her own in the natural environment. This is another milestone in conservation history.

Today, five second-generation tigers born at Laohu Valley in South Africa have been added to the South China tiger gene pool. By November 2009: Madonna and her one-year-old cubs had made thirty kills in one period of under two months of hunting training. The adolescent Hulooo and his brothers, though separated from mother Cathay at an early age, made twenty-one kills in eighteen days.
Historical facts on the Chinese Tiger
Believed to be the ancestor of all tiger subspecies. One hundred years ago there were nine subspecies of tiger. Three subspecies are now extinct - the Bali, Javan and Caspian tigers. The remaining subspecies are the Siberian, Bengal, Sumatran, Indo-Chinese, Malay and the South China tigers, all of which are now critically endangered.

The South China tiger used to found over central and south China, but has retreated to more remote and mountainous areas south of the Yangtze River. There are less than 30 Chinese Tigers in the wild while the remaining 80 are in zoos.
Advisors and Appeal Patrons
Appeal Patrons include Jackie Chan, Michelle Yeoh, Chinese film director Chen Kaige, Sir David Tang, renowned pianist Lang Lang, Duran Duran Pop star Nick Rhodes.